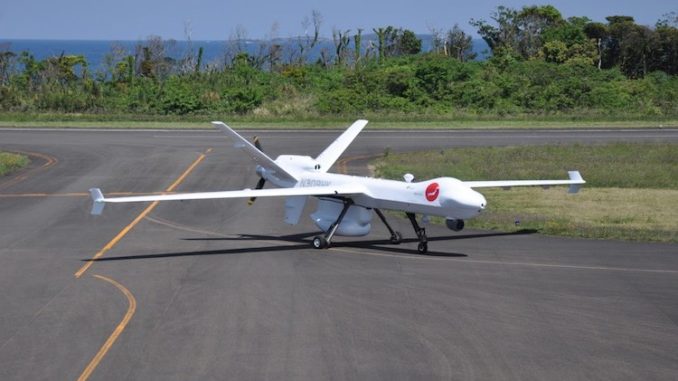 At the half-way mark of 2018, it's already shaping up to be a banner year for General Atomics Aeronautical Systems (GA-ASI).
In April, the Predator family of aircraft, which includes the Reaper, Gray Eagle, and new MQ-9B SkyGuardian, surpassed five million flight hours, the majority of which have occurred in combat.
In May, GA-ASI undertook the first large-scale commercial demonstration of a Remotely Piloted Aircraft (RPA) over a period of three weeks on Iki Island, Japan. The Guardian (a modified MQ-9) collected data for scientific research that will be shared across multiple government agencies, and flight data will be given to airspace management organisations to help establish procedures for using RPA systems in national and international civil airspace.
The aircraft's sensors included a long-range maritime surface-search radar, stabilised optical and infrared video cameras, and a Detect and Avoid (DAA) System, which included a short-range air-to-air radar. This configuration is similar to that operated by the US Department of Homeland Security over the maritime approaches to the US.
The Guardian flights consisted of approximately 10 five-hour sorties over a three-week period; however, this aircraft configuration is capable of more than 20-hours' endurance in a single sortie.
In June, NASA successfully demonstrated GA-ASI's Detect and Avoid System on their Ikhana MQ-9. The DAA system combines automatic collision avoidance with the ability to remain 'well-clear' of other airspace users. The DAA's ubsystems include a GA-ASI-developed airborne radar, a TCAS II and DAA tracking capability from Honeywell, ADS-B In and Conflict Prediction and Display System.
Enjoying this article? Consider a subscription to the print edition of Line of Defence Magazine.
In July, GA-ASI undertook the first trans-Atlantic flight of a Medium Altitude Long Endurance (MALE) Remotely Piloted Aircraft. The flight originated at GA-ASI's Flight Test and Training Center in Grand Forks, North Dakota and landed at RAF Fairford in Gloucestershire, United Kingdom.
SkyGuardian was first conceived as a development program by GA-ASI using Internal Research and Development (IRAD) funding. One of the driving principles was to deliver a RPA that would become the first unmanned system to achieve airworthiness approval to fly in civilian airspace. The UK will lead the way, followed by other military and civil aviation authorities around the world.
A maritime variant of the MQ-9B SkyGuardian, known as the SeaGuardian, can host a variety of maritime radars to provide long-range surveillance, small target detection and radar imaging. In addition, the SeaGuardian can be fitted with an Automatic Identification System (AIS) to provide positive identification of seagoing vessels.  This aircraft has an endurance of over 40 hours.
GA-ASI has offered the SeaGuardian to the New Zealand Defence Force for the Future Air Surveillance Capability.