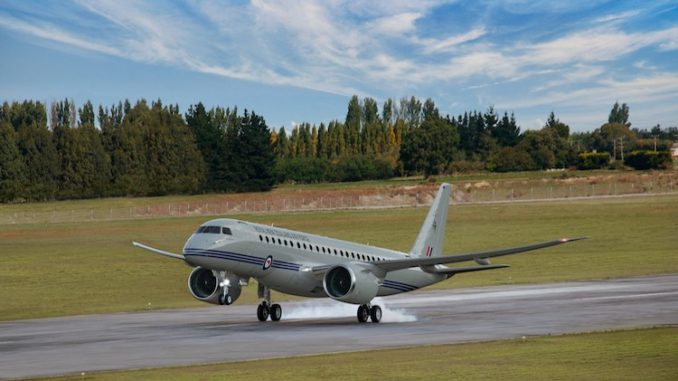 Triple type certification for the E190-E2 sets a new international benchmark as Embraer highlights the credentials of the E2 as a potential passenger/VIP option for the RNZAF.
Things are changing in the way tactical and strategic operations are defined in a military context. The ascendancy of military-medium and military-heavy turbofan capabilities means that there is now convergence in how tactical and strategic operations are conducted and resourced.
No longer do you need a 'strategic jet' and a 'tactical turboprop' to cover the spectrum of operations that many Air Forces are called upon to do. The Embraer KC-390 is providing this bridge in capability for the 'medium' class airlifter, in much the same way as the Boeing C-17 has done in the 'heavy' class.
The ability for the modern breed of fixed-wing transport aircraft to quietly cruise at speeds equivalent to modern jet airliners (M0.8) and then land on an unprepared strip in the islands or abroad opens up a whole new range of capabilities for militaries to explore.
When you combine these with the unique geographical location of New Zealand, and the roles and capabilities that a modern air transport aircraft needs to perform, the KC-390 provides a winning combination of strategic and tactical capabilities, future-proofed with its modern design. The aircraft enjoys new standards of reliability, maintainability and overall support compared to older aircraft design types nearing retirement.
Standard setter: the E190-E2
Embraer is the world's leading manufacturer of commercial jets up to 150 seats, and is proving that it has the organisational, technological and support base to propose and deliver solutions to New Zealand for the long term. Embraer's new E190-E2 jet is the perfect compliment to the KC-390 should a dedicated passenger/VIP aircraft continue to be required by the NZDF.
Notwithstanding the KC-390´s capability to be configured for passenger and VIP operations, the E190-E2 is already making a name for itself. The E2 family of commercial jets is the second generation of the E-Jets, which have logged more than 1,800 orders and 1,400 deliveries to some 70 airlines in 50 countries.
In February 2018, the E190-E2 received type certificates from three certification authorities: ANAC (Brazil), FAA (USA) and EASA (European Union). It is the first time that an aircraft programme with the level of complexity of the E2 has received a type certificate from three major worldwide certification authorities simultaneously. This sets a new standard in the aerospace industry.
Following type certification, the first E190-E2 was delivered to launch operator Widerøe (Norway) in April this year in a 114-seat in single-class configuration.
When it comes to reliability, Embraer targets a 99 percent dispatch reliability after 12 months, and 99.5 percent after four years. Embraer targets 16-24 percent lower fuel burn and 15-25 percent lower maintenance cost per seat when compared to the original E-Jet. Range extension has also been achieved to 2,850nm with full passenger load and reserves.
So, what is new in the E2? Its wing has been redesigned and it introduces new pylons, landing gear, horizontal stabilisers, cabin, cabin air system, air cycle machine, bleed air system, and a new fly-by-wire system. In the E190-E2, of the 16 percent better fuel burn, 11 percent comes from the geared turbofan, 3.5 percent from the improved aerodynamics of the new high aspect ratio wing and 1.5 percent from the fly-by-wire.
Enjoying this article? Consider a subscription to the print edition of Line of Defence.
In January 2013, Embraer selected the Pratt & Whitney PW1000G Geared Turbo Fan (GTF) engine as the exclusive powerplant, and Honeywell Primus Epic 2 was selected as the avionics package. Similar to the KC-390, the E2 features a closed loop fly-by-wire control, which reduces weight, increases fuel efficiency, enhances control and increases safety by full envelope protection in all flight phases.
Superior service and support
As is often the case when introducing new aircraft to the commercial or military market, questions are asked about the maintenance services and support that will be there to ensure aircraft serviceability and availability.
Embraer has learned a lot over the years from supporting some 5,600 aircraft from 1,700 customers in over 100 countries. It is this expertise that has contributed to Embraer's ability to reduce aircraft downtime, lower operating costs and improve operational efficiency.
Embraer has a dedicated team of professionals at their TechCare Centre providing help 24/7/365 days a year. As a global company, Embraer boasts 24 warehouses, 9 owned service centres, 71 authorised service centres and 110 field support representatives – all of which are coordinated to ensure aircraft are kept serviceable wherever you are in the world.
Embraer has merged its support network from Commercial, Executive and Defence and Security business units under a single entity such that it has been able to pool the vast expertise of 2,500 professionals in to a coordinated services and support entity.
This, combined with customer satisfaction surveys of Commercial (83 percent), Defence (85 percent) and voted 1stfor Executive Aviation by AIN and Pro Pilot, Embraer's reputation for exemplary support is unrivalled.
There is now the realisation that E190-E2 certification and the imminent certification and delivery of the KC-390 to the Brazilian Air Force strengthens the position of Embraer as one of the top aerospace companies in the world. These are real milestones that will benefit operators the world over as these aircraft replace older fleets and models.