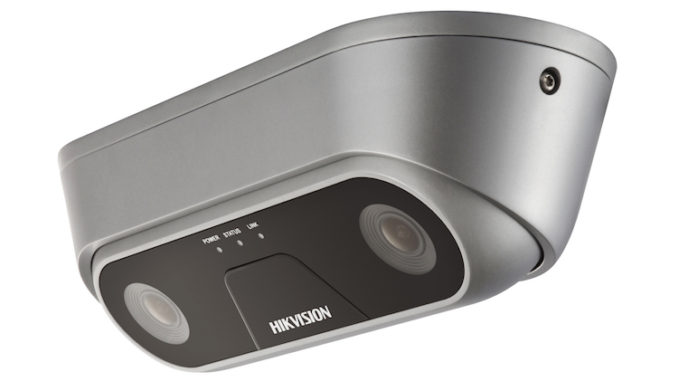 Delivering more than just security, Smart Solution 2.0 by Hikvision packs the most advanced technologies into end-to-end solutions that provide retail operators with the information they need to continually improve businesses.
Collecting business intelligence in the retail world has tended to be something of a hands-on affair. Making sense of footfall, customer volume, and other useful data has traditionally involved the use of consultants, number crunching, and, at the very least, a solitary staff member stationed by the shop entrance and armed with a 'clicker'.
Times have changed. Technology now provides us with tools that accurately collect, analyse and visualise data as well as deliver intelligent security, surveillance, and loss prevention.
Benefiting from Deep Learning Technology, Hikvision's Smart Retail Solution delivers support for retailers so they can make smart decisions aided by advanced functions like people counting, heat mapping and queue detection. No more need for clickers.
People Counting
In the typical retail context of tight margin and quick turnover, footfall is a key profit indicator that can help drive the turnover side of the equation. Hikvision's Dual-Lens People-Counting Camera provides accurate customer counting and generates customer flow trends to evaluate performance and strategic initiatives.
The Dual-Lens People-Counting Camera (iDS-2CD6810F/C), equipped with two cameras and powered by a Deep Learning algorithm, takes care of interferences, such as shadows and other objects that can cause miscounts, to deliver highly accurate people-counting data.
Featuring binocular stereo vision, 3D people detection, and height filtering technologies, the Dual-Lens People-Counting Camera is able to accurately distinguish human beings from non-human objects in the background. It can also distinguish between two people standing together as long as there is space between the two heads
The Loitering Filtering enables the camera to focus on a target and track it until it disappears in the image, thus effectively filtering a repeated count of the loitering target.
A key advantage of Deep Learning algorithms over a surveillance camera's vision algorithms is that Deep Learning can be continuously trained and improved with better and more datasets. This means the longer it works for you, the smarter it gets.
Retailers can generate customer distribution reports from Hikvision's Retail Solution, based on data collected from people-counting cameras during a specific time period. Daily, weekly, and monthly customer distribution reports contribute to improved personnel scheduling and effectively enhance marketing strategies.
By analysing customer flow data, store managers can optimise staff rostering to achieve greater efficiencies and better customer service. They can also use the data to develop strategic marketing activities to attract customers by analysing the rates of shoppers entering versus those just passing by.
Heat Mapping
It's useful to know what merchandise customers are interested in once they enter the store. And it's also important to know what route they took after stepping into the store to get there. In retail, the best strategy makes the most of each and every square foot.
With Hikvision's Heat Mapping function, retailers can determine the amount of time shoppers spend in specific areas of a store, identify hot spots and dead zones, and measure the number of people who shop for specific products, rather than those just window shopping.
Heat Mapping monitors and measures the size of traffic in a sales or display area. It is a graphical record of data represented by colours,and is commonly used to analyse visit times and dwell times of customers in a specified space.
Enjoying this article? Consider a subscription to the print edition of New Zealand Security Magazine.
The Heat Map function is most often used in shopping malls, supermarkets and museums, detecting customer or visitor preferences over time. Collected data yields heat maps that offer insight into how to best place items and design the store layout.
Hikvision's heat-mapping Fisheye Cameras not only capture a panoramic high-definition image but also learn about heat conditions in different regions within a store. In spacious areas, each fisheye camera does the work of several conventional-lens cameras, requiring fewer cameras and therefore reduced installation and labour fees.
Queue Detection
Nobody likes to queue. In retail, wait time is one of the most important factors affecting the customer experience, and Hikvision's Queue Detection function is here to help. When too many customers enter a queue at checkout, for example, it can alert management to open up a new line.
Hikvision' queue detection cameras monitor the queuing situation in real-time. The cameras count the number of people in each queue, and then track the dwell time of each customer. Once it is identified that the number of people in a queue is too high, or the average dwell time of customers is too long, an alarm is then triggered to prompt a response.
In the ultra-competitive context of retail, these things matter. The Hikvision Smart Retail Solution is designed to help retailers bring offline stores into a digital world, acquiring data that supports management and operations.
Loss Prevention
Hikvision knows a thing or two about protecting businesses from theft, and it is doing just that in increasingly intelligent ways.
Hikvision's POS Solution, for instance, connects surveillance video with transaction data captured at Points of Sale, either while POS data is sent for printing (via RS232/USB), while POS data is sent to central database (via network), or from the POS software itself.
The NVR supports multiple POS protocols, including Universal Protocol, EPSON, AVE, and NUCLEUS, with more on the way. In universal protocols, users can self-define tags indicating start line, line breaks, and end line.
All scanned items can be displayed in live view and playback and can be programmed
to trigger alarms. This allows managers to instantly playback or search for a specific transaction – even months after the event. This resourceful solution serves to reduce hidden shrink resulting from theft or fraudulent POS activity.
Ultimately, Hikvision's SmartRetails Solution provides retail operators with the cost-effective intelligence to not just protect their businesses from loss, but also to position their businesses for increased profit. This is the future of security – providing the means to identify threats and simultaneously to identify profitable opportunities.