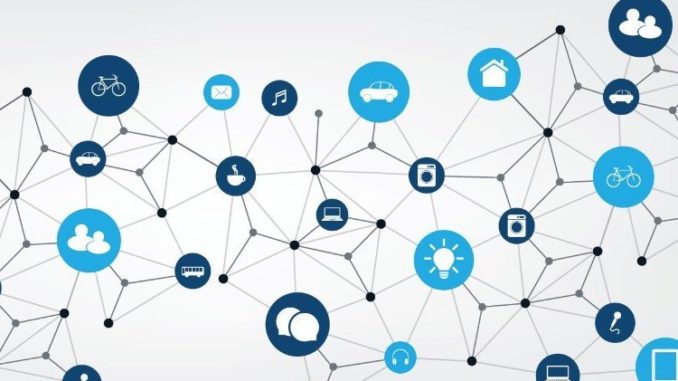 Software as a Service provider simPRO breaks new ground with new field-proven IoT solution, and appoints new GM for its New Zealand operations.
New Zealand's field maintenance technicians will for the first time be able to utilise the Internet of Things (IoT) on a large scale to automate a range of functions, according to technology group simPRO.
simPRO, the leading Software as a Service business for the trade services industry, unveiled its new IoT solution in London last month. The technology will be rolled out to the company's 100,000 users in New Zealand, Australia, the US and the UK over coming months.
simPRO IoT takes hardware, software and data from businesses in the trade and field service industries and integrates them into one platform, allowing previously separate programmes and machines to talk to each other and provide automated solutions ordinarily requiring extensive manual effort.
simPRO Director Curtis Thomson said IoT would revolutionise the trade services and maintenance industries.
"The ability to connect anything and everything and manage and monitor remotely is extremely exciting for businesses looking to maximise efficiency," he said. "There is serious demand for a range of integrated hardware and software that achieves a complete working solution, and that's what we've built."
He said simPRO's IoT solution would save significant time and costs in the management of routine site inspections for equipment maintenance.
"By introducing an IoT real-time feed it could be possible to almost eliminate the need for someone to visit a site unless an issue is detected," he said.
"By integrating operations with simPRO, a business can also improve its own crisis reaction times. When issues are automatically identified early, business interruptions and resolution times are reduced and servicing and maintenance costs are brought down."
One of the major benefits of simPRO IoT is that it is handled through one vendor and can be retrofitted at low cost to any existing equipment and be up and running in minutes. The simPRO platform is also open to allow for integration with any other IoT devices or protocols from third parties or existing installations.
Smashing 'fatbergs', saving millions
simPRO is providing its leading-edge IoT solution to help tackle one of the UK's most irksome plumbing problems; the build-up of fat, oil and grease (FOG) in sewer pipes, which leads to the formation of 'fatbergs' that block drains and sewers and cause tens of millions of pounds of damage every year.
simPRO has teamed with hospitality facilities management specialists Three Nations to develop the technology to help eradicate the scourge of fatbergs with a fully integrated and automated solution called FOGCheck.
Enjoying this article? Consider a subscription to the print edition of New Zealand Security Magazine.
FOGCheck utilises a new biological treatment for the removal and prevention of build-up and blockages caused by fat, oil and grease in commercial kitchens, drains and sewers, called Stopblox. This bio-treatment is combined with hardware that remotely monitors automated dosing to prevent blockages.
simPRO IoT is used for monitoring the dosage system and is dynamically linked to automated waste water sampling and the management of the equipment that dispenses the agent.
Keeping Luton Airport's lounge running
Using low-cost plug and play sensors integrated with simPRO's job management platform, facilities (building plant and equipment) management group Thermacell is able to monitor the performance of air conditioners at lounges in Luton airport remotely in near real time and automatically receive alerts in response to anomalies.
This allows Thermacell to identify and diagnose many issues prior to complete failure and without the need for time consuming and expensive site visits, which are often constrained by airport security measures.
Thermacell Service Manager Alan Chandler said the company shared simPRO's view that IoT would have a significant impact on the facilities management and maintenance services Thermacell provided.
"simPRO's IoT solution allows us to get closer to the Swissport Lounge and provide a more responsive, customer-focused offering based on the accurate live data we receive on both asset and facility performance," he said.
New NZ General Manager
Closer to home, simPRO announced on 2ndJuly the appointment of a new General Manager to oversee its New Zealand growth strategy.
Ricky Sevta, who most recently worked as Business Manager for VAE Group, will officially take up the General Manager role in July. Current New Zealand General Manager Richard Pratley has taken up the role of Managing Director with simPRO in the UK.
Ricky has spent several years working in New Zealand's private sector, with a background in business strategy and management in the electrical, HVAC and building services industries.
simPRO Chairman and CEO Sean Diljore said Ricky was a clear choice for the role.
"Ricky has also held positions within Schneider Electric, which allowed him to work closely with Richard," he said. "His existing relationship with simPRO and his proven experience in leading and managing diverse teams will certainly help deliver positive outcomes for the company.
"This appointment is in the best interest for simPRO. By redistributing valuable knowledge and experience and bringing on fresh talent, we'll ensure that all of our customers across the world are taken care of by the best minds in the industry," he said.
After making way for Ricky's appointment, Richard will take up his new position as simPRO's Managing Director in the UK in August.
"simPRO takes care of more than 4,000 businesses and more than 100,000 individual users around the world. With those numbers growing every year we are grateful we have such a strong team. Since 2016, Richard oversaw simPRO's successful growth and major expansion of simPRO in New Zealand," Sean said.
"With his proven leadership, strong knowledge of simPRO and the local trade services industry, we were excited that he accepted the opportunity to lead the company's next phase of growth in the United Kingdom."
About simPRO
simPRO provides business management cloud solutions for the trade and specialty contracting industries; including security professionals, plumbers, electricians, HVAC, solar, data networking, and others. simPRO eliminates the hassle of field service management, reduces paperwork, refines office processes, streamlines field operations, maximises workforces, and enables business growth.
With customers in New Zealand, Australia, the United States and the United Kingdom, simPRO provides global leadership for trade and specialty contractors worldwide. simPRO's clients ranging from small contracting operations through to corporate enterprises.