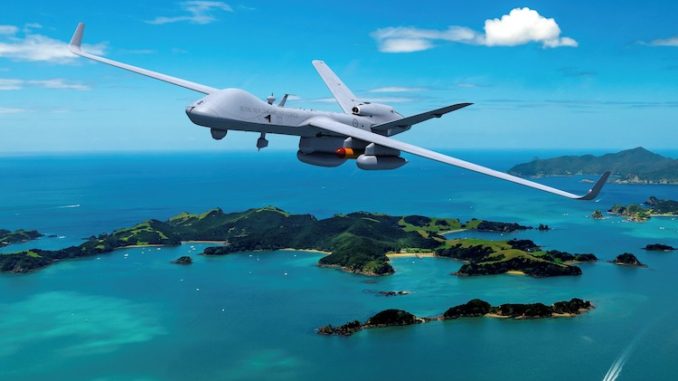 General Atomics Aeronautical Systems explains why its SeaGuardian Remotely Piloted Aircraft System is the persistent multi-role, multi-environment ISR platform for New Zealand.
SeaGuardian is the maritime-modified version of the MQ-9B SkyGuardian from General Atomics Aeronautical Systems, Inc. (GA-ASI), and as such is a true multi-role platform. MQ-9B will become the world's most advanced Remotely Piloted Aircraft System (RPAS) when the first production aircraft is delivered to the Royal Air Force (RAF) as the PROTECTOR RG Mk1 in the early 2020s.
As the RAF awaits its first delivery, demand from other parts of the world – including the Indo-Pacific, the Middle East and Europe – continues to build. On 16 November 2018, Australia announced its intention to acquire either the MQ-9A or MQ-9B from GA-ASI, and is closely analysing the MQ-9B in conjunction with the RAF, while Belgium recently selected the MQ-9B SkyGuardian. 
The MQ-9B leverages the mature system architecture of the legacy MQ-9A and its more than two million flight hours, while incorporating enhancements that support mission capability, global industrial expertise, and its goal of achieving seamless integration into non-segregated national and international airspace.
Multi-environment, multi-mission, multi-agency support
As a truly multi-mission aircraft, the nine external hard points on MQ-9B offer unmatched mission payload configurability to meet diverse mission and customer requirements.
In the aircraft's basic Intelligence, Surveillance and Reconnaissance (ISR) configuration, the SeaGuardian is equipped with a high-definition Electro-Optical/Infrared (EO/IR) sensor, a high-performance 360° multi-mode radar and an Automatic Identification System (AIS) to support maritime, land and littoral missions.
A range of podded payloads – including electronic surveillance, deployable Search and Rescue (SAR) payloads, and communication/networking capabilities – can also be added. The MQ-9B system architecture permits the 'plug-n-play' of different podded payloads from mission to mission.
In contrast to MQ-9A, the MQ-9B's wings have been extended by four meters to a total length of 24m to accommodate additional fuel capacity while also providing greater lift and endurance. The wing extension accommodates the addition of two hardpoints for a total of nine.
The SeaGuardian boasts a range of 5,500 nautical miles (SkyGuardian is 6,000 nmi or more) and an endurance of more than 35 hours (SkyGuardian 40 hours plus). GA-ASI flew an MQ-9B SkyGuardian for 48.2 hours on 2,721 kg / 6000 lbs of fuel in May 2017.
On 11 July 2018, MQ-9B became the first medium-altitude long-endurance (MALE) RPAS to complete a trans-Atlantic flight when the aircraft landed at RAF Fairford in Gloucestershire, UK. The flight originated from GA-ASI's Flight Test and Training Centre in Grand Forks, North Dakota, USA.
Enjoying this article? Consider a subscription to the print edition of Line of Defence Magazine.

With exceptional range, the MQ-9B has the ability to self-deploy comfortably over long distances, including from New Zealand to the South Pacific or Antarctica, while still performing a useful time on station. 
With its range of reconfigurable sensors, systems and communications, the MQ-9B is ideally suited to support New Zealand all-of-government tasks, including those involving Customs, Police, Primary Industries and Defence. The MQ-9 has the ability to operate overland, in the littoral, in both brown-water and blue water environments, in regions important to New Zealand's South Pacific neighbours and in the Antarctic.
MQ-9B has the ability to operate covertly even at significant stand-off distances, or at altitudes up to 40 000 ft. The aircraft can also operate at low level if a demonstration of presence is required.
If required for a pure defence role, the MQ-9B can support joint and combined operations, is fully interoperable with key allies, and has the ability for deployed ISR operations with a low personnel and logistics footprint.
ATLC and All-Weather Performance
SATCOM Auto Take-off and Landing Capability (ATLC) is part of the SeaGuardian package, designed to help minimise the aircraft's launch and recovery footprint, and reduce manning and equipment requirements at a Forward Operating Base (FOB). This capability allows aircrew on a Main Operating Base (MOB) to land, taxi and launch the aircraft from a separate FOB, requiring only a small team equipped with a ruggedised laptop at the FOB.
Both SeaGuardian and the MQ-9B SkyGuardian are capable of all-weather day/night operations. The cold weather engine start capability allows ground operations down to -41°C. It also has an Electro-expulsive De-icing system (EEDS) for wing leading edges, anti-ice heated engine inlet, heated pitot tube and static ports, and lightning protection.
For ATLC operations, the aircraft is capable of operating in crosswinds in excess of 20 knots. Its all-weather performance will allow it to operate to at least the level of aircraft in the Beachcraft B350 class.
Certifiable Design
MQ-9B is a ground-up redesign of earlier variants. This was done in order to earn certification to fly in non-segregated airspace and integrate seamlessly with manned aircraft.
GA-ASI expects MQ-9B to achieve certification in the early 2020s, when the aircraft initially will meet NATO STANAG-4671 airworthiness standards, and subsequently commercial airworthiness certification standards in cooperation with the US Federal Aviation Administration (FAA).
The Detect and Avoid (DAA) system that GA-ASI has developed for the aircraft is comprised of an air-to-air radar, Traffic Collision Avoidance System (TCAS), Automatic Dependent Surveillance-Broadcast (ADS-B), and the ability to blend that surveillance onboard in support of alerting and manoeuvring guidance to the pilot in the Ground Control Station (GCS). The DAA system enables the RPAS to detect other platforms and safely remain well clear in coordination with air traffic control.
Numerous technologies and design attributes have been incorporated into the production of MQ-9B to meet certification standards. To comply with STANAG airworthiness requirements for airframe fatigue and integrity, all MQ-9B aircraft are constructed with certified composite materials using riveting and bonding processes that yield a service life of 40,000 flight hours – double the service life of the MQ-9A aircraft.
For MQ-9B to be able to 'file and fly,' it needs to be controlled by a GCS that's also certified. That effort has brought with it a number of key features designed to enhance safety and situational awareness for the remote pilot, including the Launch and Recovery Element (LRE), Mission Control Element (MCE), dual control Pilot/Sensor Operator (PSO) stations, full automation or manual "pilot-in-the-loop" operations, and design standards to meet the FAA's DO-178/DO-254 airborne systems and equipment certification.
ASW Capability
GA-ASI is also developing an Anti-Submarine Warfare (ASW) capability. In October 2017, GA-ASI demonstrated remote detection and tracking of submerged contacts using an MQ-9A RPA.
The MQ-9A used sonobuoys to gather acoustic data and track underwater targets. The data was transmitted to the MQ-9A, processed onboard, and then relayed to the aircraft's GCS. The demonstration successfully paired sonobuoy receiver and data processing technology onboard the MQ-9A.
Future developments are planned that include SeaGuardian's ability to carry and dispense sonobuoys and to transmit the acoustic data via BLOS SATCOM. This continuing development offers yet another cost-efficient capability to complement manned maritime patrol aircraft in the prosecution of submerged vessels.
GA-ASI History of Achievement
GA-ASI has delivered over 850 aircraft and more than 300 GCS, and its aircraft operate worldwide. Every second of every day, close to 70 of GA-ASI RPAs are airborne worldwide. To date, GA-ASI aircraft have accumulated over five million flight hours, with 90 percent of these flight hours achieved during deployed operations.