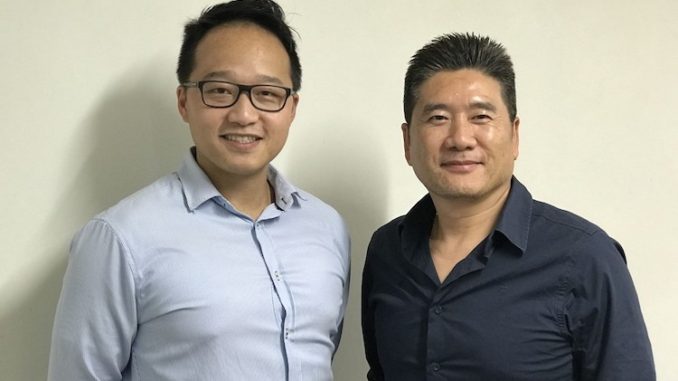 Traditional VMS comes with heavy hardware, a high price tag and ongoing costs. Digifort's globally recognised cutting-edge, open platform solution breaks the mould with a compelling lightweight, high-performance alternative.
Established in 1997, VST (NZ) Ltd has been a leader in the distribution of IT storage hardware in New Zealand for two decades. The Auckland-based company is synonymous with storage, and its team is widely reputed for their pre-sales advice, installation support and solid after sales and technical support across their product range.
Recently, the VST vision of bringing in the latest storage hardware to the New Zealand market was taken one step further with the signing of Digifort, the video surveillance software and video monitoring intelligence specialist.
"We're delighted to be welcoming the Digifort brand to our range," VST Sales Manager Douglas Leung told NZSM. "Digifort is a global innovator renowned for cutting-edge video surveillance technology admired by end-users around the world."
With a presence in over 120 countries and a platform translated to over 18 languages, Digifort has been at the forefront of the digital video surveillance revolution since 2002 with its market-leading, open platform VMS.
"The New Zealand market is well known for adopting new and emerging technologies," said Digifort's Australasia Sales Director Tooma Chong. "We've been looking for a good partner, and in VST I believe we've found it. They have a great image in the marketplace, they understand tech, and they are known for superior tech support."
Video Management System (VMS)
Digifort's award-winning VMS is a truly open platform offering highest-quality performance, compatibility, and one of the industry's lowest total costs of ownership. As an open platform VMS company and a certified ONVIF global partner, Digifort supports nearly every camera in the market today.
"Although we are a software developer ourselves, through collaboration we work with the best engine developers globally," said Tooma. "This gives us the luxury of cherry-picking the best in the industry and deeply yet seamlessly integrating their solutions into our single software platform."
Its performance-driven architecture delivers one of the most responsive and lowest CPU and RAM demanding VMS in its class, creating an environment extremely light on IT infrastructure and light on hardware and maintenance costs.
Enjoying this article? Consider a subscription to the print edition of New Zealand Security Magazine.


"Analytics requires highly sophisticated back-end hardware and large numbers of servers, which can kill end user budgets," said Tooma. "In some cases we can halve the number of servers needed, delivering sometimes hundreds of thousands of dollars in IT infrastructure savings."
It's part of a philosophy of keeping things simple. "There's no shortage of high tech driven software that is complicated for the end user," he said. "We make it easy for the security officer in the control room to use, while providing all the enterprise features that are needed."
But perhaps the most compelling feature of all relates to total cost of ownership. "Most of the VMS we compete with rely on recurring revenue, such as annual charges for updates, new releases, new features, etc," explained Tooma. "Digifort doesn't charge any annual fees – once you buy it you own it, and you are entitled to the upgrades and the technical support you need."
Digifort ANPR
Digifort ANPR is designed to read any vehicle license plate type in the world at any traffic speed. The fast, exact, automatic identification and recognition capabilities of this ANPR/LPR engine is suited to toll collection and congestion charging, traffic monitoring and security, speed and journey time measurement, bus lane and traffic light enforcement, parking, and access control systems.
Digifort ANPR is a core technology rather than a complete application, and it was specially designed to be easily integrated into complex intelligent traffic applications. As a flexible system, with its comprehensive functional libraries, it can be tailored to meet unique customer requirements.
In addition to plate numbers, Digifort ANPR also returns plenty of additional information, such as an image with the recognised plate(s) and the confidence level assigned to each character as well as the whole plate. The system also delivers country, state or province and plate type recognition; optional License plate colour recognition; and non-empty dangerous goods plate recognition included.
Fast, easy and straightforward use, Digifort ANPR is compatible with any image source (analog / digital / still images / MJPEG video streams).
Facial recognition
The SAFR facial recognition platform from RealNetworks is seamlessly integrated with the Digifort VMS to identify individuals that are threats, concerns, strangers, employees, VIPs, known and unknown, as they move from camera to camera, using real-time SMS/email alerts and notifications.
The SAFR platform is architected to scale with rapid processing to detect and match millions of faces in real time. Its computational performance enables it to recognise a face within 200 milliseconds with world-leading accuracy as tested by NIST.
The platform is specifically designed to detect and differentiate faces in photos and videos in the real world, including people in motion, under poor lighting, or when the subject wearing facial hair, glasses, face paint, or makeup, or is partially obscured. SAFR supports watchlists to recognise every fan, customer, employee, or guest –invited or not.
Video Synopsis
BriefCam is the industry's leading provider of Video Synopsis® and Deep Learning solutions that make video searchable, actionable, and quantifiable. BriefCam's video analytics platform is built on a unique fusion of Computer Vision and Artificial Intelligence (AI) technologies empowering new and innovative efficiencies by extracting more value from video surveillance systems.
Digifort and BriefCam has integrated third party Video Synopsis® technology which help law enforcement, government, public and private security organisation and corporate users to achieve rapid video review, search and analysis via simultaneous presentation of events that occurred at different times.
The BriefCam V5 next generation platform enables rapid video review and search, quantitative video insights, and smart alerting, dramatically shortening the time-to-target for security threats while maximising safety and optimising operations.
The platform's review module allows hours of video to be reviewed in minutes or even seconds. The system can pinpoint people and vehicles of interest, using an extensive range of appearance and movement filters, across multiple video sources.
Its video synopsis capability automatically extracts objects from the original video and efficiently reconstructs and superimposes them back in the original scene, simultaneously displaying events that have occurred at different times. The result is a dramatically shorter video segment that fully preserves the viewer's ability to analyse the scene.
Using the system's case management functions, the user is able to easily organise all video assets of an investigation in a single container, bookmark objects of interest, and summarise case findings (including all relevant exhibits) in an exportable report.
For more information or a demo, contact sales at VST on 094448448, or visit https://www.vst.co.nz/digifort/