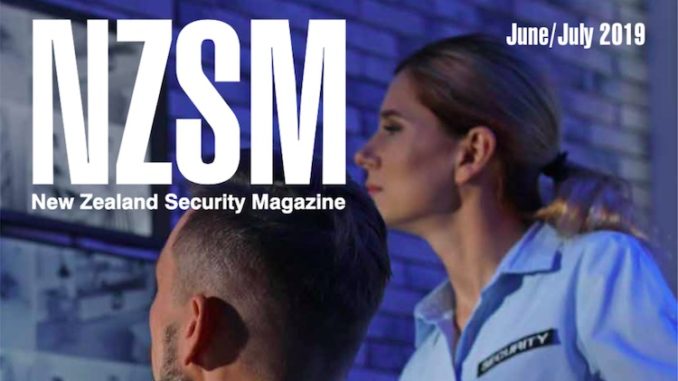 Welcome to the June-July 2019 edition of NZSM.
Two months on from the Christchurch mosque attacks, we gain insights from Phil Murphy, Sales Manager South Island for Gallagher, and Gary Morrison, NZSA CEO, in relation to how people and communities are responding to the changed security context.
In the shadow of the Christchurch mosque attacks, we also look at the new AI-powered active shooter detection platform gifted to Al-Noor Mosque's by Keep Mosques Safe (KMS), an international initiative designed to prevent active shooter situations at mosques through gun detection.
__________________________
Continuing our post-15/3 coverage, an article by Kris Gledhill, Professor of Law at Auckland University of Technology, explains how the Royal Commission into the Christchurch mosque attacks will work, and what it will – and will not –look into. And we report that the Royal Commission will soon look to accept submissions.
In other features, Alarm Watch General Manager and NZSA Board Member Wade Coneybeer notes that the decades-long love-hate relationship between Security Alarms and the Public Switched Telephone Network is coming to an end. What does the phasing out of the PSTN mean for alarm unit selection?
We also bring you up to speed on the evolving issue of facial recognition cameras and concerns over privacy and accuracy. While New Zealand's approach appears to be middle-of-the-road, many countries within the Asia Pacific region are speeding full-tilt towards incorporating the tech into new smart city projects. On the flip side, San Francisco last month became the first city in the world to ban its authorities' deployment of the technology.
We were lucky enough to make it to Wellington for the May 3rdWomen in Security event hosted by ASIS International's New Zealand chapter at Te Papa, and had lots to learn from each of the event's three speakers: Catriona Robinson (Director of the National Security Systems Directorate, DPMC), Sai Honig (ISC2 board member), and Kate Pearce (TradeMe's Security Officer (CISO)).
In cyber news, FintechNZ's General Manager James Brown, argues that New Zealand can take lessons from the U.S. city of Baltimore, which was offline for over a week in May following a crippling ransomware cyberattack.
In NZSA news, we learn about the MSD/NZSA Skills for Industry Security Programme, and CEO Gary Morrison discusses the Christchurch mosque attacks, security licensing for monitoring operators and electricians, and the recent conviction of an individual for operating security services without a licence.
With nominations for the 2019 New Zealand Security awards for excellence now open, we also take a look at the nomination process and urge nominators to ensure that they fully address the category criteria to give their nominees the best possible shot at winning.
We also touch base with Facilities Integrate 2019 and learn a bit about conference newcomer, Safe and Secure Facilities and Public Spaces, to be held in Wellington in August. Don't forget to get your ticket to the New Zealand Security Awards dinner!