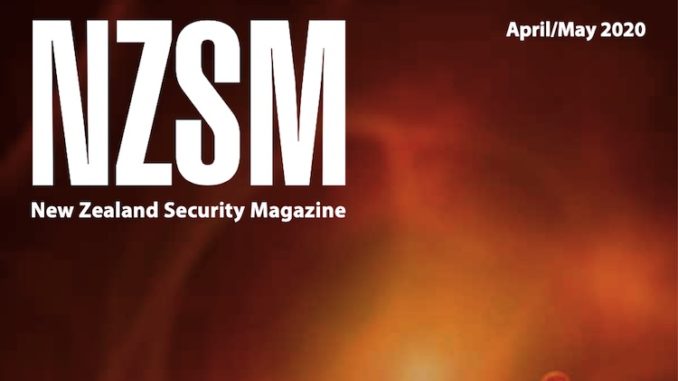 Welcome to the April – May 2020 edition of New Zealand Security Magazine!
Due to Alert Level 4 lockdown and fact that printers are closed, this edition will be released online only, and will be available in PDF via the Defsec website and Issuu. Each article will also be posted to the Defsec website and circulated individually on LinkedIn and our other social media channels.
If you haven't done so already, I welcome you to bookmark the Defsec site, which is the online home of NZSM, Line of Defence and Fire NZ magazines, to subscribe to our email newsletters via the form on our website, and to also follow us on LinkedIn.
Ensure you click on the Fullscreen button at the bottom-right of the viewer:
---
Unsurprisingly, COVID-19 is a major focus of this edition, with several articles featuring commentary and analysis on the pandemic, the lockdown and associated issues.
From the outset, I wish to acknowledge the industry leadership of the NZSA and its CEO Gary Morrison, who have not only been providing updates to its members on an every-other-day basis (and sometimes daily), but have also actively gained certainty for the industry by taking an early position in relation to security as an 'essential service' and by helping ensure supply of guarding labour and PPE into the sector.
I'd also like the acknowledge all the work being done out there by security guards, crowd controllers, patrol officers, technicians and other security professionals providing essential services in challenging circumstances.
Also in this edition, Andrew Thorburn provides insights into the new Australian/ New Zealand access control standard, highlighting the importance of the standards for the entire supply chain from manufacturers to installers to end users.
With the government's Protecting Our Crowded Places from attack: New Zealand's Strategy to be launched in the near future, I take a sneak peek at the document and identify areas of convergence and departure from the 2017-published Australian version.
It is now over a year since the Christchurch Mosque Attacks when 51 members of our community were stolen from us by a cowardly, senseless, despicable attack. In his analysis, Dr Richard Shortt provides his perspectives on violent extremism and New Zealand's changed threat landscape.
We also catch up on all the latest from the NZSA, NZIPI and our excellent sponsors, and much, much more.
A day prior to this release of this magazine, many within the industry would have received the sad news of the passing of Michael Pepper. Michael was well known and widely respected among security professionals throughout New Zealand as a teacher and mentor. He gave generously of his knowledge and time to support many through their studies and certifications, and contributing in many ways to the professionalisation of the industry. An exemplary figure within our community, he will be missed by many. Rest in Peace, Michael.
Nick Dynon, Auckland.