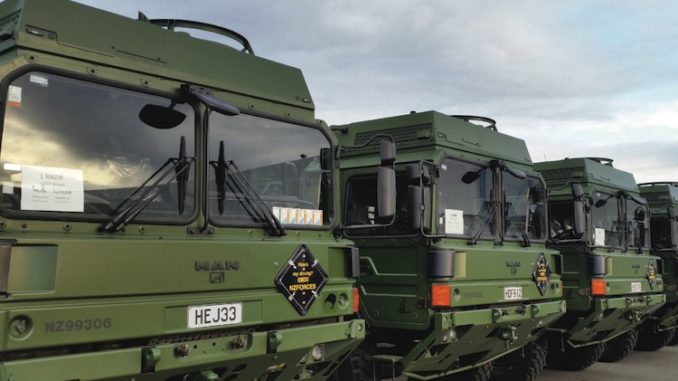 Rheinmetall has been an active partner to the New Zealand Defence Force (NZDF) and a member of the nation's defence industry since 2013.
From its offices at Upper Hutt, the company is now growing its New Zealand footprint by establishing a new regional capability for a range of vehicle platforms, electronic solutions and weapons & munitions on the back of its recent contract awards in the Australian defence sector.
This local growth mirrors Rheinmetall's global activities as an integrated technology group expanding into new regions and markets in the areas of environmentally friendly mobility and threat-appropriate security technology.
Rheinmetall Group's operating activities are split in two corporate sectors – Rheinmetall Defence and Rheinmetall Automotive. In 2018, its 23,000-strong staff generated annual sales of more than $NZD8 billion. Today, the 130-year-old Dusseldorf-based company is growing its New Zealand footprint by delivering capability where the key requirements are mobility, lethality, reconnaissance, protection and sustainment.
Recognising the significance of the high mobility logistics vehicle and combat vehicle programs now being delivered to regional users like the Australian Defence Force, Rheinmetall has established its newest global business unit – Vehicle Systems Asia Pacific – to be headquartered in Brisbane and focused on delivering and sustaining military vehicles for the Australian and New Zealand defence forces, and in key nations across the region.
Under the leadership of Managing Director Gary Stewart and New Zealand Regional Manager Marty Roelofs, Rheinmetall Defence Australia and New Zealand oversees the activities of all company entities and manages operations in Wellington and Upper Hutt.
"Rheinmetall has built a successful export industry for defence products and services from its German base and we are now working towards the same ambition at our Asia Pacific hub in Australia and New Zealand," Mr Stewart said.
"Our focus is on creating sustainable design, development and manufacturing facilities that deliver world leading products and services to the NZDF, as well as partnering with local New Zealand companies to ensure their products and services are available globally through our company's Global Supply Chain."
The New Zealand Government's historic capital investment in the NZDF provides the foundation for Rheinmetall's local focus. The company's footprint in New Zealand has long been associated with its fleet of high mobility logistics vehicles currently in service with the NZDF.
In March 2013, Rheinmetall MAN Military Vehicles – a joint venture between Rheinmetall and MAN Trucks – was awarded a contract to supply the New Zealand Defence Force with 194 new Logistic trucks as well as 6 training vehicles. 
Enjoying this article? Consider a subscription to the print edition of Line of Defence Magazine.
The order encompassed trucks based on HX chassis in three basic sizes: the 6-tonne 4×4, the 9-tonne 6×6 and the 15-tonne 8×8, in ten variants. Some of the trucks are fitted with winches and cranes to allow completely independent operation. They include dump trucks for combat engineers, trucks fitted with specialized pallet and container handling equipment, and tractor/semi-trailer combinations to carry heavy vehicles and equipment.
The contract included vehicles, armour protection kits, weapons mounts, personnel modules and an extensive range of specialised military equipment. It also covers spares, logistic support arrangements, project management and extensive training packages, including six additional vehicles specifically for training purposes. All 200 trucks were successfully delivered between October 2013 and September 2014.
The NZDF deployed a fleet of the trucks to bring much-needed supplies to quake-damaged Kaikoura in the days immediately after the 2016 Kaikoura earthquake. A convoy of Rheinmetall MAN trucks ferried 7320 litres of diesel and 1540 litres of petrol to Kaikoura's petrol stations and emergency services. It also brought 10,000 litres of potable water for distribution and nine Army chefs who were to cater for emergency workers and volunteers as well as about 250 patients at Kaikoura Hospital.
An In-Service Support agreement was signed for a 10 year period with the New Zealand Defence Force expanding the company's operating footprint to include a warehouse facility and spares parts supply, the establishment of the RMMVA New Zealand Dealer Network which undertakes repair activities as part of the Heavy Grade Repair obligation, and the establishment of the New Zealand Office based in Trentham, Upper Hutt.
Over the last three years, Rheinmetall has been the principal sponsor for the Royal New Zealand Army Logistics Regiment Trade competition. The Combat Driver trade also competes for the Rheinmetall Cup which is the top prize that we present each year.
The company is also a member of the New Zealand Defence Industry Association, the main outlet for the NZDF Industry Engagement Program. RDA has been a member for the last 4 years and attend bi-monthly meetings and the NZDIA Forum each year. 
Rheinmetall Group – International Partner for Security and Mobility:
23,044 employees at 38 German and 75 foreign sites in 29 countries
20,000 defence systems in use with more than 80 Armed Forces
70 million pistons, 5 million engine blocks, 27 million pumps, 6 million exhaust gas recirculation systems per year
Biggest German Defence Company and one of the Top 15 Automotive Suppliers in Germany
Driver of innovation with more than 250 million EUR in R&D investment plus CAPEX of 250 million EUR per year