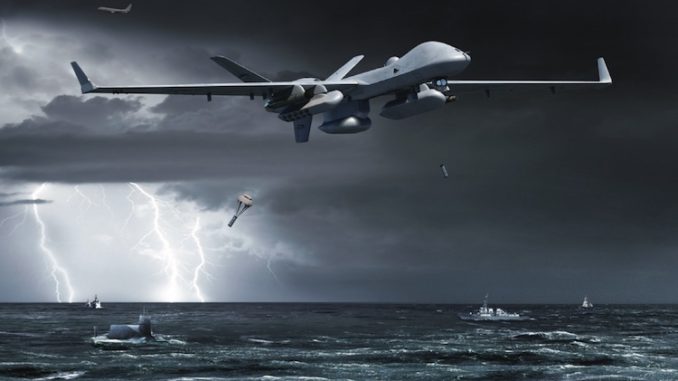 General Atomics Aeronautical Systems Inc. (GA-ASI) manufactures, supports, and operates a variety of operationally proven, highly reliable Remotely Piloted Aircraft (RPA) systems, as well as cutting-edge radars, and electro-optic and related mission systems for military and commercial applications worldwide.
The most recent GA-ASI RPA development is the MQ-9B SkyGuardian and SeaGuardian – the SeaGuardian includes maritime surveillance capabilities.
When combined with the unmatched range (over 6,000 nmi) and endurance (over 40 hours), its ability to operate in adverse weather through use of anti- ice, de-ice, lightening protection and reinforced aircraft structure, the MQ- 9B is the most capable and versatile RPA in the world.
The MQ-9B builds on the trusted and proven capabilities of current MQ- 9A aircraft which are used for a variety of military, security and humanitarian and disaster relief roles by operators across the world.
MQ-9B sales are now growing with Australia joining the United Kingdom in selecting this advanced system. The Government of Belgium has approved Belgian Defense to negotiate for the acquisition of MQ-9B to meet the nation's RPA requirements.
Further operators are expected to select this system shortly. The growing list of customers reflects the versatile and future-focused capabilities of the MQ- 9B, and the cost-effective, through-life performance it offers.
GA-ASI's MQ-9 series aircraft are utilised every day in non-military roles, such as border protection, support to law enforcement, and in response to civil emergencies such as floods, forest fires, hurricanes/ typhoons/cyclones, earthquakes and tsunamis. The kinds of support these RPA provide to non-military missions encompasses not only Intelligence, Surveillance and Reconnaissance (ISR) using electro-optical and radar, but also communications relay and support, including the provision of broadband communications services in affected areas.
GA-ASI's customers seek multi-role, multi-domain capabilities that often see military forces providing support to civilian agencies, and even civilian/security agencies acquiring the capabilities for their own use. GA-ASI expects this trend to continue.
In parallel with the MQ-9B development, GA-ASI has placed a priority on reducing workforce demands for customers. The P3E (Portable Pre/Post-Flight Equipment) and XC2 (Expeditionary Command & Control) capability enables the SATCOM launch and recovery of deployed aircraft utilising a small number of personnel equipped with a ruggedised laptop for control of the aircraft. P3E and XC2 are now being rolled out to customers.
Enjoying this article? Consider a subscription to the print edition of Line of Defence Magazine.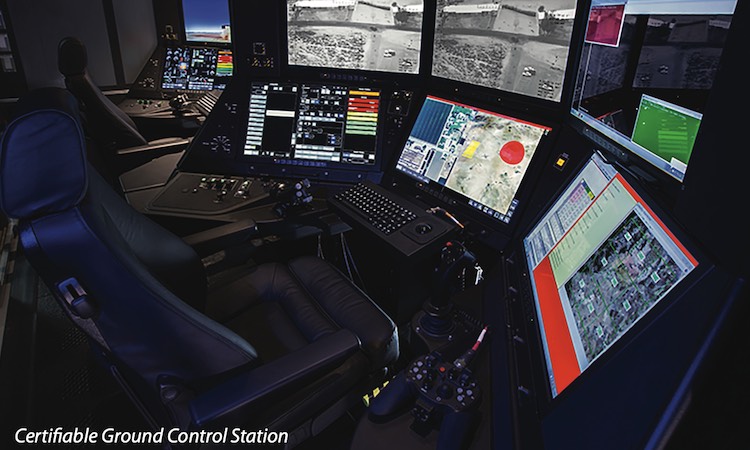 GA-ASI is also working on a range of automated functions that enable the tasking and control of multiple aircraft, as well as automated processing, exploitation and dissemination of collected data. GA-ASI believes that these areas of automation offer the greatest potential to improve RPA utility and cost-effectiveness, and multiply the benefits they produce.
GA-ASI efforts to achieve the seamless integration of RPA into controlled airspace and with manned aircraft has been underway for more than five years. GA-ASI has worked with the FAA and NASA, and European, UK, Australian and other nations' airspace regulators to jointly develop systems, regulations and procedures to achieve this goal. While some development work remains to be completed, GA-ASI leads the world in this endeavour and continues to invest considerable internal research and development resources on this task.
Almost all of GA-ASI's customers are demanding these capabilities and the company is well along the way to deliver a fully certifiable solution.
GA-ASI has recently conducted a range of flight trials in Greece and, in 2020-21, GA-ASI will conduct demonstration flights in the Asia- Pacific region. These trials continue to demonstrate a range of maritime, littoral and overland capabilities including operations in controlled and uncontrolled airspace. Future trials will build increased confidence with various regulators and pave the way for more widespread, unrestricted operations.
Two other noteworthy GA-ASI RPA developments, focused towards the MQ-9B in particular, are the Anti- Submarine Warfare (ASW) capability and Laser Communications.
There is a growing realisation amongst military users is that they are unable to acquire or afford sufficient, capable, manned fixed-wing maritime patrol aircraft with ASW capabilities (like the P-8A) which can meet their requirements. ASW is characterized by lengthy and often unrewarding periods searching large areas of ocean, with short periods of localisation, tracking and attack. Long endurance surveillance is a sweet spot for capable, ruggedised RPA and, as such, GA-ASI has developed a MQ-9 focused ASW capability which includes sonobuoy deployment, monitoring, signal processing including automated target detection, and data transmission capabilities.
This RPA system is being designed to work in conjunction with manned platforms including ASW aircraft and helicopters, and surface vessels.
Recently, GA ASI successfully ground tested its Airborne Laser Communication System (ALCoS) by establishing a link with a satellite in Geo-synchronous Earth Orbit. The test successfully demonstrated acquisition and tracking, with sufficient power available to reliably establish and maintain the link.
GA- ASI conducted this trial to support future MQ-9 RPA employment of high-bandwidth communication systems that cannot be jammed or detected by an adversary, while enabling the employment of a new generation of high-performance sensors by breaking the data bottleneck of current RF SATCOM technology.
With 300 times the data carrying capacity of conventional RF SATCOM systems, ALCoS will be able to operate as a communications gateway for other forces.