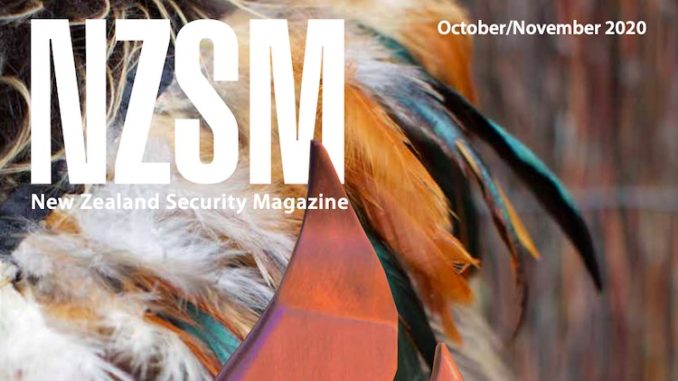 Welcome to the October-November 2020 issue of New Zealand Security Magazine!
2020 is going by in a flash. In this penultimate issue of NZSM for 2020, we review this year's NZSA New Zealand Security Industry Awards and the recently announced IFSEC Global influencers, and profile the winners.
Security has been hitting the news lately, and it hasn't all been pleasant. In this issue of NZSM, we take a fine tooth comb to the political and media controversy zone that is COVID-19 border security and managed isolation facilities (MIFs). Has the political spotlight on MIFs diverted attention away from where it's needed most – pre-arrival border management?
Ensure you click on the Fullscreen button at the bottom-right of the viewer:
---
Also in this issue, our sponsors and partners will provide our readers and online viewers with their latest security solution news.
We return to the topic of security convergence – or 'converged security' – and look at how Mastercard is taking a unified approach to security. According to ASIS International research, corporate security leaders have discussed the idea of converging their physical security and cybersecurity teams for more than a decade, with 25 percent of organisations having already taken the step. We look at the benefits.
In physical security, we feature Part Two of our focus on the NZSA-published Good Practice Guidelines, this time with a focus on the work of mobile security patrol guards. We also feature updates from the New Zealand Security Association and the NZSA's Training Special Interest Group.
On 17 September, New Zealand Police released its long awaited strategy to assist owners and operators of 'crowded places' across New Zealand increase the safety, protection and resilience of their venues. We introduce Protecting Our Crowded Places from Attack: New Zealand's Strategy and explore initial industry reactions to the new document.
According to the 2020 Unisys Security Index, natural disasters rank as the top security concern for New Zealanders, Kiwi women are more concerned about the impact of COVID-19 than men, and high trust exists for government tracing tech. We take a pulse check of New Zealander's current security-related concerns.
There's plenty more in this October-November issue of NZSM! To ensure you don't miss out on any of the news and analysis we publish, subscribe to our email newsletters via our website, and follow us on LinkedIn via the address listed on this page.
We're hitting new heights across all of our print, digital and web formats, so get in touch to find out about how your business can benefit by being part of New Zealand's premier security and risk management industry publication.