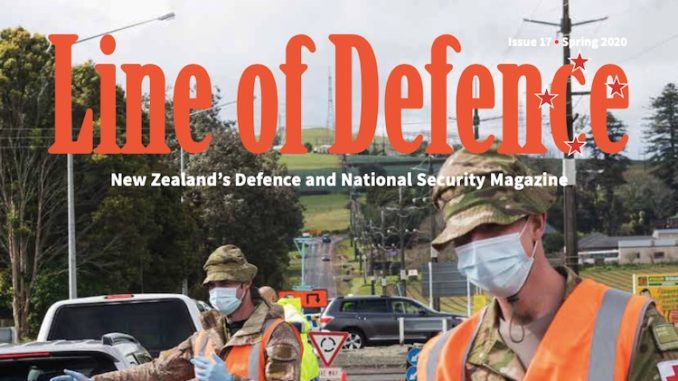 Kia Ora and welcome to the Spring 2020 – and 17th – issue of Line of Defence.
In this Spring issue of Line of Defence, we cover recent developments in the New Zealand Information Domain. First discussed in Defence Capability Plan 2019, thinking on this new domain has undergone significant evolution in recent months. We take a look at some of the key messages thus far.
Ensure you click on the Fullscreen button at the bottom-right of the viewer:
---
With the NZDIA's July member meeting and IDEAS 2020 (Part One) proving a massive hit among members and the broader Defence supply chain, we cover several speaker presentations from these events. Among these, COL Trevor Walker provides an update from DESC, the NZDF's Richard Harrison talks opportunities for local suppliers, DIAC's Greg Lowe explores sovereign capability and a trans-Tasman single market, and NZTE's Graeme Solloway elaborates on new trade support for industry.
Also in Defence, with New Zealand in COVID-19 and election mode, we feature regular columnists Defence Minister Hon Ron Mark and Opposition Spokesperson for Defence Hon Mark Mitchell, with a focus on the NZDF's COVID-19 response role
With the RNZN's Seasprites due for replacement in 2027, Editor-at-Large Dr Peter Greener surveys the international market for maritime helicopter acquisition options. There's many options out there, but very few capable of meeting the Ministry of Defence's requirements. Matthew Medley of IFS explores how COVID-19 is accelerating digital change for defence organisations
In International Security, we present expert perspectives on the ongoing debate over the place of China in New Zealand's foreign policy, including coverage of recent addresses by two-time NZ ambassador to China John McKinnon CNZM QSO and Beijing-based New Zealand business leader David Mahon. Former Defence Minister Hon Dr Wayne Mapp QSO also weighs in, suggesting that Wellington can play an important role in diffusing great power tension in the region – if it chooses to.
In Homeland Security, Massey University's Prof Rouben Azizian and Dr John Battersby introduce the second edition of the National Security Journal, and Israel's Ambassador to New Zealand H.E. Dr Itzhak Gerberg explores the spectre of bioterrorism. In Border Security we unpack the challenge of Managed Isolation Facility security, and I make the argument for a rethink on how to approach COVID-19 at the border.
I commend the above articles to you, along with the many fine contributions inside.
Nicholas Dynon, Auckland.