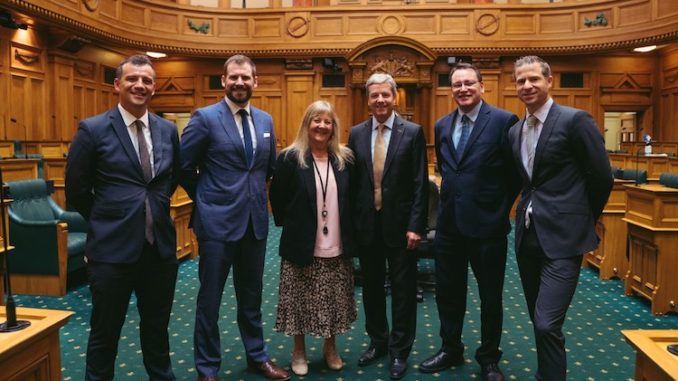 In his inaugural Line of Defence article, former submariner and recently appointed Opposition spokesperson for Defence and Veterans Chris Penk provides insights into the National Party's NZDF connections.
Thank you for your service. I know that some in this country consider that a somewhat American turn of phrase but personally I like it. Expressing gratitude to our military on behalf of the National Party – and on behalf of all the New Zealand Parliament, I would hope – feels like an appropriate start to my first Line of Defence Magazine contribution.
I'm writing as the Opposition spokesperson for Defence, having recently been given that role previously held by my colleague, friend and neighbour Mark Mitchell. I say 'neighbour' because our electorates border each other in Auckland's rural north. In fact, at the recent election we each picked up territory from the other in a boundary change but I was pleased to retain RNZAF Base Auckland at Whenuapai within my patch.
I am a big believer in the role played by our nation's military, perhaps partly due to my own background. Prior to entering Parliament, I served in the Royal New Zealand Navy and then the Royal Australian Navy, as a young man during the period 2000–2008.
While in the RNZN I was lucky enough to be an officer of the watch at sea on HMNZS Te Kaha and spend a year as aide-de-camp to the Governor-General. At that point I headed across the Tasman to fulfil my dream of driving submarines. My standard line there was that if a Kiwi naval vessel found itself underwater then someone like me had done something very wrong.
I enjoyed my time beneath the waves as navigating officer on HMAS Sheean (one of the RAN's Collins-class submarines) and then headed to the Northern Arabian Gulf as part of Operation Iraqi Freedom.
On leaving the service and then practising law for a number of years, I became a politician. In my three years so far, I've particularly enjoyed the chance to think about what New Zealand is needing now in terms of defence. I'm firmly of the view that Parliament must already be thinking about what our national security demands will be as we head towards the middle of the 21st century.
On that note, I'm looking forward to hearing the thoughts of NZDF personnel, the Ministry of Defence, our veterans community and all stakeholders on these subjects. I will very be happy to share some of my thinking in this regular column too.
For now, it's enough for me to observe that defence of the realm is the first and foremost duty of any government. It's a traditional view of the world for which I make no apology. A government that cannot secure its territory for its people will not have the luxury of improving living standards for those within it.
Those of us who believe that government should not expand at the expense of private enterprise will still always acknowledge that a key role of the state must remain to protect its citizens, including through the military.
I'm excited to be a member of a National Party caucus that is very strongly connected with the NZDF. In fact, I suspect that no party in Parliament has had a better record of service across its ranks since the post-World War Two era.
No fewer than six of our 33 MPs have served in uniform in the military, with a range of experiences from my own naval days to Andrew Bayly's time with the Parachute Regiment of the British Army.
Bayly is only outranked in terms of National seniority by Dr Shane Reti, who was in the Territorial Army in the mid-1980s, and Judith Collins. Our leader is a huge fan of the service and sacrifice of our forces, enjoying a special connection to those at the SAS base in her Papakura electorate.
Back to those who have spent time in uniform, a number of our other MPs have also reached the nation's capital via the Army Reserves, namely Tim van de Molen (Waikato), Penny Simmonds (Invercargill) and Joseph Mooney (Southland).
As readers of Line of Defence will be well aware, service in our forces is an excellent background for many different lines of work in civvy street. I'm a huge advocate for the potential of NZDF people in public life and the private sphere, once they decide to 'get out', and will offer some more thoughts on this subject in a future column.
Many of the skills honed by our military personnel are directly relevant to political life. Among these are discipline, leadership, team work and time management, all underpinned by a strong work ethic that's based on believing in the value of public service.
In my new role as Defence spokesperson for National I'll be working constructively with all MPs who love the role played by our forces in defining and defending New Zealand. And I'd love to hear from you: please email me at chris.penk@parliament.govt.nz if I can assist in any way.
On that note, I'll end these reflections as I began, thanking our service men and women for their service. In particular, at this time of year, my thoughts are with those who will be on duty over the Christmas-New Year period – wherever in New Zealand or around the world that may be – and I hope everyone is able to enjoy the break that they deserve this summer.
Comment below to have your say on this article.
If you have a news story or would like to pitch an article, get in touch at editor@defsec.net.nz.
Sign up to DEFSEC e-Newsletters.