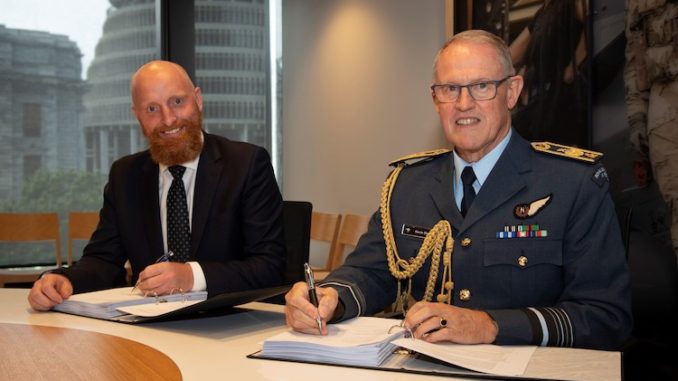 Babcock has been awarded a further seven and a half year Maritime Fleet Sustainment Service contract – Hāpai Taua Manuao – by the New Zealand Defence Force (NZDF), further strengthening its relationship with the Royal New Zealand Navy.
As the Strategic Maritime Partner to the NZDF, Babcock will provide asset management services, including engineering, project management, production and operational support, to the entire Royal New Zealand Navy fleet, from the frigates through to small craft.
The contract was signed by Chief of Defence Force, Air Marshal Kevin Short, and Babcock's New Zealand General Manager, James Morton, in Wellington this week.
"We are very proud of our long-standing partnership with the NZDF and of our contribution to keeping New Zealand and its Pacific partners safe and secure," said Babcock Australasia CEO David Ruff.
Read this article in the digital edition:
---
"This award is a further demonstration of our commitment to continue to strengthen the breadth of our support to regional maritime capability in New Zealand, Australia and the broader Asia-Pacific region."
Air Marshal Kevin Short highlighted the collaborative nature of the partnership with Babcock. "One of the unique elements of the contract is that these services are delivered by a team comprised of Babcock employees, Royal New Zealand Navy personnel and NZDF civilians," said Air Marshal Short.
'This partnership has been recently acknowledged through an award at both the Minister of Defence Excellence Awards, and the New Zealand Business Excellence Foundation Awards.'
The new contract also focuses on a range of environmental and social outcomes.
"Babcock is aiming for our New Zealand operations to be one of the first carbon-zero dockyards in the world, " James Morton said. "As a part of this new contract we'll be training over 100 early career STEM apprentices and graduates and we will be increasing opportunities and collaboration with New Zealand small and medium-sized businesses through Babcock's supply chain.
"Babcock is focused on building long term partnerships with the New Zealand supply chain, and in particular developing long term relationships with Māori and Pasifika businesses. Our supply chain partners are key to our capability and our focus on delivering for our customer. We are looking forward to continuing our productive and valued relationships with them."
Babcock Australasia is a Defence, Aviation and Critical Services company that operates across the Marine, Aviation and Land Sectors. Babcock's deliver technical support services range from fleet and asset management, sustainment, and technical training, to life saving helicopter emergency medical services.