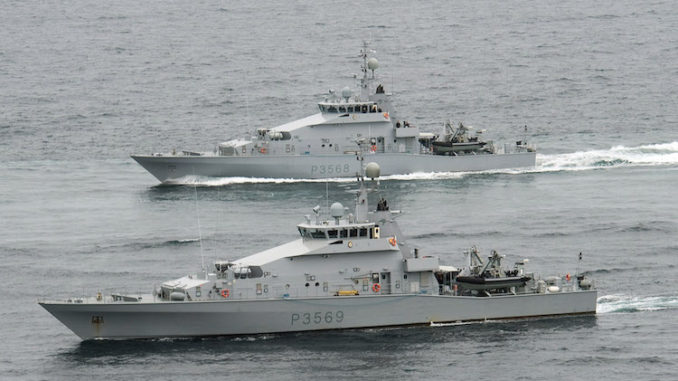 Local New Zealand businesses are set to reap the benefits of a partnership between Babcock and the New Zealand Defence Force (NZDF) which will conduct maintenance and upgrade works on two decommissioned Royal New Zealand Navy (RNZN) Inshore Patrol Vessels before they are sold to the Republic of Ireland.
Babcock and NZDF will regenerate and modify the ships – ex HMNZS Rotoiti and HMNZS Pukaki – to operational seaworthiness standards, supported by Babcock's supply chain across the New Zealand marine and defence industry.  
"We will partner with up to 30 local businesses to deliver this project, through a range of contracts with a total value of approximately NZ$15 million," said Babcock Australasia Managing Director Defence, Andy Davis.
"Our trusted suppliers and subcontractors are a key part of our capability and they will play a critical role on this project as another great demonstration of what New Zealand industry can achieve together.
"This will continue to deliver broader economic outcomes and provide increasing access to government defence work for these supporting businesses."
The scope of works will include overhaul of main and auxiliary engines, docking of both vessels for hull preservation, propeller and rudder overhaul, inspection, service, and commissioning of all electric, mechanical, hydraulic and communication systems, required to return the vessels to Lloyds Class.
Additional activities will include modifying the vessels so they are compatible with the equipment of the current Irish Naval fleet.
Built in Whangārei and commissioned into the Royal New Zealand Navy in 2009, during their service the two Inshore Patrol Vessels (IPVs) have been deployed on search and rescue, fishery monitoring, border security and maritime surveillance operations around New Zealand's 15,000km coastline.
Ex HMNZS Rotoiti and Pukaki were Lake-class IPVs, both named after lakes, and they were both the third boat of their respective names to serve in the RNZN. Both were decommissioned at Devonport Naval Base on 17 October 2019.
Babcock has a history of working with the Irish Naval Service, having built the P60 Samuel Beckett Class of Offshore Patrol Vessels (OPVs).