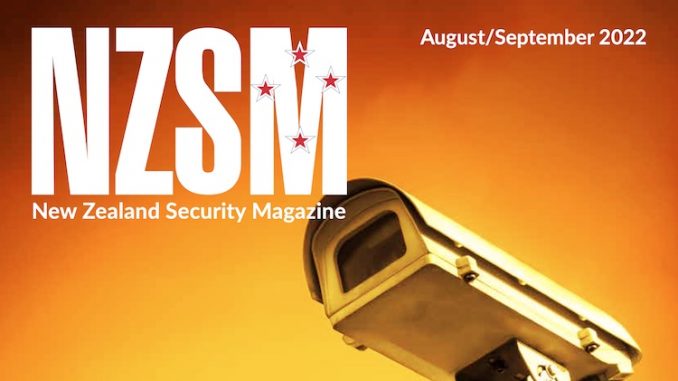 Kia ora and welcome to the August 2022 issue of New Zealand Security Magazine! We've well and truly hit awards season with the inaugural New Zealand OSPAs in May and the NZSA's New Zealand Security Awards now calling for nominations.
Ensure you click on the Fullscreen button at the bottom-right (computer) or centre (phone) of the viewer below. If you're having difficulty seeing the viewer on your device, click here to view on the Issuu platform:
---
NZSM was a media partner of the OSPAs, and a proud sponsor of the New Zealand Security Awards, and we're hoping that the NZSA receives record numbers of nominations for this year's instalment.
To this end, among the articles in this issue of NZSM I offer my perspectives on what makes a competitive award nomination, including some tips on how to ensure you've given your nominee an even chance of being among the finalists. We need to be celebrating excellence in our industry and, importantly, we need to be getting the stories of excellence out there.
A big thank you to this issue's wonderful sponsors and leading manufacturers and distributors Loktronic, Hikvision, ASSA ABLOY, simPRO, Gallagher, Ajax Systems / Net Alarms Limited, Provision-ISR / SWL, Vivotek / Clear Digital, Axis Communications / Sektor, and the NZSA. Our sponsors play an important role by contributing to a vibrant and informed security sector through their support of the magazine.
Also, a big shout-out to all Security Officers. 24 July was International Security Officer's Day. ISOD is an annual reminder of the critical role that private sector security officers play in keeping our communities safe, and of the demanding nature of the important work they perform. To those who guard, monitor, patrol, respond, enforce, and protect, we thank you for your service.
Among the features in this issue of NZSM are a focus on gangs and organised crime, an update and what to expect at the upcoming ASIAL show in Sydney, and some fantastic solution case studies, news, and information.
As always, I'd like to recognise our association and event partners, and in particular the New Zealand Security Association, the New Zealand Institute of Private Investigators, ASIS International, Risk NZ, 2022 Security Exhibition & Conference, and Massey University's Centre for Defence and Security Studies.
Lastly, an advance heads-up that the Women in Security Awards Aotearoa (WiSAA) is back again this year! Look out for further information on the Defsec website and in the next issue of NZSM about Aotearoa's only awards programme for the combined physical and cyber security, investigations, intelligence, and resilience domains.
Stay safe and stay well.
Nicholas Dynon, Auckland