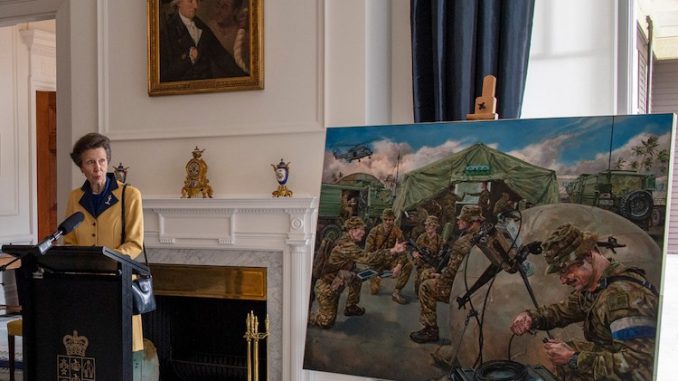 The Royal New Zealand Corps of Signals (RNZSigs) has marked its 100th Anniversary with its Colonel-in-Chief, Her Royal Highness (HRH) The Princess Royal, Princess Anne.
---
Due to Cyclone Gabrielle and the New Zealand Army's involvement in the emergency response, the original event in Linton Military Camp was scaled back. Instead, the Princess Royal attended a reception at Government House in Wellington, where she met Signallers and presented a Corps painting.
RNZSigs Regimental Colonel, Colonel Kate Lee, said it was a once in a lifetime opportunity to share this occasion with the Princess Royal.
"It is a privilege to have our Colonel-in-Chief in New Zealand to commemorate and connect with past and present members of the Royal New Zealand Corps of Signals and acknowledge the importance of signallers within operations for a century.
"While it's disappointing to not be able to celebrate in Linton with the Corps past and present and their families, our first role is protecting and looking after the wellbeing of New Zealanders and that is what we've been doing across the country." 
Celebrations were initially intended to be marked sooner, but were delayed due to the Covid-19 pandemic.
"Since our inception, the Corps has provided the means for information to flow around the battlefield and allowed commanders to command.," Colonel Lee said.
"Signallers pride themselves on their ability to adapt, improvise and innovate, especially as their role increasingly requires their people to keep pace with technology. That is something the New Zealand Army is doing and will do for the next 100 years,"
According to the New Zealand Defence Force, military signals became a component of the New Zealand Army in the early 1900s. In 1911, the Post and Telegraph Corps was formed, and then in 1913 it was absorbed into the New Zealand Army Engineer Signal Service along with the New Zealand Signal Corps (formerly known as the Cycle and Signalling Corps). 
On 1 June 1921, the Post and Telegraph Corps became the New Zealand Corps of Signals.
Nine signal units operated during the Second World War, and in July 1947 King George VI gave the Royal prefix to the unit and it became the Royal New Zealand Corps of Signals.