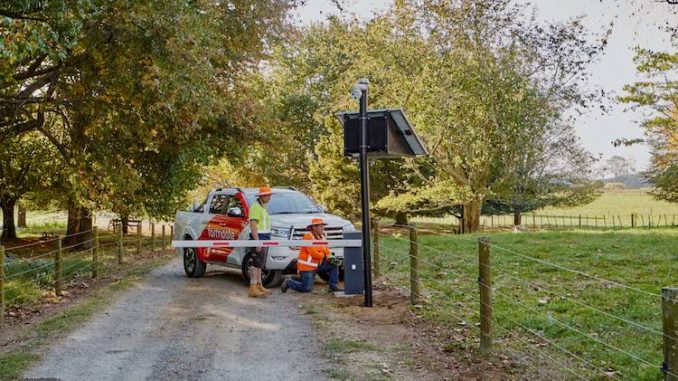 Farmgate is donating free security cameras to victims of Cyclone Gabrielle in the Hawkes Bay region who have been feeling unsafe in their own homes.
---
Waikato-based company Farmgate has a vision to reduce rural crime by 50%. Director, Andrew Sing, says the recent natural disaster events provide an opportunity for his business to do the right thing and help some fellow Kiwis by donating free security cameras.
Partnering with Vero Insurance, Farmgate has pledged twenty 4G solar-powered cameras to vulnerable rural properties in the Hawkes Bay region plus a high-tech road side license plate camera that will be connected to the Police stolen vehicle database. The cameras come to a total value of $60,000. Farmgate's smart technology cameras help to fulfil their goal of reducing rural crime by 50%.
"By providing some tools for increased visibility on those unseen or hard to see places around the home or business we hope it will help provide some peace of mind for rural property owners dealing with the aftermath of the devastation and loss," Mr Sing said.
On 27 February, over 200 Hawkes Bay locals attended a community meeting with officials to voice their frustrations. Attendees praised police efforts, but also expressed the need for security aid due to excessive looting and intruder reports. According to Radio New Zealand the overall message from the evening was articulated by the meeting organiser, Louise Parsons of Whirinaki; "we are all feeling unsafe."
"Watching the events unfold following Cyclone Gabrielle has been quite unsettling for me and the team and our hearts go out to those affected," Mr Sing stated. "We felt a strong pull to do something on hearing stories of those in isolated Hawkes Bay communities feeling unsafe on their own properties be it day or night. In was then we knew we had to do something."
The cameras on offer work anywhere with 4G reception and communicate directly with one's phone to provide real time updates on any security needs around property and entrances.
"The license plate camera system to be supplied provides an essential extra layer of security for any isolated rural community" said Mr Sing "as anyone in the community connected with the Farmgate APP will be notified of when a stolen vehicles arrives in the area". Farmgate estimates that up to 60% of rural crime happens in a stolen vehicle.
"We hope the cameras it will help provide some peace of mind for property owners dealing with the aftermath of the devastation and loss," he said.
Farmgate supports authorities in their efforts to reduce crime and partners with communities to provide strong theft deterrents. They will be offering ongoing support where we can to the recipients of the cameras through the local Rissington community who will be distributing the cameras directly to those most in need.
To apply for a free camera visit Farmgate's website to make an enquiry.
These cameras will help give visibility on key areas around affected properties and buildings which may be exposed to unwanted visitors, theft or intimidation.
A license plate recognition roadside camera will also be made available once new bridges are built to provide more consistent access to cut off areas.