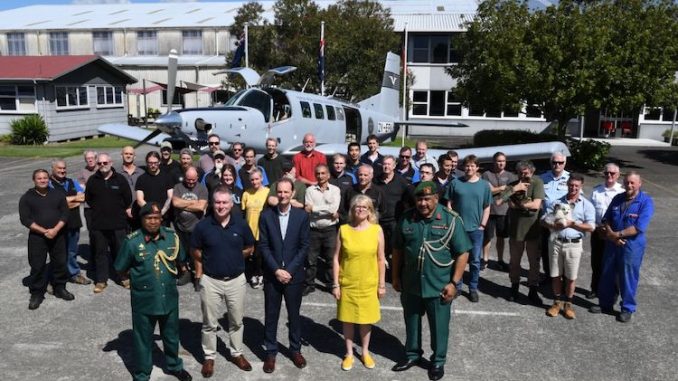 NZSkydive Ltd announced on 29 March that is has delivered the first of two 750XL aircraft to the Papua New Guinea Defence Force (PNGDF).
---
The PNGDF and Australian Defence Force announced at the Avalon Airshow in March that they are continuing to partner on joint training and capacity building activities, aviation safety, maintenance, and sustainment through their joint Flights of Excellence program. This includes the gifting two 750XL aircraft to the PNGDF.
"Having the ADF & PNGDF as our first customers has been a huge inspiration for everyone at our company" said Stephen Burrows, CEO of NZSkydive Ltd (NZS).
"CAA NZ certification to manufacture at the Hamilton Airport factory was received a little over one year ago," Burrows said. "Everyone at NZS has huge commitment in the work they do manufacturing this world-renowned utility, 8-seater turbo prop, single engine airplane and to see the first one roll out of the hangar and fly to its new mission fills everyone with pride."
Throughout the operational life of the aircraft in PNG it will carry personnel, freight, perform supply and personnel drops in responding to domestic and regional incidents in some of the most remote and difficult terrain areas in the Southern Hemisphere.
The 750XL has impressive short take-off and landing (STOL) ability, able to take-off fully loaded in 721 feet and landing in only 543 feet. It is this capability that makes the 750XL ideal for the many rough strips and landing sites that it will operate to throughout Papua New Guinea.
Alongside the aircraft's STOL capabilities the 750XL also has an outstanding ability to uplift more than the aircraft's own weight, an accomplished, adaptable, efficient, and reliable airplane – a true workhorse.
There are seventeen 750XL aircraft operating in PNG performing transport, supplies, skydiving and surveying activities.
The first aircraft will be flown to PNG in April 2023 and the second will be delivered by September 2023.
NZSkydive Ltd. is a CAANZ certified Manufacturing, Design and Supply Organisation. Established in April 2021 this privately owned company purchased the business assets of Pacific Aerospace Limited through a liquidation process.
In 2022, NZSkydive celebrated the production of the 700th Pacific Aerospace aircraft. Our aircraft now operate in 55 countries and on 6 continents including Turkey, Syria, Bangladesh, Malaysia, Indonesia, Australia, Papua New Guinea, Thailand, Uruguay, Singapore, Switzerland, England, United States of America, Nepal and New Zealand.
The business employs fifty personnel at the factory located at the southern end of Hamilton Airport, a site that has produced aircraft for approximately seventy years.