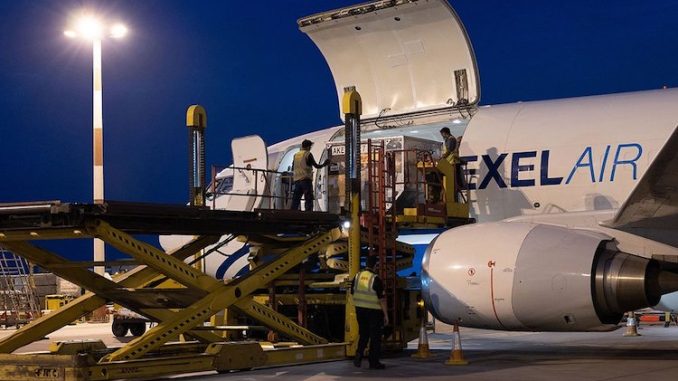 Texel Air, a 100% New Zealand-owned charter cargo airline, has launched its first step to increasing air freight capacity for New Zealand exporters and importers.
---
Starting with one Boeing 737-800 Boeing Converted Freighter (B737-800BCF) aircraft servicing domestic cargo needs, the company will add two additional aircraft by the end of 2023. It plans to have 10 aircraft operating in Australasia by 2026 to service New Zealand and Australian, domestic and Trans-Tasman needs.
Texel Air works with companies in the freight and express industry, airline industry, and governments, rather than selling direct to consumers. With NZ Post and Parceline Express as foundation customers, its launching priority freight flights between Auckland, Palmerston North and Christchurch.
Texel Air Chairman and Founder, John Chisholm, says the airline will give New Zealand more cargo capacity that's on time, and will invest to bring new technologies to the New Zealand cargo market.
"We are making significant investment in aircraft and technology to enhance connectivity, speed, and efficiency so exporters and importers can rely on our air cargo operations. The pandemic and recent weather events put New Zealand's supply chain resilience to the test and highlighted the need for additional air freight capacity.
"We have a long partnership with Boeing because of their support, aircraft reliability and innovation. An example is that Texel Air will be one of the first companies in the world using Enhanced Vision System technology and more precise Satellite navigation across our Boeing fleet. This technology will enable our pilots to take off and land in low visibility conditions, thereby providing more fuel-efficient and reliable freight services for our customers.
Invercargill-born Chisholm has more than four decades' experience developing airlines, working in freight logistics and building the associated hubs overseas, predominantly in the Middle East. In 2011 he moved back to New Zealand where he has developed a number of business interests, including a 450-acre sheep and cattle farm.
Whilst Texel Air in New Zealand will initially service the country's domestic freight needs, the business has a clear plan to serve New Zealand's offshore needs before the year is out. 
"Texel Air is the result of my life's work in the airline, cargo and logistics industries in the Middle East," said Chishom. "I had previously founded several airlines including Texel Air Bahrain and the opportunity to now launch an airline in my home country makes me extremely proud."
"Texel Bahrain has a 98% on time performance rating, meaning our customers can rely on us. We're focused on enabling faster, more reliable, and fuel-efficient cargo operations across the Tasman and around New Zealand."