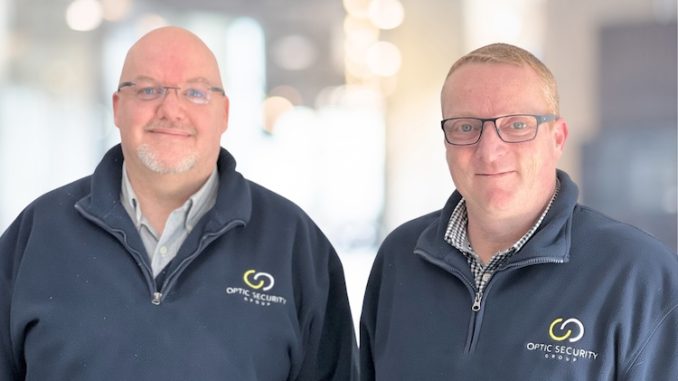 Australasian converged security provider announces the promotion of Auckland-based staff to NZ National Sales Manager and National Operations Manager roles.
---
Optic Security Group has announced the promotion of Nik Boeinghoff as its Aotearoa New Zealand National Sales Manager and David Sodergren as National Operations Manager.
Nik Boeinghoff joined Optic Security Group in early 2022 as a Key Account Manager. A highly experienced sales and account manager, he has held senior roles in several large organisations, including Bosch, Signature Security Group and Rentokil Initial.
Based in Auckland, Nik is passionate about delivering world-class services to clients on the basis of meaningful customer relationships, communication, and a thirst for innovation. "It's all about building rapport with our customers to the extent that we become their trusted adviser as opposed to just selling security," says Nik.
"Ultimately, it's a real pleasure to be able to reward and promote talent within the organisation. Our ability to promote from within our own ranks is a testament to the depth of capability and commitment we have."
Dave Sodergren joined Optic Security Group as Technical Operations Manager in 2022, having previously worked over 20 years in a diverse range of senior international management roles across the security and technology spectrum, including Engineering Manager at Gallagher Security, and several Middle East-focused roles at Paxton Access, Advanced Detection Technology, and Integrated Control Technology (ICT), among other roles.
"I'm excited about Nik taking up the lead role in developing Optic's key customer relationships in Aotearoa," says Optic Security Group CEO Ferzad Bharucha. "He is an amazing asset to the Group and to our customers."
"It's great to also see Dave step into the National Operations Manager role. Having developed complex solutions for clients in some of the most security-conscious environments globally, he comes extremely well qualified for the role."
"Ultimately, it's a real pleasure to be able to reward and promote talent within the organisation," says Ferzad. Our ability to promote from within our own ranks is a testament to the depth of capability and commitment we have."