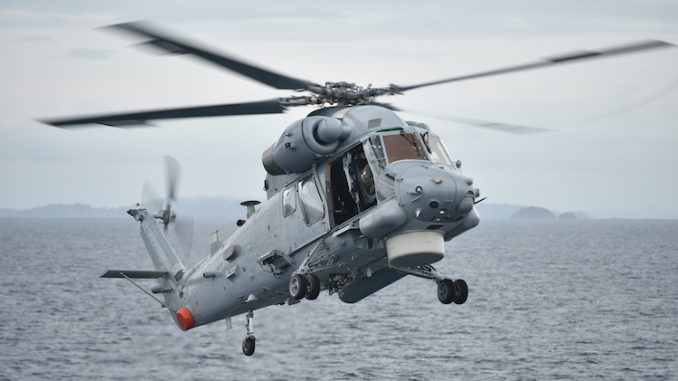 Even at "the most reasonably affordable standard", an almost total replacement of naval ships, new maritime helicopters, replacement of strategic air mobility, and a new primary combat vehicle is a big shopping list, writes Editor-at-large Peter Greener.
---
In my last article in Line of Defence Magazine, The New Zealand Defence Policy and Strategy Statement 2023; what are the implications for the Royal New Zealand Navy, I wrote that we'd have to wait until after the upcoming General Election and into next year before we get to learn whether a future New Zealand government will be putting its money where its mouth is, particularly on naval capability. Then, on 12 October, two days before the election, the National Party released their defence policy on their website.
Whilst the policy is brief and short on detail, it nevertheless reinforces the consistently bipartisan approach of both major parties. Although it is apparent that we will still have to wait until well into next year before any finalisation of a defence capability plan, National have committed to maintaining "a strong, highly-trained, combat-ready Defence Force to keep New Zealand safe while promoting our interests and values overseas."
In addition they have made clear in their defence policy that they support the current defence procurement plan, and will ensure regular reviews. Their goal is to provide the Defence Force with the necessary equipment, ships, planes, and weapons "to the most reasonably affordable standard".
As this article is being written coalition negotiations may have begun, but there is no indication as to what the final outcome might be. However, we know that ACT are committed to increasing defence spending to 1.5% of GDP over four years, with a long-term target of reaching 2% by 2030. New Zealand First's Defence Policy matches this ambition, and commits to progressively increase real defence spending to reach 2% of GDP by 2030.
So, whether there should be one, or two, partners in coalition it seems that National will have the support necessary to make significant capability decisions. And there are indeed some significant decisions that will need to be taken.
Applying the phrase "most reasonably affordable standard" to the purchase of an almost total replacement of Navy ships, along with new maritime helicopters, replacement of the strategic air mobility for Air Force, and a new primary combat vehicle for Army does nothing to reduce the considerable costs involved.
In 2020 in Line of Defence, I wrote about New Zealand's future maritime helicopter options. An RFI for replacement maritime helicopters was issued on 26 April of this year, with an indicative cost of more than $1 billion. Introduction into service was seen as necessary by 2028, though there has been speculation that they may not be maintainable for that long. In any case, a decision on the replacement aircraft will need to be made during the term of this incoming government.
Because of the very long lead time, decisions will also need to be made to further the acquisition of new naval ships to replace the capabilities of eight current vessels. The lessons of Project Protector seem to have been learnt. Project Protector provided the Navy a multi-role vessel, two offshore and four inshore patrol vessels, all of which had significant shortcomings. A remediation project, which had been the result of a mediation claim and settlement, was intended to remedy the shortfalls but gaps in capability remain.
The RFI for the maritime fleet replacement, released on 7 September 2023, makes clear that a significant level of overall capability is being sought. Among the requirements identified, naval combat capabilities are the first to be mentioned, and of note is the requirement for Southern Ocean and polar patrol.
With sealift and littoral operation supportalso highlighted, it is noted that the numbers and types of each ship has not been specified. Nevertheless, it is emphasised that replacing five different classes of vessels with fewer classes which combine multiple roles would be advantageous.
Sea-keeping qualities are this time to the fore, with a requirement for the ability to survive in the phenomenal seas which may be encountered in the deep ocean, and the ability to be able operate in conditions from the Southern Ocean to the Equator. The new ships required are – of necessity – going to be expensive.
In Defence Capability Plan 2019 the replacement of the two ageing Boeing 757s was foreshadowed, with a new strategic air mobility capability for Air Force to be introduced into service in 2028. DCP19 foresaw a Request for Tender in 2024, with an expected cost in excess of $500 million.
In terms of the new primary combat vehicle for Army, replacing the Light Armoured Vehicles (which have now been in service for twenty years) had a similar price tag. A Request for Tender was envisaged in 2025.
Based on four-year old figures cited in DCP19, a capital spend of at least $7 billion could be expected to be committed to in the foreseeable future.
The replacement of these major platforms is in addition to the commitment to ensuring the need for ongoing attention to recruitment and retention. National have made particular note that they want the NZDF to explore new methods of recruitment to ensure that more New Zealanders can be attracted to military service. Attracting more recruits to military service means more money is going to be required over the term of this government.
Speaking after the launch in August of the Defence Policy and Strategy Statement 2023, former Defence Minister Andrew Little predicted that there would be an increase in defence spending, but suggested that that would be two or three budgets away. With the new Defence Capability Plan expected in 2024, it now remains to be seen what the National-led government's fiscal planning will be to ensure that Defence is adequately funded for the strategically challenging future that is envisaged.