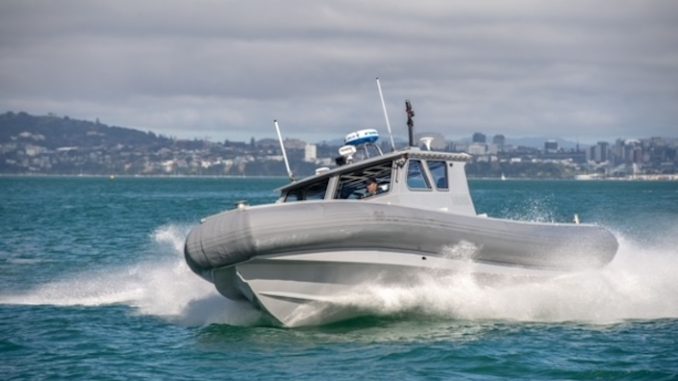 The Royal New Zealand Navy (RNZN) Sentinel 1250 Littoral Manoeuvre Craft (LMC) fleet official launch has been met with glowing reviews from service personnel.
---
Tasmania-based manufacturer Sentinel Boats (formerly PFG) has built three boats for the RNZN that can be configured for a range of mission profiles, including dive operations, hydrographic survey support and reconnaissance.
The vessels showcase the unique properties of HDPE, a next generation boat building material which is virtually indestructible and offers unrivalled speed, manoeuvrability and stability.
Sentinel Boats CEO George McGuire said there was growing recognition of the benefits of HDPE in the defence, first response and rescue sectors.
"We are incredibly proud of the LMCs, which are highly versatile and deliver truly unique capabilities to the RNZN, including the ability to launch and recover a 5.3m tender," Mr McGuire said.
"These boats have been developed as a true partnership between Sentinel Boats and the RNZN and they are already proving their worth in service applications. They have been described as a 'game-changer' by the RNZN."
The LMCs will be deployed by HMNZS Matataua as part of the RNZN's Littoral Warfare Force.
Twin Cummins diesel engines, coupled with Hamilton Jet water jets propel the LMC to speeds over 40 knots.
The signature Sentinel hull design from One2Three naval architects and use of HDPE combine to give the LMCs class-leading safety, anti-fatigue and handling characteristics, even in rough waters and at sustained high speeds.
RNZN Able Seaman Combat Specialist James Perham described the handling as "like a train on tracks."
"A typical jet boat, when you turn hard, the rear end skids out a bit, whereas with the hull design of this boat, it just digs in like a boat with outboards, so this means we can turn on a dime," ASCS Perham said.
"Once you get the feel for the LMC and put the time in on the helm it drives like a dream and is far more capable than any other boat that any of the SCS personnel at Matataua have driven; it's so much more capable."
Mr McGuire said the completion of the New Zealand contract was just the start of exciting things to come for Sentinel Boats. "We have shown that we are capable of building world-class boats, and the world is taking notice."
The final LMC bound for New Zealand will be displayed at the Indo Pacific 2023 International Maritime Exposition in Sydney on November 7-9.
Sentinel Boats has also partnered with international defence technology experts L3Harriss to conduct autonomous demonstrations of the Sentinel 1100 on Sydney Harbour during the expo.