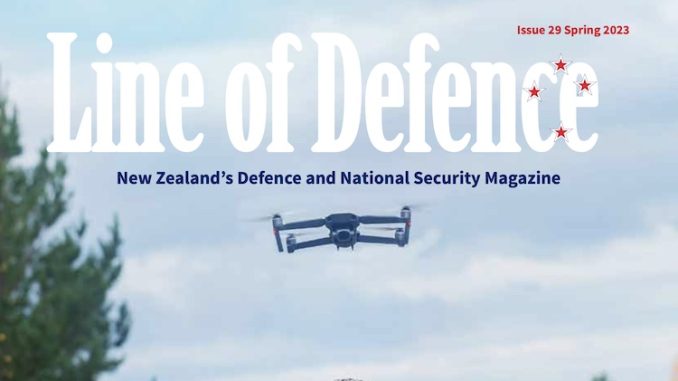 Kia ora and welcome to the Spring 2023 issue of Line of Defence Magazine!
Thank you for your patience with this 29th issue of Line of Defence. We were hoping by now that the dust may have settled on October's election, but that's MMP!
View/download the magazine
Ensure you click on the Fullscreen button at the bottom-right (computer) or centre (phone) of the viewer below.
Nevertheless, editor-at-large Dr Peter Greener and senior contributor Dr Wayne Mapp press on with some excellent analysis of defence policy possibilities in the post-election landscape.
Even at "the most reasonably affordable standard", highlights Peter, an almost total replacement of naval ships, new maritime helicopters, replacement of strategic air mobility, and a new primary combat vehicle is a big shopping list. And while Wayne indeed agrees with the length of that list, he suggests that the new government has a little time – but not too much – to make clear-eyed purchasing decisions.
We're honoured to again have Andrew Watts writing for Line of Defence. In this issue, Andy considers the Future Force Design Principles 2023 through the lens of capability modularity. Does a modular approach present the most cost effective means for acquiring capability for the full spectrum of potential NZDF missions?
This issue sees Ben Morgan join our panel of expert contributors. Identifying Melanesia is a potential setting for future hybrid conflict, Ben writes that wargames may be a cost-effective way to simulate integration of civil and military information operations in the region.
In International Security, Dr Awni Etaywe explores the complex geopolitical and ideological dynamics in Gaza, referring to the current Israeli military offensive as an act of 'geno-urbicide'. We also feature editor Dr Rogier Creemers' thoughts on the just-published The Emergence of China's Smart State, a book that seeks to understand China's ramped-up digital ambitions.
On the theme of books, we also take a look at the recently published State of Threat, edited by the Massey University Centre for Defence and Security Studies' Dr William Hoverd and Deidre Ann McDonald. In this latest addition to New Zealand security literature, local and international academics and sector experts discuss the issues facing New Zealand across defence, diplomacy, intelligence, policy, trade, biosecurity and border management.
If you haven't already, consider subscribing to our eNewsletter THE BRIEF. And lastly, don't forget to nominate a well-deserving colleague for the Women in Security Awards Aotearoa 2023. Details inside!
Nicholas Dynon, Auckland.