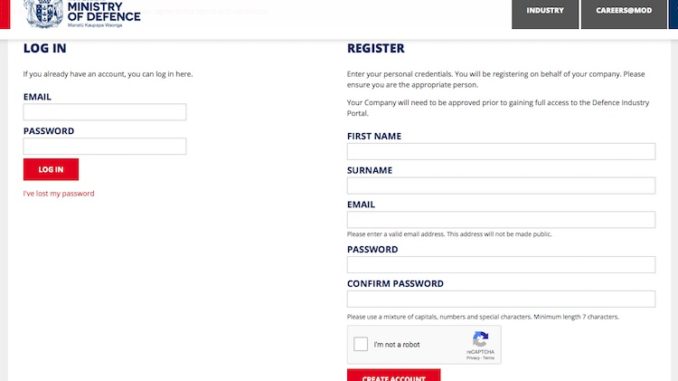 Line of Defence gains insights from Stephanie Dillon, Chief Advisor – Industry and Government Engagement in the MoD's Capability Delivery Branch, about the ministry's industry web portal.
Assuming you've visited the MoD website at some point in the past several months, you may have noticed some changes. Among them is the new industry portal , which went live on the opening day of last year's NZDIA Annual Forum – 10th October.
The intent of the new industry portal is varied, MoD Chief Advisor – Industry and Government Engagement Stephanie Dillon told Line of Defence, but essentially it's about Increase communication about, and awareness of, capabilities between industry and Defence.
It's about "making it easier for industry to understand our needs (smart supplier), and making it easier for Defence to understand business (smart customer)," she said. "In turn, this will result in better RFT responses and less project risk."
The centrepiece of the portal is a defence industry capability database, which showcases information that is supplier-driven, thereby reducing the maintenance overhead of the database
"It provides an opportunity to introduce companies to each other which is removed from the procurement team, and gives everyone a fair chance," said Stephanie.
"In addition to Project Industry Days, it will make it easier for industries to find Prime or Sub contractor partners in advance of a project, and to then stay in touch," she explained. "It will allow businesses to collaborate with each other on high value, high risk and complex defence projects"
It's envisaged as a win-win for both Industry and Defence, providing Defence project managers an informal view of Industry interest in their projects, while also increasing opportunities for New Zealand Industry with global suppliers generally.
Enjoying this article? Consider a subscription to the print edition of Line of Defence Magazine.
"We have heard that New Zealand companies on the portal have been approached by offshore manufacturers so business other than Ministry of Defence Business is happening. We are really happy about that"
According to Stephanie, so far over 100 Companies and over 300 people have registered in the portal. "Generally, we have found potential suppliers to be happy with the portal," she commented. "They feel better informed and have responded positively each time new information is added."
She forecasts that the portal will continue to improve based on feedback.
Already, new functionalities and enhancements are planned. "We have recently added the ability for non-MoD projects which are complex and will need industry collaboration to be added," she said. "These may one day include NZDF projects."
An industry event calendar and improved reporting functionality are also in the pipeline.
"We believe this is a useful tool to connect people, but we also place great value on meetings, site visits and project events," Stephanie added.
It's important to note that the portal does not replace the New Zealand Government Electronic Tenders Service (GETS). Companies interested in registering expressions of interest, or engaging in tender processes, still need to create an account on the GETS website and follow the processes set down on that website.
The portal is accessible from the Ministry of Defence website at www.defence.govt.nz, and by clicking the 'industry' button located at the top-right corner of the homepage.
Registration is free and is open to registered companies. If you have questions about the portal or the registration process, email the Ministry of Defence Engagement Team at industry@defence.govt.nz.