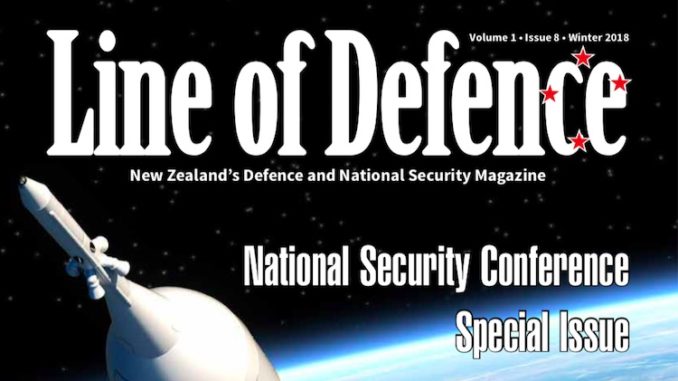 Welcome to the Winter 2018 issue of Line of Defence Magazine. With this issue, we're proud to be celebrating two years – and eight issues – of Line of Defence!
I'd like to take this opportunity to especially thank our expert contributors – leaders in their fields in academia, business, government and the military, and the driving force behind the magazine's recognition as the premier publication for New Zealand's defence and national security sector.
In Defence, much has happened in recent weeks, not least the release of the Defence Strategic Policy Statement and the Review of Defence Procurement Policies and Practices for Major Capability Projects. There's also been forward movement on the P3 replacement project, although (at the time of writing) we're still some way from the finish line. In this issue we offer some initial perspectives on the DSPS.
Weighing in on procurement, Hon. Dr Wayne Mapp talks capability projects, and we are again joined by Minister of Defence Hon. Ron Mark and opposition spokesperson Hon. Mark Mitchell who offer contending views on what we can expect in this space.
In the latest instalment of his services chiefs series, Dr Peter Greener interviews Chief of Air Force AVM Tony Davies about the important challenges facing the RNZAF; Nicholas Borroz looks at the militarisation of space; and we interview figures at the forefront of Defence-Industry partnership and innovation on both sides of the Tasman: NZDF Chief Joint Defence Services Charlie Lott and CAPT Greg Laxton of the Royal Australian Navy.
In this National Security Conference special issue of Line of Defence, we feature a specially curated collection of articles arising from presentations at the recent National Security Conference hosted by Massey University's Centre for Defence and Security Studies. Special issue guest editor Dr William Hoverd has brought together a fantastic line-up headlined with an address by Justice Minister and Minister Responsible for the GCSB and NZSIS, Hon Andrew Little.
Among the articles, Dr John Battersby discusses counter terrorism in New Zealand, Dr Bryson Payne explains the expanding role of cyber in national security, Josie Pagani looks at the Pacific Reset, Dr Scott Hauger considers the security implications for New Zealand of climate change, Dr Reuben Steff weighs in on North Korea, and that's just for starters.
Our Spring issue will be at the NZDIA Annual Forum again this year, and we'll be previewing some of the best bits with commentary from the NZDIA and features with several key presenters. To be held this year in Palmerston North, the forum is set to be bigger than ever, encompassing the important roles that Defence, Industry and a range of government agencies play in national and regional security.
See you there!
Nicholas Dynon