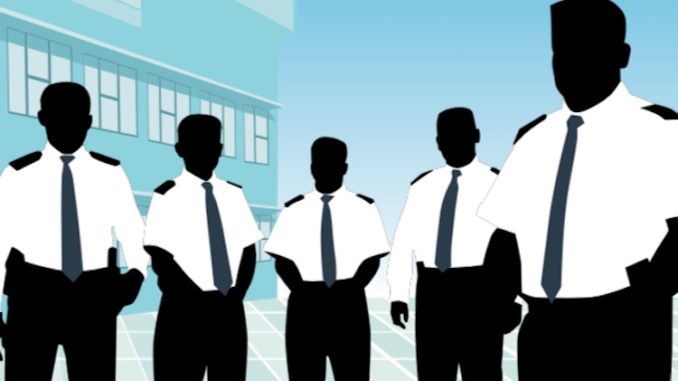 It's only weeks since the New Zealand security industry bid farewell to a legend. The late Ziso Avram, a man of principle, a man of mystery, and a man of great heart, has left an indelible mark on an industry that he played a key role in shaping.
A business leader
Having migrated from Israel with his wife Elizabeth, Ziso settled in New Zealand and founded the security guarding company Guardforce in 1991.
"When he came to New Zealand he started a contract with a five-star hotel – the Pullman Hotel, which was then the Hyatt," Guardforce's Manager Alan Wharerau told NZSM.
"We've still got that contract. He then signed a contract with Westfield Manukau – and we've had it since 1991 up to now. [Our clients] just roll them over because his guards believe in his philosophy, which is integrity, transparency, honesty and directness."
"Many of our guards knew he was not well," said Alan. "We have 70 staff – 40 were at the funeral and we still managed to keep all our malls running… in the two weeks since he's gone there hasn't been a hiccup."
It's testament to a leader known to bring the best out of his people.
"Ziso knew damn well where his parameters were," notes Alan. "If you went beyond those parameters he bounced you, but he expected you to go right to the edge of those parameters, and that's how he got performance. That's how he got guards staying with him – they knew their parameters.
"If he said 'yes', it meant yes. If a guard came to him and said, "Boss I need some help, can you look at my rate?", he'd say he'd look at it – and he'd look at it. He wouldn't fob them off, ever. And that's why I've worked with him for 14 years. I have a guard that's in his 21styear, I have two guards in their 18thyear, I probably have four guards at 14 years' service. All because his yes meant yes, no means no.
"He was a very decisive man. Black was black, white was white, and there was no grey. 'Yes' was yes, 'no' was no; there was no maybe. 'Work' was work, 'play' was play; there was no mucking about in between.
"For a lot of people that's exactly what they wanted: a decisive, clear, sharp answer, whereas other people who might be more sensitive would react to and dislike that part of his personality. For me, I knew where I stood, and that was a very, very good part of his character.
Enjoying this article? Consider a subscription to the print edition of New Zealand Security Magazine.
"In the security industry, you need clarity, you need decisiveness, you need someone that's sure of their standing and prepared to stand up and say it.
"Everything he did he did with integrity. He said to me one day, "your signature is just on a bit of paper, you can burn the paper. Your word is everything because you cannot take it back." And that sums him up."
From all accounts, Ziso was a very private man. Alan suggests this is a legacy of his time in Israeli military and intelligence. "He never spoke much about his 'other life', as I call it."
"He was no peacock. He was very, very humble, and it's only since his death that I'm coming across information where he was really influential in setting up security at airports and harbour ports around the world.
And this despite Alan working with the man for 14 years.
"His office was next to mine. Every morning he'd walk past, and you'd know whether he was good, bad or indifferent; it was like a marriage actually – some days you loved each other, and other days you could throttle each other."
"I may have lost a very good friend, the family may have lost a dad and a husband, but the New Zealand security industry has lost an influential leader."
An industry leader
NZSA board member David Proud first met Ziso when he joined the board in 2004. "Ziso had been on the board in a finance role since about 2002, and he stayed on the board until 2017," he told NZSM.
"Ziso was a remarkable man, and he has left a very big legacy in the NZSA, making sure we had the right systems, financial controls, he was very strong in governance was well, making sure that our manuals were always up-to-date."
"Every dollar and every cent was accounted for with Ziso in charge," David recalls. "He was quite fastidious about those sorts of things."
"He could be quite a force to be reckoned with in the boardroom."
Ziso was also instrumental in the development of guarding and manpower. He was, says David, a 'silent force' behind changing legislation for the Rugby World Cup, which ushered in the industry's mandatory training regime.
"The board was talking when I joined in 2004 about trying to effect change with the government regarding legislation, but it really only took off in the lead-up to the Rugby World Cup when it was realised there'd be a big shortfall. We'd been pushing for change for about a decade beforehand."
"Ziso was really quite passionate about making sure that the right people had the right training for security officer roles."
His contribution to industry training extended also to its implementation, including the adaption of much of his own in-house training material for guards as a template for the training delivered by the NZSA. This training has since passed to the new owners of the Association's former training division.
Ziso was also very passionate about the NZSA annual industry awards, notes David, and he was always keen to nominate deserving Guardforce staff.
"I remember one particular occasion where non-NZSA members won the Ian Dick Memorial Award and he was pretty upset about that because he believed the main award for security officers should only be for members of the NZSA.
"Ziso was quite forceful in ensuring that there were categories that were only open for nominations from members."
It's this type of uncompromising passion for the things big and small that he believed in – rendered in stark black and white – that made Ziso not only a colourful figure within the security industry, but one who leaves a legacy that does – and no doubt will – endure.
Ziso was made an NZSA life member in 2017, and no doubt we will hear more about the great man at the upcoming NZSA annual awards in Queenstown.