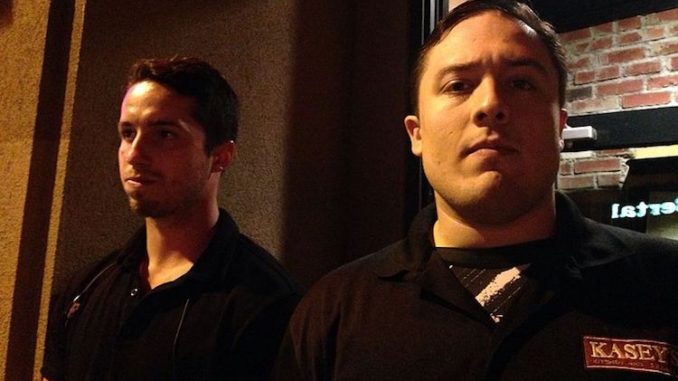 In this extract from the NZSA CEO's July newsletter, Gary Morrison reflects on the tragic death of a security officer in Auckland, provides clarification on crowd controller and bar staff licensing, an update on licensing enforcement, and more.
Tragic death of security officer
It is with much sadness that I open this newsletter with commentary on the tragic death of Security Officer Goran Milosavljevic whilst on duty at the Countdown Papakura store in early May.
Given that the incident is currently before the courts and subject to both a WorkSafe and Coroners investigation it would be inappropriate to speculate or comment on the specifics of the incident however it certainly highlights the inherent risk that our frontline workers face on a regular basis.
I'm confident that every one of our members would agree that those employed within our industry are worthy of a remuneration that recognises not only those risks but also challenges such as working unsociable hours, regular change of work location and meeting the requirements of our licencing regime. In short, our workers deserve significantly more than a minimum wage.
Unfortunately there is no single or simple fix to our current situation where the cost of service delivery will in most cases take precedence over the quality of delivery.
To make an effective change will require a change of mindset across all stakeholders (including our customers) supported by a comprehensive range of measures such as wide spread recognition and adoption of the PSR (Protective Security Requirements), fit for purpose industry training qualifications, an industry wide Approved Code of Practice or Guideline and a continued focus on heightened licensing requirements.
The good news is that there has been some progress across each of these areas over the last year and it is very positive that several employers have shown leadership and initiative in implementing a living wage and training based payments for their businesses.
There is certainly a lot more that we can do in improving the safety and working conditions of our staff but I am positive that we are now heading in the right direction and making progress.
I'm sure that I speak on behalf of all in the industry in passing our condolences to Goran's family and work colleagues. I would also like to recognise Goran's employer, Allied Security, and Countdown for their efforts in supporting the family subsequent to the event. It has not been made public however both parties have provided considerable assistance in both financial and emotional support which has been valued by the family.
Clarification on licensing for crowd controllers and bar staff
The industry authority has recently provided an updated advice for the licensing of in-house Crowd Controllers:
"If you are a crowd controller, you must have a certificate of approval. For example, if you work as a crowd controller for a bar, rather than a private security company, you need a certificate.
If you hold a COA in the class of Crowd Controller you must work for a PSPLA Company Licence holder. It is best practice for all bars and restaurants directly employing crowd controllers (door staff) to hold both a Liquor Licence and a PSPLA Company Licence in the class of Crowd Controller.
Bar managers and staff only need a certificate of approval if, as part of their job description, they act as a crowd controller by:
Screening entry
Keeping order
Removing people
Bar staff who mainly make drinks and clear tables are not crowd controllers, even if they occasionally remove people from the bar"
DIA Complaints Investigation Prosecution Unit
With the appointment of our new Authority it is very pleasing to see an increased focus on licensing enforcement and a desire for greater public awareness of the functions and activity of the CIPU.
Over the last few months the Auckland based CIPU team have undertaken a joint operation with Alcohol Harm Prevention Police from Auckland City District, Counties Manukau District and Waitemata District. Investigators and Police have been visiting licenced venues that have Crowd Controllers and checking all COA's and company licences of security staff on duty.
Enjoying this article? Consider a subscription to the print edition of New Zealand Security Magazine.
Overall they have found a good level of compliance and received positive feedback from company owners about the proactive approach being taken.
The Authority is now also providing the NZSA with transcripts (with names redacted) of recent hearings of complaints and the resulting decisions. Hearings during May confirmed Police objections to the granting of a licence and the continued suspension of a licence pending the attendance and completion of specified training programmes.
NZSA Audits to Codes of Practice
It has been pleasing to note the continued uptake in member audits and we are currently conducting between two or three audits each month.
The move to a five year duration period and the streamlining of the audit templates has made the process less time consuming and reduced costs and having recent tenders such as the MSD Guarding and Electronic RFPs specifying NZSA Accredited Membership as a pre-qualification requirement validates the worth of the audits.
Members also complete an assessment of the audit process and the value provided and almost without exception, respondents rate the process highly, particularly around continued business improvement.
Industry Training Statistics
| | | | |
| --- | --- | --- | --- |
| | 2015 | 2016 | 2017 |
| Learners in Training | 858 | 1,278 | 1,212 |
| Employers providing training | 47 | 32 | 38 |
| Credit achievement rate | 51% | 83% | 83% |
| Qualifications Awarded | 237 | 656 | 722 |
| Maori Participation Rates | 20% | 26% | 24% |
| Pacific Participation Rates | 18% | 13% | 15% |
| Youth Participation Rates | 21% | 33% | 33% |
| Female Participation Rates | 18% | 9% | 11% |
| Progression Rate ((Learners moving Level 2 to Level 3) | 2% | 22% | 29% |
The most pleasing of these training statistics provided by Skills are the increase in qualifications awarded (300 percent improvement in two years) and the progression rate (two percent to 29 percent). What these do show is a substantial increase in employees and employers who recognise the NZQA qualifications as a valuable tool for career progression.
Whilst I don't have a validated measure, these numbers would also indicate that in the last two years we have moved from three percent of those working in the security industry holding a NZQA qualification to approximately 12 percent having at minimum a Level 2 Qualification. That is certainly a big step in the right direction and one that we can build on.
2018 Annual Awards Event – Educational Speaker Sessions
This year commencing 3.45pm, our first speakers will be Tess Cuthbert and Ashneel Kumar from the Department of Internal Affairs' CIPU team providing a brief update on their roles and activity in investigating complaints.
Our keynote speaker, commencing 4pm, is Chris O'Reilly CEO and Co-founder of Ask Your Team. Chris was the inaugural winner of the NZIM NZ Young Executive of the Year award and is an accomplished and well recognised presenter.
Without giving to much away, Chris will be talking about revolutionising organisational and leadership performance, and I can guarantee some important takeaway messages for all attendees.
The speaker sessions will conclude at 5pm, allowing time for a change into the formal attire ready for cocktails and canapes in the stunning Reds Bar before the awards ceremony commences at 6.30pm in the main ballroom.
I look forward to seeing as many members there as possible.