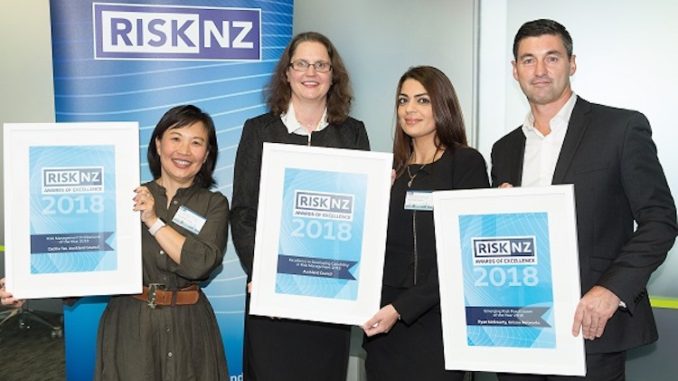 Auckland Council a big winner at the annual RiskNZ Awards of Excellence, with Council's Cecilia Tse named risk management professional of the year.
The RiskNZ Awards of Excellence was presented in Wellington on Wednesday 12 September at the conclusion of the 2018 Risk Practitioners Day, which this year focused on the theme of "Practice to Performance: Risk Management in Action". It was hosted by the Civil Aviation Authority.
"The annual Awards ceremony highlights the exemplary work done in the areas of risk management and risk practices among individuals and organisations across New Zealand," said Nigel Toms, Chair of RiskNZ.
"Our categories are designed to shine light on their achievements over the last twelve months, not only to reward them but also to inspire risk practitioners of today and the next-generation,"
According to a RiskNZ media release. nominations for the Awards of Excellence closed in late July this year, and nominations were assessed by an eminent judging panel comprising of Jacqui Lyttle, Risk Manager at the University of Canterbury, Denise Bovaird, management consultant at Navigatus Consulting, Grant Avery, Director of Outcome Insights and Geraint Birmingham, Director at Navigatus Consulting.
"It was clear from the high calibre of nominations in each of the categories that organisations thrive when risk is owned at the board and management level, when risk conversations are championed throughout the business, and when risk management is well embedded in realising an organisation's strategic objectives," said Ms Lyttle.
"Thank you to all applicants for sharing your journeys with us and congratulations on the outstanding achievements that you have attained."
Auckland Council's Cecilia Tse won the risk management professional of the year award, and the council's risk team won the excellence in developing capability in risk management award.
According to RiskNZ Chair Nigel Toms, Ms Tse played a major part in a transformational shift in the council's risk culture and maturity through her leadership as head of risk.
"Her clear vision and leadership style have enabled her to raise risk culture, capability and maturity at all levels in the organisation," said Mr Toms. "The transformation has been achieved through a range of initiatives introduced over a relatively short period of time."
Auckland Council's risk team won the excellence in developing capability in risk management award by taking a bold, innovative approach, shifting risk culture and strengthening risk management practice through the establishment of a new charter.
"With staff-centred design principles, the charter takes a positive approach to the human behavioural elements of risk management and integrates it into everyday business activities, said Toms. "As such, the charter provides a platform from which transformational cultural change is taking place."
Ryan McBrearty of Unison Networks won the award for best emerging risk practitioner of the year. He is fast moving on his way to becoming a risk manager.
"He has gained this confidence by fully restructuring his organisation's business continuity plans, renewing its complex insurance portfolio, taking control of project managing, developing and implementing a contract management system, framework and policy – all in the last 12 months," Toms said.
RiskNZ is the dominant sector body in New Zealand bringing people, businesses and organisations together to manage risk and ensure New Zealand prospers through good risk management.