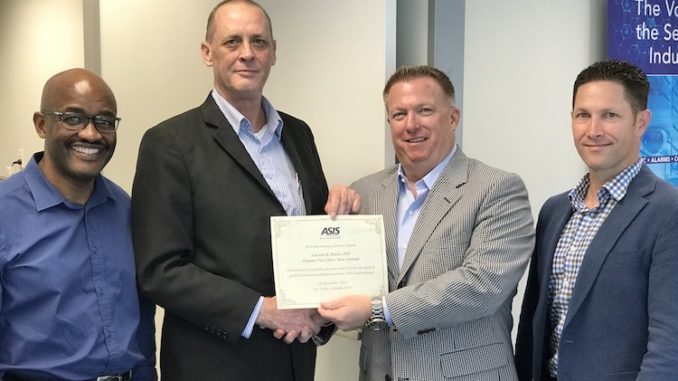 Early December saw the visit to Auckland of two senior members of ASIS International's top brass en route from the US to Australia. Washington DC-based secretary-designate Malcolm Smith CPP and CEO Peter O'Neil spent three days in Auckland meeting with ASIS New Zealand Chapter and security industry stakeholders.
A special meeting of the ASIS New Zealand chapter on December 4th included introductions to members and an overview of the organisation's strategic direction. This followed a meeting the day before with New Zealand Security Association CEO Gary Morrison and New Zealand Security Magazine managing editor Nicholas Dynon at the NZSA's Albany premises.
New ASIS NZ Chair Andrew Thorburn chaired the meeting, in which he provided his ASIS International colleagues with an overview of the local security industry and an assessment of current trends and challenges.
The meeting saw a number of areas for potential cooperation between the parties identified, with strong acknowledgement of their shared interests and value-add for local industry professionals.
During the meeting, the visiting ASIS International representatives took the opportunity to present outgoing ASIS NZ deputy chair Lincoln Potter PSP with a 2018 ASIS International Meritorious Service Award in recognition of "work to foster the spirit of goodwill and professionalism within ASIS International."
Lincoln's record of ASIS service includes previous committee member stints, including as treasurer, and he currently serves on the ASIS NZ shadow committee. The ASIS award now joins a 2016 New Zealand Security Consultant of the Year Award on his mantle piece.