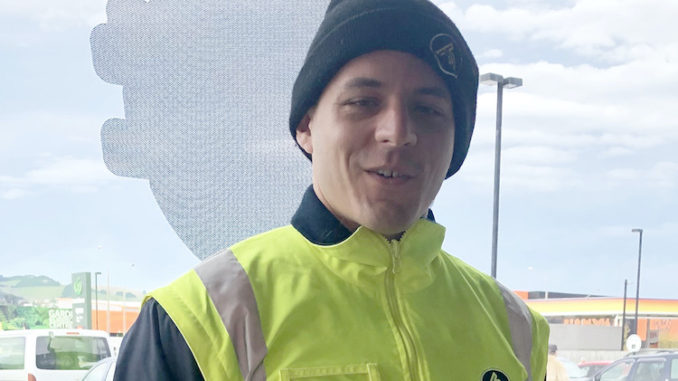 New Zealand Security Association announces its first Covid-19 Guardian Award winner as Marcus Hendriksen from Allied Security in Dunedin.
Marcus Hendriksen from Allied Security in Dunedin has been named as the first NZSA Covid-19 Guardian Award winner. The awards, announced just a week ago have drawn many nominations from across New Zealand. 
Marcus joined the Allied team in 2019 as University of Otago Library Security Officer. With Covid-19 hitting all businesses hard and libraries closing their operations, Marcus was able to move into Allied's rapid response team to assist other customers.
According to Chris McDowall, Allied's General Manager of Operations, Marcus was stationed at the Countdown Dunedin South supermarket and brought with him a personal approach, a positive attitude, and a focus on excellence. "Marcus is a people person and an exceptional officer," said Chris.
"We are pleased to see Marcus rewarded by the industry through this recognition, and these actions by the NZSA are a key reason to be involved in our industry body. Marcus is working with Countdown supermarkets in the Dunedin area, representing his employer Allied Security, and the security industry, as an outstanding individual."
"Throughout Covid-19 Level 4 lock-down Marcus has been absolute treasure at the door, he's very welcoming and helpful to our customers," stated a representative from Countdown, Dunedin South, on the award nomination form. "Marcus has excelled in every way to the point where we would love the employ him here with us."
"It's been uncertain times for our customers who visit the store but Marcus' way of easing that unknown for them has been noticed by many Dunedin shoppers and has been mentioned a few times on Facebook. Countdown Dunedin South can only thank Marcus for the great work he has shown us all."
The NZSA introduced the Covid-19 Guardian Award as a way for the wider community to recognise security personnel for their efforts. The Association's CEO Gary Morrison is delighted with the quality and number of nominations received.
"All security staff working through this current environment should be proud of their efforts to keep NZ safe," said Gary. "We received some outstanding nominations – many from the public and from managers of essential businesses as well as Convid-19 testing facilities and retirement homes."
"Many of the nominees have demonstrated initiative, going above and beyond their roles to make New Zealanders feel safe and offering a much-needed dose of kindness during these testing times. This was a tough decision but Marcus' efforts really summed up how our security personnel have been doing their industry proud over the last few weeks."
Enjoying this article? Consider a subscription to the print edition of New Zealand Security Magazine.
According to the NZSA, with over 25,000 New Zealanders working in the security industry – nearly double the number of police – private security has always had a critical role in keeping Kiwis and their property safe, especially during times of crisis.
The campaign calls on the public, business owners and other essential services who have used private guards to nominate individuals who have gone above and beyond or simply have been a reassuring, kind and considerate face during these testing times.
A web form has been established on the NZSA website where nominations can be made and photos or videos of guards doing a great job can be uploaded.
The NZSA aims to award one guard a week with a special trophy in the lead up to the annual New Zealand Security Awards nomination period starting in late May. The awards are not just for its member companies – anyone holding a Ministry of Justice issued Certificate of Approval (security licence) can be nominated.
The form is at: https://security.org.nz/covid-19-guardian-award-nomination-form/
The New Zealand Security Association (NZSA) is the largest industry representative body for the security industry in New Zealand and represents over 85% of the industry by revenue. Its voluntary members include security providers ranging from large multi-nationals to sole traders and also includes individuals and companies who are not direct providers of security services but have an interest in the industry.