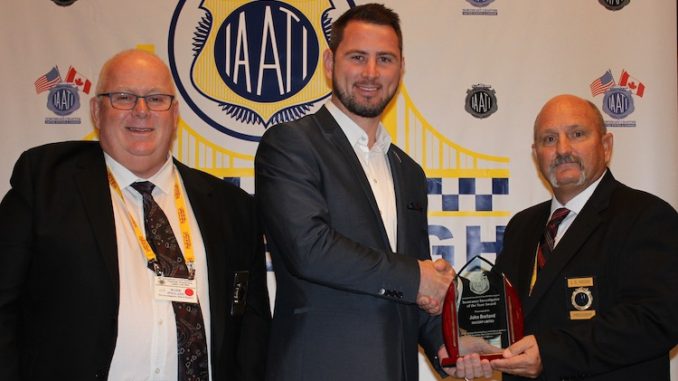 A ceremony at the International Association of Auto Theft Investigators' 66th Annual International Training Seminar at the Pittsburgh Sheraton Hotel in Pennsylvania, USA, was the scene for the unlikely 6thAugust crowning of Kiwi investigator John Borland as International Insurance Investigator of the Year.
"I didn't expect to be nominated for it or let alone win it, especially given the demographics here in New Zealand – we're small in the broader realm of insurance given our population size," John told NZSM. "I certainly considered myself an underdog for the award."
The underdog label was not misplaced. John is the only sole investigator to have ever picked up the coveted accolade, and at 28 years of age is its youngest ever recipient. He also becomes the only investigator outside of the USA or South Africa to have won the award.
Each year, IAATI confers several awards for conspicuous performance as a professional investigator (private sector or law enforcement) in the recovery of vehicles, vehicular equipment or auto parts. Sitting high among these is the award for Insurance Investigator of the Year.
The award was created in 2014 in order to recognise and honour an insurance professional (individual or group) for his/her outstanding contribution in the area of vehicle theft investigation or insurance fraud investigation.
The winner is determined by a panel of industry judges who independently score each nomination received against each of three criteria and a total score of 25. Criteria include: demonstration of investigative skills (10 points); application of strategy and investigative planning (10 points); and overall impression (5 points). The highest combined score from all judges wins.
John was nominated for the gong by client and insurance giant QBE after successfully completing a theft and liability investigation resulting in the recovery of over a quarter of a million dollars-worth of luxury motor vehicles. He was also nominated for the 'Award of Merit' and 'Heavy Plant Investigator' awards.
A young, dogged and millennial approach was seen as the catalyst for John's success, in which he utilised an approach involving international networking and industry-leading strategies, methods and techniques.
Auto theft investigator network
The International Association of Auto Theft Investigators (IAATI) was formed in 1952 in order to improve communication and coordination among the growing family of professional auto theft investigators.
It has grown to 3,604 members representing over 71 countries and includes representatives of law enforcement agencies, as well as many others with a legitimate interest in auto theft investigation, prevention and education. John is a member of IAATI's Australasian Chapter
In addition to law enforcement agencies, the Association is made up of members from the insurance industry, automobile manufacturers, car rental companies and the US National Insurance Crime Bureau and its sister agencies in Canada and Europe.
Enjoying this article? Consider a subscription to the print edition of New Zealand Security Magazine.
According to its website, it provides its members with experience, training and resources in areas such as technical developments, trends, intelligence information and investigative assistance. "Through IAATI we are able to pool our resources in order to achieve our common interests, and better serve our communities."
"IAATI is dedicated to developing and encouraging the highest professional standards of conduct among auto theft investigators and strives to eliminate all factors interfering with the administration of the auto theft suppression effort."
Quick take off, flying high
John joined the Queensland Police Service at 19 years of age, following in the footsteps of his father, who was also a police officer. He left the Police aged 27 at the rank of Detective Senior Constable.
He moved to Auckland and managed to get an interview with QBE insurance, receiving his first claim investigation in July 2017. "I wasn't particularly sure about what I wanted to do, so I thought I'd have a crack at insurance investigations," he recalled.
"They put me on a trial and I got a job where a client lost around $300,000 in motor vehicles. My investigations aided in their recovery, which took only three weeks. That was the stepping stone to moving into insurance investigations full time, and I've built it from there over the last twelve months."
In the meantime, he's also broadened his client portfolio, picking up work from several large insurance firms, law firms and corporates, despite market conditions unfavourable to new entrants. "I entered an over-saturated market as it is," he observed. "A lot of the insurance companies have taken their claims work in-house in an effort to cut costs."
"It's a cut throat industry. Professional investigations are a luxury, not a requirement, which makes it hard. In saying that, I am always busy and have already started training up new investigators, so if you are good the work is there".
"I've made a few good contacts but at the same time I know there are people in the professional investigative world who certainly aren't my friends. But that's business and I don't take it personally. If you're making enemies you're doing your job right. I take it as a positive thing because I'm clearly rocking the boat."
Setting up his own investigations business, according to John, was the culmination of a love for investigations and a desire to make a difference.
"The big thing I model my company on is the fact that when I interview people I don't treat them as if they're fraudulent or a suspect. I treat everyone with respect, and I'm really trying to change the stigma that comes with insurance investigations. A truly experienced investigative interviewer can obtain evidence without the use of amateur tactics such as bullying or inducements, which I know occurs, as this is the feedback provided to me by the community".
"Nearly every single person I've interviewed already has a preconceived idea about the investigator – that I'm there to stitch them up – based on the actions of insurance investigators before me.
"They wouldn't have that idea if everyone was ethical, displayed integrity and were adequately trained and skilled in things such as interviewing. There is a low barrier for entry to become a private investigator, and I don't think that's good enough."
John's looking to change these perceptions one interview at a time. But despite there being a number of ethical operators out there, he admits he's up against a stubborn stereotype.
"I'm trying to change perceptions towards professional investigators, getting away from what I'd call a 'trench coat PI' label. That is sometimes a hard thing to do. We're not all cutting holes in newspapers and sitting in the park to catch a cheating spouse."
"I'm a factual investigator, so I care about the facts. I don't care about the noise that surrounds it, and I'm making waves in that respect.
"'ve changed a lot of attitudes within the community in the sense that people leave from dealing with me with a more positive attitude about the insurance provider that appoints me, and that's huge for consumer retention and the overall industry, which is often tarnished with an unfair prejudice."