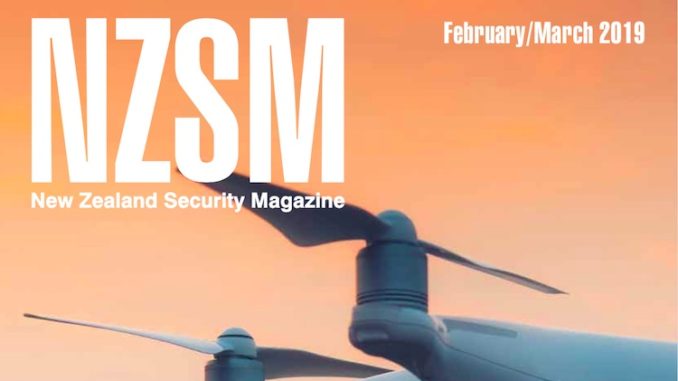 Welcome to the February – March 2019 issue of New Zealand Security Magazine.
With this issue I'm particularly excited to be featuring such a formidable line-up of local and international security professionals as authors and interviewees. They include: David Horsburgh CPP PSP PCI, Lincoln Potter PSP, Andrew Thorburn, Dean Kidd, Andrew Scothern, Gary Morrison, Dimphy Korstanje, Mark Tarallo, Megan Gates and Robert Kaiser.
We're also honoured to be featuring two fantastic articles from the magazine Security Management as part of a very exciting new partnership with ASIS International
Headlining this issue of NZSM, David Horsburgh writes that the recent report of the State Services Commission Inquiry into the use of external security consultants by government agencies raises need for debate of our industry's legal and ethical use of intrusive surveillance techniques. There is no one better qualified in New Zealand to provide insights into privacy and the ethics of surveillance than David, and this article a must-read.
Also returning to write for us in this issue is Lincoln Potter, who takes no prisoners in his discussion of the state of training in the security industry. Gary Morrison also weighs in on the skills crisis being faced in both the 'manned' and electronic security sectors. For those willing to invest in upskilling, we also feature educational opportunities at Manukau Institute of Technology, the new ASIS International APP board certification, and Behavioural Analysis training to be delivered in Auckland by the internationally respected Philip Baum.
In other industry news, the NZSA is set to launch its first-ever Code of Practice for Security Drones, the industry braces itself for Fair Pay Agreements and the impacts of the recently enacted Employment Relations Amendment Act 2018, and the ASIS New Zealand Chapter gets 2019 off to a flying start.
Continuing our multi-issue focus on crowded places and fixated persons, we are joined by international contributors Mark Tarallo and Robert Kaiser. Mark explores the idea that detecting red flag shooter behaviour prior to an attack is more effective than any physical security measure, and Robert identifies the factors contributing to the global proliferation of knife crime.
There's plenty more news inside, with great cyber reads from Gallagher's Andrew Scothern and ASIS International's Megan Gates, a look into how self-checkouts and re-usable bags are a supermarket loss prevention nightmare, a listing of selected upcoming local and international security events, and much, much more. 
Have you visited our new website yet? New content is being added daily, with the site fast becoming a uniquely rich resource of thought leadership for New Zealand security practitioners. We're very excited about it! Please note the new address: www.defsec.net.nz
Nick Dynon
Auckland