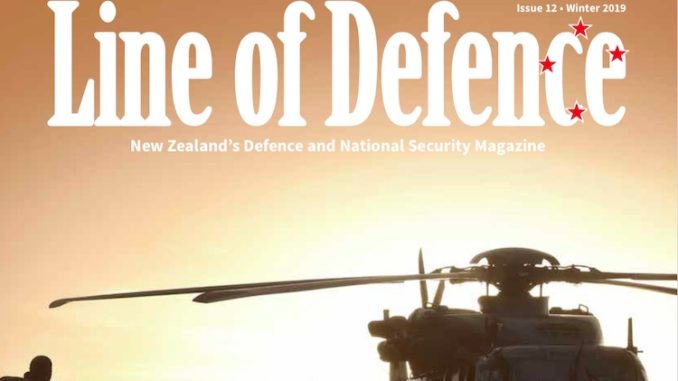 In this Winter issue of Line of Defence, we talk Defence Capability Plan 2019, RNZAF quality management, the HADR role of diplomats, food security, cyber terror, South China Sea, and foreign political interference.
In his analysis of the DCP, Dr Wayne Mapp QSO notes that confrontational language about China that was a feature of last year'sStrategic Defence Policy Statementis now gone, and a focus on climate change and disaster relief is in. Editor-at-large Dr Peter Greener similarly notes the climate crisis focus, commenting that this DCP is the "most comprehensive argument for investment in Defence in modern times."
View/download PDF
The NZDIA agrees, noting that the inclusion of an entire section of the DCP on 'working with industry' gives its members "good cause for optimism and confidence about the significant opportunities ahead." NZDIA CEO Jennie Vickers argues that coupled with the recent Government ProcurementRules update, "there is now opportunity for a real and palpable shift in procurement policy and practice across the public sector."
Defence Minister Hon Ron Mark and Opposition Defence Spokesperson Hon Mark Mitchell each weigh in on the DCP while also reminding us – in their respective ways – that the Defence Estate regeneration hasn't dropped off their radars. We also receive updates from our sponsors Embraer,Leonardo, and GA-ASI.
With the RNZAF moving its engineering aviation regulations, technical workforce trade structure and Quality Management System to an internationally recognised military aviation system (EMARS), GPCAPT Peter Johnson MBE, RNZAF Chief Engineer and Technical Airworthiness Authority provides us with the details.
In Homeland Security, Hon Heather Roy examines the foreign political influence in New Zealand, Navelene Singh updates us on the Women in National Security mentoring programme, and we learn about the new Safe and Security Facilities and Public Spaces conference to be hosted in Wellington in August.
In this (and the coming Spring) issue we are honoured to be featuring a number of articles arising from presentations delivered at the 1stAsia Pacific Security and Innovation Summit, held 17-18 April in Rotorua. Covering areas including cyber security, food security, unmanned systems, human trafficking, and counter-terrorism, the Summit brought together more than 20 global experts from the fields of psychology, human intelligence, defence, security, international relations, biotechnology, engineering, governance and communications.
According to Summit Chair Dr Anita Abbott, the event brought together minds from a range of sectors "to discuss how we can strategically and innovatively build resilience to the global problems we face today and in the future."
Summit speakers appearing in this issue include Dr Andrew Dowse AO, Air Vice-Marshal (retd) of Edith Cowan University, Barnaby Pace, Head of Department – Postgraduate and Research at Otago Polytechnic, HE Dr Jesus S. Domingo, Philippine Ambassador to New Zealand, Cook Islands, Fiji, Samoa and Tonga, Minh Tran, doctoral candidate at the University of Canterbury, and Dwi Andreas Santosa, Professor, Faculty of Agriculture at IPB University.