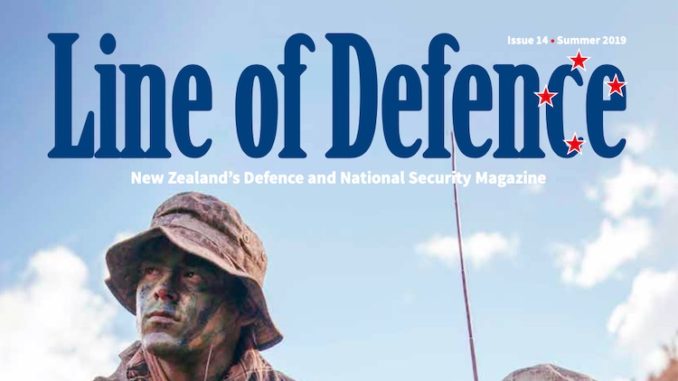 Welcome to the Summer 2019/20 issue of Line of Defence Magazine – our 14th edition!
It's been an eventful year for New Zealand's Defence and National Security sector, with a range of challenges faced and achievements notched up.
View/Download PDF
___________________________
NZDF, law enforcement and emergency services personnel have responded to events as tragic and diverse as the Christchurch mosque shootings, the Nelson Fires, the White Island Whakaari eruption, and the Samoan measles epidemic. Government has delivered the P3 and C-130 replacement decisions, taken delivery of HMNZS Manawanui, and released several key Defence policy documents.
Throughout 2019, Line of Defence has strived to deliver high-quality, relevant commentary and analysis on a range of issues, providing a curated platform for authoritative voices in the sector, and highlighting market developments. We are literally unable to do this without the support of our sponsoring partners, and thus I'd like to take this opportunity to thank our 2019 key sponsors GA-ASI and Leonardo, and sponsors Embraer, Loop Technologies, Tactical Solutions, Supacat and Olympus.
If your organisation would like to know more about becoming a sponsoring partner of New Zealand's leading Defence and National Security magazine, please get in touch.
I'd also like to thank our editorial partners and supporters, including the New Zealand Defence Industry Association, Massey University's Centre for Defence and Security Studies, the office of the Minister of Defence, the office of the Opposition Spokesperson for Defence, and the New Zealand Defence Force, among a long list of others. My thanks also to the members of the magazine's Editorial Advisory Board, and particularly to editor-at-large Dr Peter Greener.
In this issue of Line of Defence, we cover the Minister of Defence Awards of Excellence for Industry and Employer Support for 2019 and showcase several of the winning suppliers and employers. Expert commentator Dr Wayne Mapp looks to the past in order to explore the maritime acquisition landscape of the future, focusing on the Offshore Patrol Vessel and Frigate replacement decisions facing the next government.
In international Security, Professor of Strategic Studies at Victoria University of Wellington Robert Ayson argues that the recent Advancing Pacific Partnerships 2019 defence assessment gives too much away to great power balancing, writes, and that this isn't necessarily in New Zealand's interests. With the cricket season upon us, Chris Kumeroa, Managing Director of Global Risk Consulting, draws from years of security experience in Pakistan and the Middle East to risk assess the potential for an NZ Cricket return to Pakistan.
In Homeland Security, Senior Research Fellow at Victoria University Wellington's Climate Change Research Institute Dr Judy Lawrence says that greater central government direction is needed on climate change adaptation. Managing Director at Security Risk Management David Horsburgh explores the legal and ethical issues around the use of facial recognition – a technology New Zealand still appears to be making its mind up about. Lots more inside!
Season's Greetings and best wishes for a happy and safe festive season.
Nicholas Dynon
Auckland