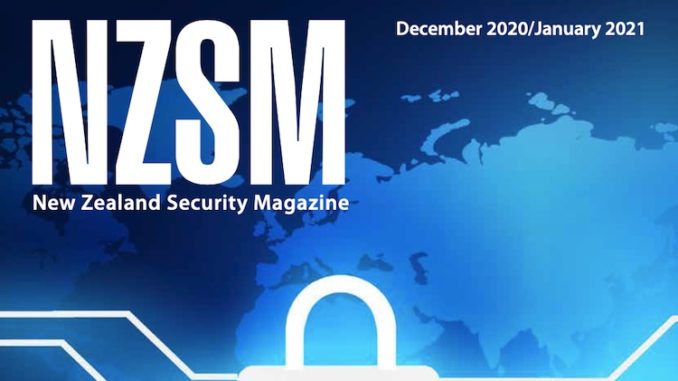 The just-published December-January issue of NZSM focuses on the issues of security training and retail security, with the magazine also profiling the winners of the Women in Security Awards Aotearoa!
Click here to view or download online digital magazine.
Independent security consultant and seasoned trainer Lincoln Potter PSP looks back over 2020 as a year of significant progress for industry training. Lincoln highlights Hard Target's award winning online training initiative, the NZSA-MSD partnered virtual reality training platform, and the great work being done by the NZSA SIG for Training and Professional Development as stand outs.
According to Chief Editor Nicholas Dynon, NZSM is delighted to be able to profile the winners of the inaugural Women in Security Awards Aotearoa. "This is a fantastic initiative that promotes excellence within an under-represented group within security," said Nicholas. "Congratulations to all the winners and finalists for your contribution to our sector!"
The magazine is also giving away two signed copies of renown professional investigator Ron McQuilter's just-published book Busted! Stories from New Zealand's Leading Private Investigator!
In his return to NZSM, David Withers APP writes that with the new Privacy Act becoming law on 01 December, it's a good time to also consider whether your organisation is compliant with overseas privacy regulations. Information security specialist Steve Honiss explores the spike in state-sponsored cyberattacks linked to COVID-19.
In retail security, Sara Mosqueda writes that the acceleration of multi-channel retail in the wake of COVID-19 is disproving that assumption eCommerce is good for loss prevention.
Continuing with its theme of training, the magazine features Part Three of its series on the NZSA-published Good Practice Guidelines, this time with a focus on guidelines for training. Also featured are reports from the Chair and CEO from the NZSA Annual Report and the final update for the year from the NZSA's Training Special Interest Group.
Also in this issue, the magazine's sponsors and partners deliver their latest security solution news. "It's only through these organisations that NZSM is able to continue to publish news and analysis for the security sector and to shine a light on topics and developments of professional interest," said Nicholas Dynon. "A big thank you to them for continuing to support us during what has been a challenging year."