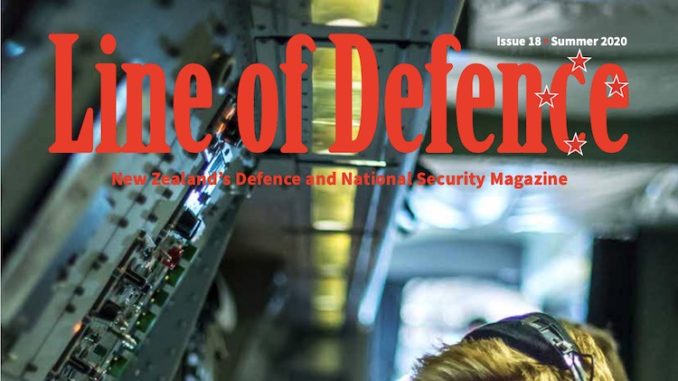 According to Chief Editor Nicholas Dynon, Line of Defence's Summer issue continues the magazine's focus on the New Zealand Information Domain.
Thinking on this new domain continues to evolve, with the NZDIA's IDEAS 2020 Part Two event in November showcasing Industry's thought leadership around the collection, storage, movement, analysis, deployment and protection of data. I discuss some of the big takeaways from this ambitious – and stunningly successful – event.
View or download Line of Defence's Summer digital edition here.
Harnessing the insights of IDEAS 2020 speakers, I explore how in the information era data is increasingly defining the geostrategic power of nation states and the nature of their societies. This presents big challenges for New Zealand, not least the need to conceptualise the information domain beyond specific defence capabilities and within a broader whole-of-society programme of policy development, investment and research.
In his inaugural Line of Defence article, former submariner and recently appointed Opposition spokesperson for Defence and Veterans Chris Penk provides insights into the National Party's NZDF connections. We look forward to Defence Minister Hon Peeni Henare's inaugural article in next March's Autumn issue of Line of Defence.
We're excited to be joined in this issue by Mike Yardley, the Ministry of Defence's Deputy Secretary Defence Capability. Mike shares his insights into the Defence Capability System and the ways in which Defence has pivoted in the wake of COVID to keep procurement cycles turning.
Nova Systems NZ provides insights into its partnership with the NZDF across numerous projects, including the Project Protector Remediation programme and Maritime Sustainment Capability Safety Case Review, among others. Matthew Medley of IFS explores what's need to turn disparate data into one infrastructure platform to achieve Total Asset Readiness.
There's also a great update from General Atomics Aeronautical Systems (GA-ASI) on the MQ-9B SeaGuardian's recent deployments for the Japanese Coast Guard, and a supply chain focused piece from Australasian force protection specialists EPE.
A big thanks also to our other sponsoring partners Leonardo and Rheinmetall. Along with GA-ASI, these key Defence Industry organisations have continued to support the publishing of Line of Defence Magazine over several editions. Without their support, New Zealand would not have the benefit of a local platform for Defence and National Security-focused news and analysis.
In International Security, Former Defence Minister Hon Dr Wayne Mapp QSO writes that recent United States and New Zealand election outcomes provide fresh opportunity to think through how Wellington will navigate the challenge of balancing our US and China relationships. Dr Reuben Steff suggests that any ambitions Wellington may have to act as an independent broker will need to be tempered with a consideration of the investments in institutions needed.
In Homeland Security, with recent terrorist attacks in the West 'home-grown', Marc Collins explains how governments might go about countering the threat whilst preserving freedoms. Steve Honiss writes that COVID impacts and the rush for a vaccine have fuelled a rush of state-sponsored cyber incursions.
Line of Defence Magazine's Summer issue can be viewed or downloaded (PDF) here.