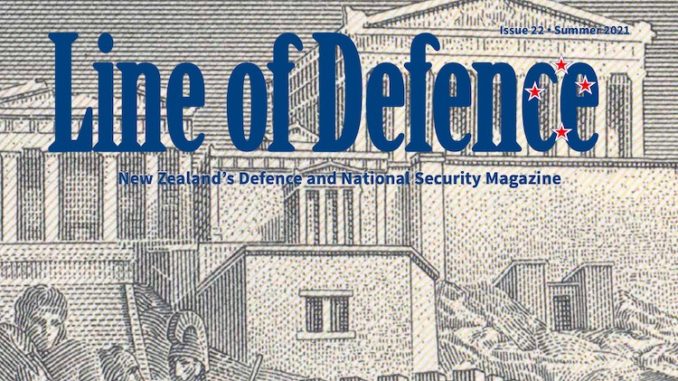 Kia ora and welcome to the Summer 2021-22 issue of Line of Defence Magazine! In this issue we round out the year with continued discussion on the future RNZN, AUKUS, the grey zone, and contemporary challenges to democracy and the international rules-based order.
It's been a tough year, and I'd like to take this opportunity to thank our readers and contributors for their continued support throughout 2021. A big thanks also to our wonderful advertisers who apart from providing capabilities, solutions, and services that LoD is proud to promote are also contributing to a vibrant and informed sector through their sponsorship of the magazine.
View/download the magazine
Ensure you click on the Fullscreen button at the bottom-right (computer) or centre (phone) of the viewer below. If you're having difficulty seeing the viewer on your device, click here to view on the Issuu platform:
---
In that regard, a special thanks to this issue's sponsors, General Atomics Aeronautical Systems, Rheinmetall, Serco Defence, and PFG.
In this issue, we also take great joy in reporting on the crowning of former NZDIA CEO and regular LoD contributor Jennie Vickers as the inaugural IFSEC Global Influencer of the Year! As you would likely know, Jennie has contributed to the broader security sector in Aotearoa though her advocacy for local private industry involvement in the Defence supply chain and for improved engagement between suppliers and their government customers.
Most recently, Jennie has been shining a light on the Broader Outcomes component of the Government Procurement Rules and advocating buyer accountability to the new requirement. In global context, Jennie's win is big security industry news and a massive win for New Zealand. To add to the silverware, Jennie has also just been named as co-winner of the 2021 Women in Security Awards Aotearoa (WiSAA) 'Thought Leader' category. Congratulations Jennie!
Also in this issue, we feature two articles by former RNZN Captain Andrew Watts. Andrew's article 'Designing the Next Fleet' published in the inaugural issue of the Professional Journal of the Royal New Zealand Navy in December 2020 has spawned a series of related articles that we are delighted to be featuring in LoD.
Regular contributors Chris Penk MP and Wayne Mapp discuss the implications of the AUKUS pact for New Zealand, with Dr Mapp focusing squarely on the potential budgetary and capability implications and arguing for a maintenance of Defence spending at 1.5 percent of GDP.
In Homeland Security, Dr John Battersby argues that a myopic focus on the Covid pandemic's impact, as well the growing social and economic fault-lines it is opening up, will generate risks in an environment in which we are less able to mitigate them. Before you finish your read, make sure you flick through to Page 38 and the call for papers for the upcoming 'National Security beyond Government' special issue of the National Security Journal. Maybe it's time you got published!
Lastly, from the team here at Defsec New Zealand, have a very happy and safe festive season and a brilliant start to 2022! Here's hoping it's a good one!
Nicholas Dynon, Auckland