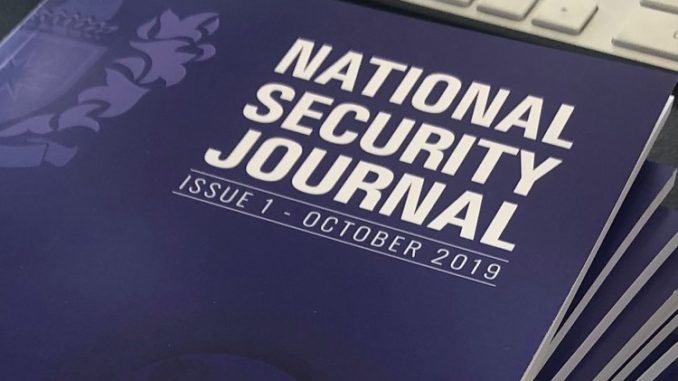 On behalf of the Massey University-published National Security Journal, the New Zealand Security Sector Network calls for papers for an upcoming 'National Security beyond Government' special issue.
The New Zealand Security Sector Network (NZSSN) is calling for papers for a 'National Security beyond Government' special issue of the National Security Journal (NSJ). Established in 2019 by Massey University's Centre for Defence and Security Studies, the NSJ is Aotearoa's leading security-focused scholarly journal.
The special issue aims to elicit articles of 2,000 to 5,000 words in length from practitioners and scholars (academics and students) from within New Zealand's security ecosystem. The Guest Editors are particularly interested in submissions from professionals working in the private security industry.
Topic ideas potential authors may wish to consider include (but are not limited to):
Government procurement and supplier management in security and defence
Barriers to public-private partnership in national security
Public discourse and society narratives on security in Aotearoa New Zealand
The role of the private sector in Aotearoa New Zealand's cyber resilience
Perspectives on government public consultation processes in national security
Public-private engagement in relation to Protecting Our Crowded Places from Attack: New Zealand's Strategy
Private sector involvement in COVID-19 border security
Māori perspectives on security and safety
The Defence Information Domain and the private sector
Historical perspectives on Aotearoa New Zealand's private security industry
Comparative research on private security regulation
Bridging the security skills gap
Private sector development of the space sector
Read this article in the digital edition:
---
The NSJ is focused broadly on national security. It invites academics and practitioners across the expanded national security working space to contribute their research, knowledge and experience. It is available to subscribers across the government, NGO, business and academic sectors and on request.
It is intended that the 'National Security beyond Government' special issue will be published during 2022, with a submission deadline in May. Potential contributors should contact Managing Editor Dr John Battersby j.m.battersby@massey.ac.nz to discuss submission ideas.
National Security Journal
New Zealand's national security environment is hyper-dynamic, involving constant changes in geo-political positioning, population movement, trade variations, information security, the impact of climate, food safety, biosecurity, and cyber security.
The National Security Journal was established to provide a platform for the dissemination of high quality academic and professional research on national security topics relating to New Zealand and its regional environment; to foster a closer interaction between academic and professional communities; and to encourage various agencies and community groups to engage with each other in areas of mutual interest.
New Zealand Security Sector Network
The NZSSN is a community of industry and professional associations and academic research centres situated within or focused on Aotearoa New Zealand's security and resilience sectors. Members of the community include (among others) the New Zealand Security Association, ASIS International New Zealand Chapter, and Massey University's Centre for Defence and Security Studies.
The NZSSN aims to (i) facilitate communication and collaboration across the sector; (ii) promote the sector within the broader community; and (iii) conduct/coordinate research into issues of relevance to the sector.