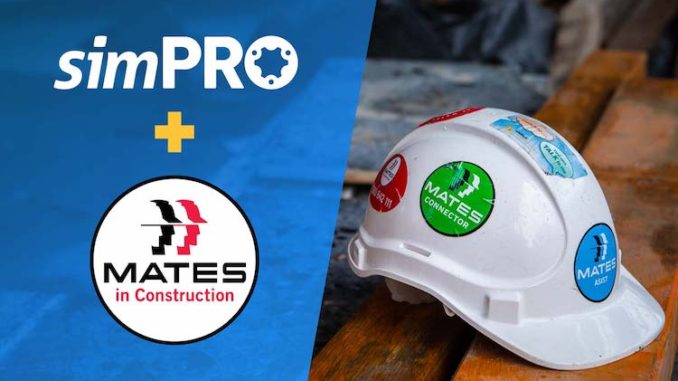 New partnership aims to promote suicide awareness and prevention in order to help reduce the number of suicides in New Zealand and Australia's construction industries.
---
simPRO, the leader in software-as-a-service (SaaS) solutions for the trades, announced on 15 June their philanthropic partnership with MATES in Construction, a suicide awareness, prevention and support program serving New Zealand's and Australia's construction industries.
According to MATES in Construction, Australia's construction industry is losing one worker per week to suicide and construction workers are six times more likely to die from suicide than a workplace accident.
simPRO's partnering with MATES recognises the importance of mental health and suicide prevention in the construction industry and the need to reduce the stigma associated with seeking help. It also recognises simPRO's commitment to support the mental health of the trade industries it serves.
As the first field service software company to team up with MATES in Construction, simPRO's staff in Aotearoa and Australia will undergo general awareness training by MATES in Construction. The first of a three-part training series, it is designed to help identify and respond to warning signs that a MATE in the construction industry may be at risk of suicide.
The training is part of an integrated industry intervention program offered by MATES in Construction designed to: 
Raise awareness of suicide as a preventable problem.
Build stronger and more resilient workers.
Connect workers to the best available help and support.
Communicate best practices designed to boost mental health by partnering with leading researchers.
By working with MATES in Construction, simPRO is hoping to play a role in the reduction of the number of lives lost to suicide each year in the construction industry.
"The mental health of the trade industry is a cause that simPRO is fully behind," said Sean Diljore, CEO of simPRO. "One of our guiding values is that "We Care" – not only for our employees but for our local communities and customers. If, through our training, we can help even one person in the industries we serve, our commitment to MATES in Construction will be worth it."
simPRO will also be supporting MATES in Construction at industry events and participating during "Fly the Flag" day in September – a day set aside to celebrate what the construction industry is doing to create awareness of the importance of their workers' mental health.
Led by CEO Sean Diljore, simPRO is headquartered in Brisbane, Australia. Its cloud-based software is an end-to-end operation solution that streamlines field workflows to maximise workforces and enable business growth. simPRO has more than 7,000 clients and 450+ employees over five global offices.