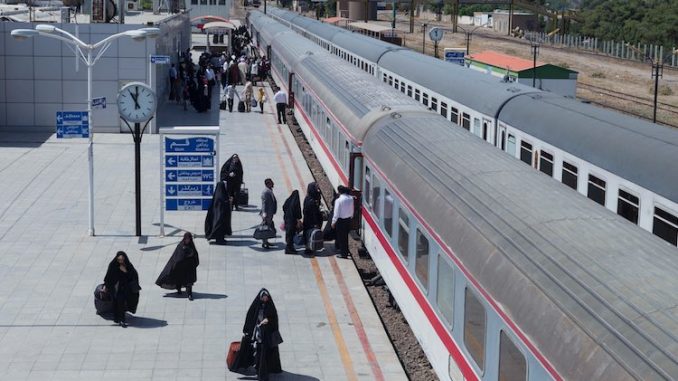 Senior Lecturer Dr Negar Partow from Massey University's Centre for Defence and Security Studies writes about the shared struggles of women in Iran and Afghanistan.
---
By way of pain and oppression, Iranian and Afghani women have learned a great deal in the last few decades about why their resistance against misogyny matters.
Since September 2022, Iranian women have expressed their determination to fight against the state's misogynistic policies and compulsory veiling law. They abhor the regime's gender-based violence they have had to endure for over 40 years and want a life with freedom and dignity. The central slogan of 'Woman, life, freedom' encapsulates their fight for these basic yet fundamental rights.
Many women in Afghanistan have similar experiences and have been the subject of the Taliban's gender discrimination and prejudices, punitive religious punishment rules and the exclusion from any decision making. While they got the chance to prosper in the last two decades, their situation has worsened since the withdrawal of United States forces in 2021.
Since the early days of the recent protests in Iran, Afghani women were engaged in the struggle of Iranian women. They not only share experiences under a religious regime, but also have been through religious and political turmoil that has shaped the history of their struggle.
Although the Taliban and the Islamic Republic have different theological orientations and ideas about Islam, they hold very similar views about gender equality, women's rights and their social and political participation.
Iranian and Afghani women share the same language, as well as living in a religiously and politically oppressive government. Dari, the Persian language spoken in Afghanistan, which is the franca lingua for the non-Pashtu population, allows women in Iran and Afghanistan to share ideas and read about each other without any language barrier.
Both also experienced a period of stability under a secular government and are very familiar with the backlashes of religious militant sexist groups and leaders who show their political dominance by imposing compulsory veiling on women, taking away their right to education and using them as sex slaves for recruiting followers.
Their common plight unites them across the border. For both, the struggle for employment and education opportunities are part of their everyday fight for survival. Their struggles require courage and resilience, as they face an armed ideological religious force with roots in their traditions on a daily basis. The experience of Iranian women in converting sexist challenges to opportunities could further Afghani women's struggle against Talibanism.
In Iran, women recognised that oppression from the state could succeed only when it resonates culturally. They therefore have invested heavily in education and raising social awareness about equity and equality. It took them many years to break this major cultural barrier to communicate with men that equality and human rights would benefit them as well as benefiting women. In Afghanistan, on the contrary, many who oppose the Taliban are not in favour of gender equality and mostly seek equal distribution of economic benefits only amongst men.
Fostering unity
The second strategy for Iranian women is fostering unity. The Islamic Republic and the Taliban have been fostering social, ethnic, political and gender division by imposing gender segregation, extrajudicial killing of ethnic communities and a class system exclusively based on religion. Both use the language of division as their containment strategy, coupled with policies of exclusion and oppression of 'others'.
The unity that the common pain of women has created is one of the strongest tools against misogyny and poses an existential threat to political Islam in both Shi'a and Sunni forms.
Unity amongst women bridges the gender gap by building resilience and hope for equity amongst them. Unity has made maintaining the forged divisions amongst different groups an ongoing battle for the Islamic Republic and it is almost impossible for the Taliban to prevent its spill over.
To the Islamic Republic and the Taliban, women's political existence, their social presence and economic empowerment are security issues that cannot be resolved except by silencing women by force. To them, women's clothing and social presence are the cornerstone of Islam's religious and political identity that could not be compromised. Therefore, they should be responded to with military force, extreme punishment and urgently. Securitisation of a women's body is the most common language that they both use to ensure stability.
Relying on such an unstable notion as the cornerstone of a national security strategy makes these states highly reliant on their security forces and intelligence and utterly vulnerable. In Iran, the regime has gambled its existence on this issue and lost. In Afghanistan, the Taliban's discourse of security could not be understood without the role of women's oppression in state building.
Often the process of securitisation is speedy and doesn't require significant efforts, but it is continuously challenged by women. In the case of Iran, the state's resistance against women resulted in widespread rioting and revolution. This process, however, will be much easier and shorter for Afghanistan, who experienced living under a secure state for about 20 years and can see the events in Iran. With a feminist revolution on the other side of the border, Afghani women have access to more tools to raise awareness.
Iran's revolution makes the Taliban uneasy, as they know the future could see Afghanis united against their oppression and fighting for the rights of education and freedom for women and girls. Iranians and Afghanis, both subject to tyranny, abuse and corruption, are now hopeful about the future.
What we as the global community of citizens need to do is to support their struggle against regimes that are armed to their teeth and have no mercy in violently torturing or killing people. Supporting their struggle would lead us to a new model of politics that is less security orientated and capable of reform, change and improvement for all.
This article was originally published in Massey University's Massey News on 5 December 2022.