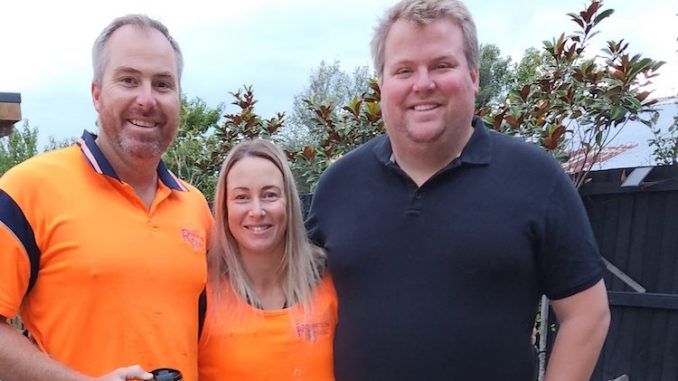 On the eve of International Women's Day on 8 March, Competenz Te Pūkenga profiles Christchurch mother Loren Evans who is calling for more women to consider learning a trade.
---
The 33-year-old is forging a new career path, recently receiving a New Zealand Certificate in Passive Fire Protection Installation (Level 3). Loren is thrilled to be a qualified tradesperson.
Coming from a family of tradespeople, Loren was exposed to the trades early, spending time in her father's furniture and joinery factory. After leaving school, Loren achieved a qualification in animal healthcare before getting involved in construction, honing her excavator skills.
In 2019, as a single mother, Loren returned to the workforce and said she is grateful that Robertson Built Limited took a chance and hired her.
Managing Director Paul Robertson says Loren quickly became a key member of their small team, showing initiative to develop her skills.
"Robertson Built is proud to be a full-service construction company; we pride ourselves on our agility, being able to innovate new solutions for our client's needs," he said.
When the business became involved in passive fire protection works for a long-standing client, Loren's proven ability to learn quickly and make decisions on her feet meant Paul was confident in offering Loren the opportunity to become a qualified Passive Fire Installer through Competenz Te Pūkenga.
Paul says that the apprenticeship process from his end was "incredibly easy" and that John Terry, Loren's Competenz Te Pūkenga training advisor, was very knowledgeable and helpful to Loren. Being part of Loren's learning journey was rewarding for John, and he commends Loren for her tenacity.
"Loren did extremely well. Working on the tools all day and then going home to be a Mum to a young child is tough. She took on the additional study and was determined to push through it."
In Loren's role as a Passive Fire Installer, she ensures the correct and compliant installation of passive fire protection systems, such as firewalls and fire cells, distinct from active systems like sprinklers and fire alarms.
Enjoying the opportunity to learn and take on the responsibility, Loren says being a woman working in a male-dominated industry doesn't worry her.
"It's an adjustment for some men having a woman on site, but my message to other women is just to choose the career you want and do it — don't let anything hold you back."
Loren has her eyes firmly on her next goal of becoming a Fire Inspector, allowing her to inspect active fire protection systems. This will require working towards a New Zealand Certificate in Fire Protection Systems Technology (Inspections) (Level 4).
Paul was impressed with how Loren picked up and owned the role.
"Loren managed to ensure that her completion of the qualifications didn't impact her ability to continue performing her role with us.
"We've been proud to be a part of Loren's journey and look forward to helping her progress through the next stage of her qualifications as she continues to build her skills and increase her abilities in the trade."
The tradeswoman says being a qualified working mother is one of her proudest achievements.
"It's been both the hardest yet the most fulfilling thing I have ever done.
"Dealing with the guilt of balancing my study with being a mum, I kept telling myself I'm doing it for my daughter — as well as my future."