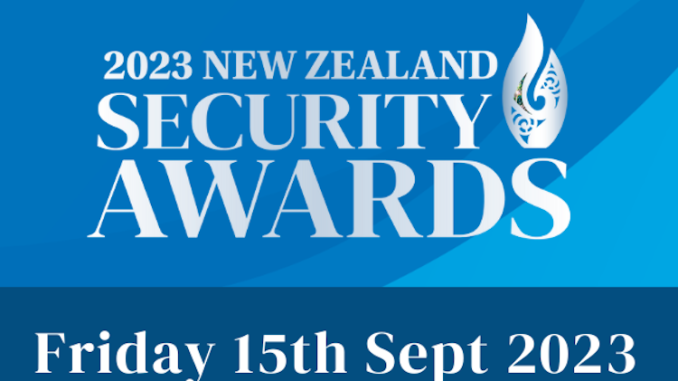 Nominations for the NZ Security Awards 2023 open today, Monday 24th July, according to New Zealand's peak private security industry body the New Zealand Security Association (NZSA).
---
According to the NZSA, nominations for the prestigious annual awards open today and close 5pm, Friday 11th August. There are 19 award categories, covering a wide spectrum of the security industry.
The announcement comes as the world celebrates International Security Officers day on 24 July, or 24/7 – the choice of day symbolising the ubiquitous nature of security work.
"We look forward to receiving nominations to recognise and celebrate the hard work and dedication of security professionals across the country," said the NZSA advisory.
"If you know of someone who deserves recognition for their outstanding dedication and contribution over the past year, make sure you submit your nomination before 5pm, Friday 11th August."
The 19 categories for this year are:
Customer Champion of the Year
Design and Support Electronic Sector Professional of the Year
Electronic Trainee of the Year
Guarding Sector Trainee of the Year
Install and Service Electronic Sector (Corporate) Technician of the Year
Install and Service Electronic Sector (SME) Technician of the Year
Michael Pepper Award for Outstanding Security Training Initiative
Monitoring / Communication Centre Operator of the Year
Outstanding New Product or Service of the Year
Outstanding Skills for Industry Employee of the Year
Outstanding Staff Retention/Staff Development Programme
Patrol Officer of the Year
Security Administrator of the Year
Security Consultant of the Year
Security Integrator of the Year
Security Officer of the Year
Security Supervisor/Operations Manager of the Year
Security Trainer or Workplace Assessor of the Year
Specialised Security Services Professional of the Year
Security Professional of the Year (supreme award)
"There are a few key points to know when making a nomination, so that we can fairly assess and select the Award winners," stated the NZSA. "We've prepared a document to help you to submit a successful nomination."
Award winners will be announced at the Awards Evening, which will be held on the evening of 05 September at the Te Pae Convention Convention Centre, Christchurch. The evening will include welcome drinks and a buffet dinner MC'ed by Jeff Kamo.
New Zealand Security Magazine is a proud sponsor of the New Zealand Security Awards.
See the NZSA website for more details.