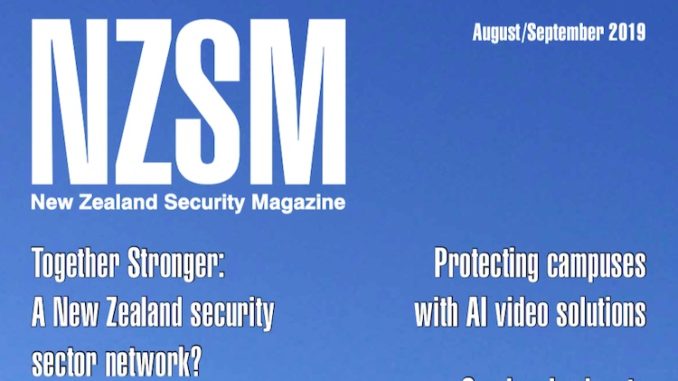 Welcome to the August-September issue of New Zealand Security Magazine.
With August now upon us we've well and truly entered event season. Another ASIAL show is behind us and the NZSA's security industry awards gala is coming up, with Facilities Integrate (page 27) around the corner and various showcases and association AGMs in between.
Heightened interest in the security of events and public places has ushered in an unprecedented wave of conference newcomers, including Safe and Secure Facilities and Public Spaces (Conferenz, August), Crowded Places NZ 2019 (Marcus Evans, September), and Venue & Community Safety & Security Forum (Aventedge, November). Appearing at a time when public and private owners/operators of crowded places are reviewing their security arrangements in the post-Christchurch attacks context, levels of interest are high.
_______________
From an industry perspective, these new events are welcome, providing a platform for local specialists to present their expertise to wider audiences, and for providers of security solutions and services to demonstrate their offerings. The speaker line-up for Safe and Secure Facilities and Public Spaces in Wellington (page 46), for example, features a fantastic amount of local industry talent, including NZSM contributors David Horsburgh, Dr John Battersby, Lincoln Potter, Chris Kumeroa, Stewart O'Reilly, Dean Kidd, Dr Bridgette Sullivan-Taylor and Bruce Couper, among others.
The post-Christchurch attacks context has also seen a heightened tempo around initiatives to better align the security industry with government and academic stakeholders, including the cross-sector Security Policy Network initiative (page 16) and the NZSA's new Protective Security Risk Management special interest group (page 33).
The security industry sits within a broader security sector that we all know to be characterised by silos, false walls, and ridiculously unnecessary cones of silence. If the sector were a high school formal, the dance floor would be bare, with huddled cliques in corners engaged in whispered conversations under cover of loud band music. In the national interest this needs to change, and such initiatives are absolutely necessary to drag a socially awkward sector out of its Kafkaesque state of professional isolationism and to get us all dancing.
As the recently published 2019 Unisys Security Index illustrates, New Zealanders' attitudes toward their security changed immediately after the Christchurch attacks, with 'war or terrorism' becoming their top security concern for the first time in the 13-year history of the index (page 26). With violent extremism not going away any time soon (page 24) and – more broadly – a more converged and complex than ever threat context, the New Zealand public has a higher-then-ever expectation that they will be protected.
Within this context, a more 'converged' security sector in which government, industry and academic practitioners enjoy more structured, proactive and meaningful relationships can only be a good thing – for all of us.