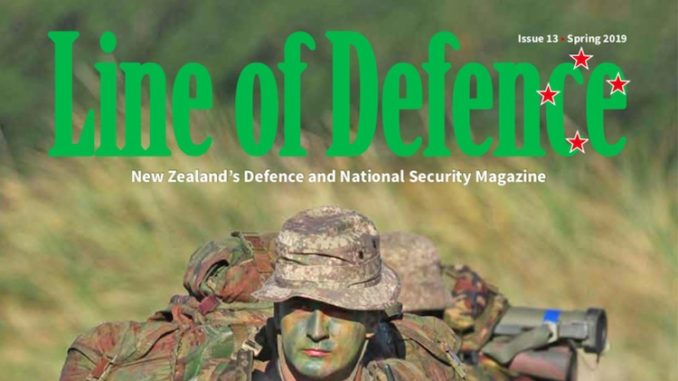 In this Spring issue of Line of Defence, Dr Peter Greener (Senior Fellow at Victoria University Wellington's Centre for Strategic Studies) asks COMJFNZ RADM James Gilmour about overseas deployments, women in uniform, frigates, helicopters and more. In an era where 'value for money' is key, states RADM Gilmour, "quantity can have a quality of its own" – it's not ideal having the highest tech platforms if we can only afford them in small numbers.
View/Download PDF
___________________________
As far as frigate replacement is concerned, former Defence Minister Hon Dr Wayne Mapp QSO argues that "two is too few". New Zealand, he writes, can afford two modern frigates such as the Type 26 frigate that have been ordered by the Australian and Canadian Navies, but a better choice might be a lighter frigate such as British Type 31. New Zealand could readily afford three of these.
Opposition Defence Spokesperson and former Defence Minister Hon Mark Mitchell comments that he is increasingly concerned at delays in defence procurement processes under the Coalition Government. "Continual review of National's plans for the defence sector whilst in government is nothing but a costly timewasting exercise," he writes, including the further review of the Defence Estate announced earlier this year.
Defence Minister Hon Ron Mark points instead to the historic levels of investment the Coalition Government has already made in defence. He writes that his focus is on building the case for some of the highest priority investments contained in the Defence Capability Plan – the Hercules replacement, Protected Mobility vehicles, and a "low-end domestic and regional air surveillance capability to complement the P-8A Poseidon fleet."
On the issue of public value in procurement, the NZDIA notes the new definition of 'public value' in the new 4thedition of the Government Procurement Rules, commenting that the principle of public value "does not mean selecting the lowest price but rather the best possible outcome for the total cost of ownership."
In International Security, Israeli Ambassador to New Zealand HE Dr Itzhak Gerberg explores the counter-terror role of 'operative security', Hagar NZ's Don Lord highlights the ongoing challenge of human trafficking in the region, and Massey University's Dr Germana Nicklin looks at the vexed issue of border management in Antarctica.
In Homeland Security, Otago Polytechnic's Barnaby Pace considers how New Zealand can increase its terror resilience via psychological strategies, chief editor Nicholas Dynon explores the 'wicked problem' of securing 'crowded places' from attack, and Massey University's Dr John Battersby makes the case for the new scholarly publication National Security Journal.Lastly, a very big welcome to new Line of Defence partner Tactical Solutions. The local equipment, procurement and support solutions specialist to defence and law enforcement is now 20 years old and is on the cusp of major expansion. We feature their latest news. I'd also like to acknowledge our continuing partnerships with GA-ASI, Embraer and Leonardo, without whom Line of Defence would simply not be possible.