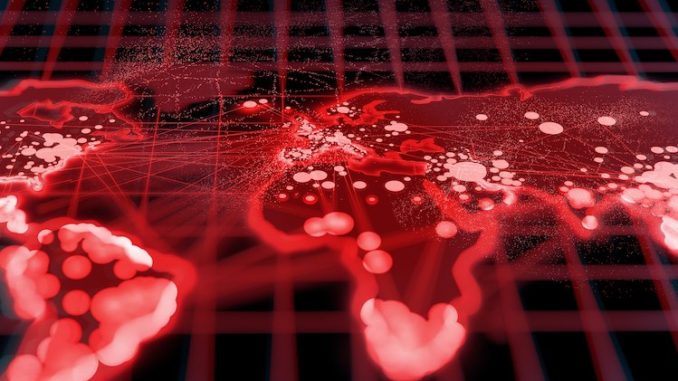 New Zealand Defence Industry Association conducts successful trial of a revolutionary new virtual event platform capable of delivering a full conference and exhibition experience online.
The Covid-19 crisis and subsequent lockdown restrictions resulted in many of the NZDIA's planned events in 2020 being deferred or cancelled. As a consequence, the Association has been busy investigating options to restart industry engagement events.
Even at Alert Level 1 there are major challenges. With members and stakeholders located across global supply chains, the NZDIA has been faced with the challenge of finding a way of maintaining engagement and ensuring that Defence continues to meet as many industry players as possible as we are slowly released from the shackles of Covid.
Platform for the new normal
Experienced in the specific engagement needs of the sector, it was Event Mergers Limited (EML), organiser of the 2018 NZDIA Forum, that took up the challenge. Through its sister company PAXABLE, the event organiser secured access to a live online events platform offering the potential to bring the full event experience to virtual attendees anywhere.
PAXABLE is the only New Zealand Certified Reseller of Hopin, a virtual venue with multiple interactive areas that are optimised for connecting and engaging for events of any size. Via Hopin, virtual attendees can move in and out of rooms just like an in-person event and enjoy the content and connections they'd experience if they were there physically.
"While people have become accustomed to using Teams, Zoom, hang-outs etc over lockdown," stated NZDIA CEO Jennie Vickers, "our live online event platform provides a next level experience, which is hard to describe and hard for people to visualise."
"Think of Hopin as your online venue. The place where you can provide an interactive, face-to-face experience for your attendees for a few hours or over multiple days," stated Hopin's Dave Schools. "In fact, Hopin can host up to 100,000 attendees in such a way that no one feels lost in the crowd but rather connected in the way they want to connect, whether that's watching a keynote, socialising around a virtual roundtable, or meeting one-on-one."
Hopin CEO Johnny Boufarhat noted in a couple of interviews recently that they deliberately created a virtual event platform that focuses on more of the networking, engagement, interactivity and the things that people go to an event for. Hopin had planned a September launch but accelerated their launch schedule and saw growth of revenue from 0 to US$1 million in their first 3 weeks.
Enjoying this article? Consider a subscription to the print edition of Line of Defence Magazine.
Testing 1-2-3
After the NZDIA and PAXABLE previewed the system to a limited audience, initial feedback was promising "While the demo we were first shown was rudimentary," said Jennie Vickers, "everyone who saw it went away excited about the potential for this medium, regardless of their role in an event."
To put the platform through its paces and to generate a wave of excitement over a return to defence events, the NZDIA-PAXABLE collaboration created a demo event – 'I>D>E>A> 2020' – that took place over two super-fast paced hours on the morning of Friday 12 June. The ultimate aim of the exercise being the transition from traditional in-person NZDIA/MOD/NZDF events to live online events, and eventually to hybrid events.
To make it happen, dozens of NZDIA members and stakeholders were roped in to act as presenters, panel chairs, exhibitors, networkers and attendees. Studio filming and technical services were provided by Auckland-based Livewire Audio Visual.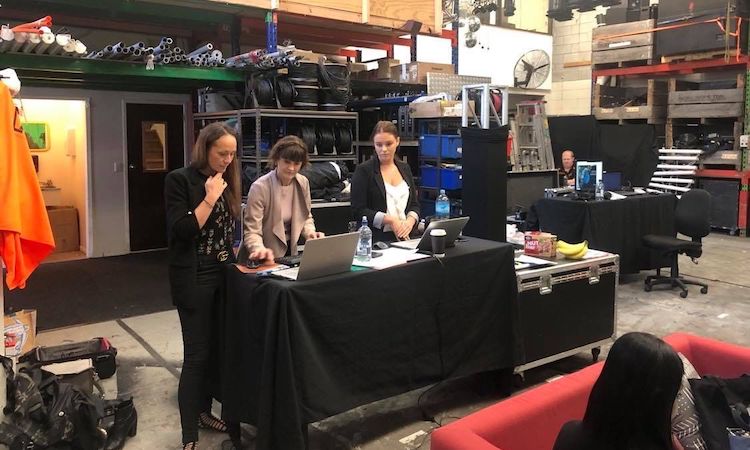 For participants, the demo offered the opportunity to gain live experience of the potential for future Member Meetings and Forums, to hear from a range of speakers, to exhibit or engage with exhibitors, to participate in panel discussions and networking, and to feedback ideas about the platform for their own events or meetings in a world where international travel is not likely to return to normal anytime soon.
Instead of standard-length 30-minute or hour-long sessions, the demo event agenda featured a series of short live experiences, including five-minute keynotes, panel sessions and workshops, and a 15-minute exhibition session featuring an eight-booth exhibitors' space.
The event kicked off with a multi-language welcome led by Steven Renata of KIWA Digital, followed by an event opening by MC Jennie Vickers beamed live from a futuristic NZDIA green screen set. As technical bugs and connectivity issues were worked through in real time, the event's MC kept virtual attendees entertained with an ad-lib repertoire that would impress the most seasoned television presenter.
International keynote speaker and best-selling author Chris Helder got things off to an energy-filled start with a rousing call to action on the role of 'useful beliefs' in beckoning in technology transformations.

A lightning procession of expert presenters followed, including Ministry of Defence Chief Advisor Industry and Science Hema Sridhar on the role of science and data in a post-Covid era, University of Waikato Professor Albert Bifet on 2020 as the year of AI and machine learning, and recently retired Royal Australian Navy CAPT Greg Laxton on leading teams into an era of rapid new technology uptake.
Feedback provided by attendees via the platform's chat functionality reflected strong approval of the system and recognition that it offered an unprecedented level of potential. While the comments will be used to make further enhancements to attendee experience, they provide a strong mandate to harness this world-leading technology for the benefit of the New Zealand Defence ecosystem.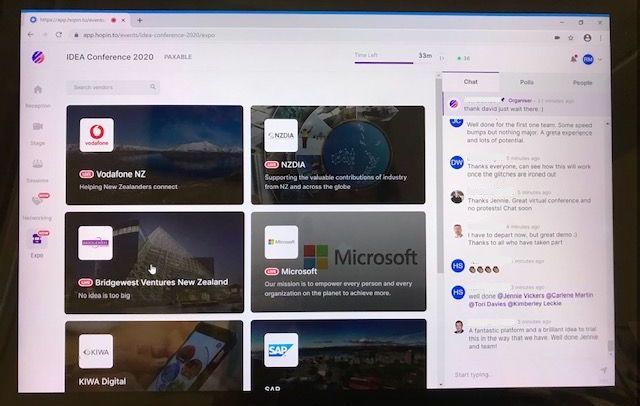 "Online conferencing might be one of the best things to come out of the Covid-19 lockdown," said exhibiting participant Vaughan Matthews, Executive Account Director at Vodafone. "I found the experience far more engaging and efficient than the traditional in person conference."
"The tool itself was easy to use, setting up the booth takes only minutes and once the conference begins the ability to move seamlessly from the booth to networking then to listening to key speakers was fantastic. I am hopeful that tools like this will improve attendance, increase engagement and cut-through whilst reducing our carbon footprint and costs."
"Was good to experience a virtual conference/discussion hosted by NZDIA," commented Jon Ragg, Senior Account Executive at Microsoft. "Be interesting to see how this develops as people become more comfortable in a hybrid conference approach – being on and off-site. Look forward to the next engagement and virtually meeting new people and contacts."
Ultimately, the success of the event is testament to classic Kiwi 'can-do' and impressive collaboration at a difficult time between the NZDIA, PAXABLE, Live Wire AV and the Ministry of Defence.
From the demo a selection of showreels will be curated that will be used to promote NZDIA and PAXABLE events going forward. In the post-Covid era, NZDIA members and stakeholders can now expect to be forging new relationships in a new normal devoid of both borders and the tyranny of distance.
The New Normal
PAXABLE has been overwhelmed with the immediate post-event feedback and are delighted to bring this offering to New Zealand. If you love the sound of this for your business, getting through to Hopin is difficult as currently over 1,000 people a day are requesting demos.
As a result of the early adopter courage and vision of CEO Carlene Martin and PAXABLE, they have already established a strong relationship with Hopin HQ and can support your new normal event – Carlene@paxable.co.nz