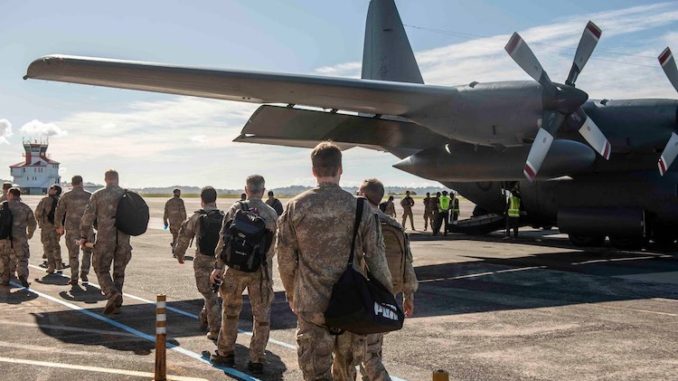 Hot on the heels of big airlift and surveillance announcements, Defence Minister Hon Ron Mark highlights the new capabilities of the C-130J, with work to replace the Boeing 757s to begin next year.
Last month it was my privilege to announce a continued investment in air capability, one which will help future-proof New Zealand's ability to conduct air operations in support of our Defence Force and other government agencies, over the next two decades and beyond.
The Coalition Government has now purchased five Lockheed Martin C-130J-30 Super Hercules transport aircraft, to replace the existing fleet, at a total cost of $1.521 billion.
Last year, Cabinet selected these aircraft as the preferred option to replace the current Hercules fleet. Procurement of the Super Hercules has been my highest capability priority as Minister of Defence.
Along with the new fleet, this project will deliver a full mission flight simulator and other supporting infrastructure. The first of the new Hercules will be delivered in 2024, with the full fleet operating from 2025, allowing for a phased retirement of the current fleet.
Generations of New Zealanders have grown up and grown old with the Hercules, and they know these aircraft are an essential first line of response.
The existing C-130 Hercules fleet was purchased in 1965 and 1969 respectively. By the time this fleet is retired, it will have served for some 60 years in operational service to this nation. This fleet will have provided significant value in operations here at home, and abroad, from South East Asia, Antarctica, the Pacific and to the Middle East.
Its operational life has spanned from the Vietnam War through to supporting the response to COVID-19 in 2020.
This new C-130J Super Hercules Fleet will ensure the Defence Force can continue to support New Zealand's community resilience, our national security, our contribution to our Pacific neighbours and the wider global community. This purchase ensures tactical airlift will remain available to undertake operations in New Zealand's immediate region, as well as support our interests in Antarctica, often in support of other government agencies.
This decision also signals to our allies and friends that we take our part in collective security seriously. These aircraft are used by all of our Five Eyes partners and many of our NATO friends. 
Enjoying this article? Consider a subscription to the print edition of Line of Defence Magazine.
As with our decision to acquire the P-8A Poseidon fleet through the Foreign Military Sales process, adopting this process again has reduced costs and allows collaboration with other nations on developments and system upgrades that will be necessary over the life of the aircraft.
Each aircraft will be fitted with additional specialist capabilities, including a wide bandwidth, high speed satellite communications system and an electro-optical/infra-red camera.
This equipment will make our new Super Hercules among the most capable in the world. The satellite communications system will allow imagery, video and data to be streamed in real time, and the camera allows for aerial surveillance, including at the same time as the aircraft is undertaking transport tasks.
These capabilities will have impressive utility on coalition operations, and will be particularly useful for humanitarian and disaster relief operations and search and rescue missions, as well as supporting our government agencies closer to home.
They also allow the new Super Hercules to act as a valuable supplement to the air surveillance capabilities of the P-8s, the upgraded King Airs, and what will eventually be delivered under the Enhanced Maritime Awareness Capability project.
The new aircraft will also carry a greater payload, are faster and can travel further than the current Hercules aircraft. This will make the new fleet more responsive, more efficient and with greater capacity than we have been able to deploy in the past.
We have an obligation to ensure NZ remains secure and prosperous, that we meet our commitments to our partners, and uphold and represent our nation's values globally.
Air transport is an important part of that commitment and will ensure the Royal New Zealand Air Force (RNZAF) is able to continue to deliver value to the community, nation and world for decades to come.
Over the last two and half years, the Coalition Government has invested more money in the provision of military aircraft and air operations than at any time since the mid 1960s.
In the case of both the C-130 and P-3 Orion replacement, we are retiring these aircraft well after the time when they should have been replaced, as they approached their end of life. Their continued use is a testament to the outstanding work of our RNZAF maintenance teams and the aircrew who have operated and kept them in the air over 60 years of service.
We now have world class aircraft on the way to the RNZAF which will ensure our ability to provide credible air options to future governments and to our servicemen and women.
In addition, work is expected to be initiated in 2021 on the second phase of upgrading New Zealand's air mobility capability, when options will be considered for replacing the two Boeing 757 aircraft operated by the RNZAF. These are expected to reach their end of service life towards the end of this decade.