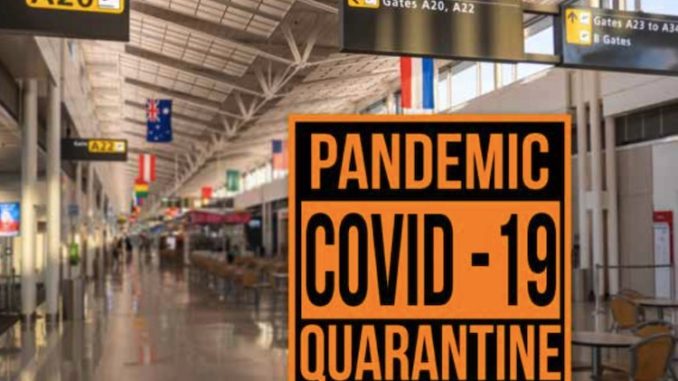 Biometrics-enabled 'seamless traveller' initiatives were once seen as the answer to handling ever-increasing passenger volumes at airports. In the post-Covid era, writes Nicholas Dynon, they present a potential enabler for Covid-safe air travel.
The International Civil Aviation Organisation (ICAO) estimates that by the end of 2020, the global Covid-19 impact on international passenger traffic could reach reductions of up to 71 percent of seat capacity and up to 1.5 billion passengers. Airlines and airports face a potential loss of revenue of up to a staggering USD 314 billion and USD 100 billion respectively for 2020.
And the losses are set to continue even after countries re-open for travel as concerns over international borders as entry-points for Covid-19 make way for perceptions of passenger aircraft and airports as captive hothouses of transmission.
Even with strict cleaning protocols in place, handing travel documents for inspection and touching surfaces through check-in, aviation security, border control, boarding gate and aboard aircraft will pose significant infection risk for travellers. Aircraft and airports will be perceived by pandemic-shaken publics as globalised petri dishes of disease for some time to come.
According to a 11 June report in BiometricUpdate.com, Abu Dhabi International Airport has recently deployed touchless gesture recognition technology to 53 elevators to prevent the spread of Covid-19 through shared surfaces in its terminals.
The Touchless Keypad Technology developed by United Arab Emirates (UAE) company Meta Touch consists of a touchless control panel that enables users to indicate the desired floor or direction they want to go in by waving a hand.
UAE's Abu Dhabi-based Etihad Airlines has also recently installed biometric kiosks to screen for symptoms of illness, which builds on an existing Etihad project for deploying biometrics for 'seamless passenger' journeys.
But these are mere quick-fire, localised tech-enabled responses within an sector hit harder than most by the Covid-19 crisis, and for which only long-term, internationally coordinated solutions will provide the ultimate answers.
While international borders remain more-or-less closed for the time being, governments and the tourism, aviation and border management sectors are turning their efforts towards envisaging what international travel needs to look like in a pandemic-sensitive future.
The World Travel and Tourism Council (WTTC), for example, which represents the private sector in global tourism, has called on G20 tourism ministers to lead a united and coordinated recovery for the tourism industry out of the Coronavirus crisis.
WTTC President and Chief Executive, Gloria Guevara, has called on G20 tourism ministers to commit with the private sector to four key principles to achieve a faster recovery – one of these principles being "a seamless traveller journey with enhanced health security standards enabled through technology."
The World Economic Forum (WEF) forecasts that there will be a shift to "touchless travel and a new health safety regime," supported by digital tools such as the WEF's Known Traveller Digital Identity initiative and the International Air Transport Association's (IATA) One ID concept – both 'seamless travel' initiatives.
'Seamless travel/traveller' is a term used by the international tourism, aviation and border sectors to refer to initiatives aimed at making passing in and out of airports easier, including eliminating to produce documentation for checking, reducing check-in and bag drop frustrations, and reducing customs and immigration queues. In a nutshell, it's where one's biometric identifiers (face, fingerprints, etc) is one's passport.
Enabling progress towards the seamless traveller ideal is investment by border and aviation authorities in biometric technologies, such as e-passports, e-gates, biometrics databases and facial recognition, which promise to enhance the travel experience for the bona fide passenger majority while making it easier for border authorities to identify the non-bona fide minority.
But in the post-Covid era, the potential value of biometrics has shifted as stakeholders at the border look to contactless biometrics to provide for Covid-safe international air travel.
Enjoying this article? Subscribe to updates by clicking the 'sign-up' button on the left, or by emailing 'subscribe' to editor@defsec.net.nz
According to market researcher Future Market Insights, Covid-19 is expected to drive the market for contactless biometrics to $70 billion by 2023.
This forecast suggests major developments in contactless travel over the next couple of years. Surely Covid provides real impetus for this but, as recent history suggests, seamless traveller initiatives are some way off achieving their contactless potential.
Experiencing delays
Asha Barbaschow writing in a 24 June 2019 report for ZDNet commented that within the next five years, "passengers travelling through Australian airports can expect a "seamless" journey, where they don't need to touch or produce a single thing until they empty their pockets and offload their bags for screening at airport security."
Through the use of biometric technology, she states, "a passport will soon be replaced by a traveller's face, and… your face could be used to walk straight onto a plane from airport entry."
Over three years ago in the Autumn 2017 issue of Line of Defence, I reported that Australia's Department of Immigration and Border Protection (now the Department of Home Affairs) was considering tender submissions for an automated processing solution to support the 'seamless traveller' concept. This was to result in AUD 93.7 million spent over five years for the rollout of next generation automated biometric processing at major air and sea ports across the country.
According to a statement from then Immigration Minister Peter Dutton, "biometric capability will reduce manual processes allowing a fast, seamless self-processing experience for up to 90 percent of travellers and enable border control officers to concentrate on passengers-of-interest."
"In many cases that will mean people, whilst they'll still have to carry their passport, may not have to present their passport at all in the long term," Minister Dutton said. Travellers would instead be processed via biometric recognition of their face, iris and fingerprints that would be matched to data held by border authorities.
The system was expected to abolish the need for passenger cards and passport control and was to replace manned desks and electronic stations with automated triage points that would utilise contactless technology and facial recognition cameras. SmartGates (e-gates) at Australian airports were also to be replaced by the new system.
The contactless, paperless process meant that some travellers may never need to break their step from disembarkation to terminal exit. Instead of stopping at an individual e-gate to be photographed, passengers could be photographed and checked while walking through a biometrics capture lane.
The seamless traveller tender closed on 31 January 2017, with border technology vendor Vision-Box winning the AUD 22.5 million contract for new generation SmartGates to replace the ageing fleet of 2007 IDEMIA (Morpho) SmartGates. Rollout was scheduled to be completed by March 2019, following a 2017-18 trial at Canberra airport.
Vision-Box's SmartGates commenced their trial in 'contact' mode only, which continued the requirement for travellers to insert their passport in order to be processed through the gate.
After several months, a limited trial of 2,200 travellers was conducted with Vision-Box's 'face on the move' contactless passenger recognition. The technology uses facial recognition to clear travellers by matching them against facial images stored in airlines' advanced passenger processing (APP) systems, rather than their passport chip.
'Face on the move' effectively removed the need for travellers to present their passport at the gate. The trial correctly matched 94 percent of participating travellers, and no identification errors occurred.
Despite the encouraging results, the rollout was paused at some point during 2019 and new SmartGates sat unused months after deployment. Last December the Department of Home Affairs confirmed that accuracy was a factor in the decision to pause the trial and that the Vision-Box SmartGates would not be deployed.
According to Home Affairs, new biometric facial recognition SmartGates "will be deployed for international arrivals throughout 2021-2022." But there's no word on whether the solution will be contactless.
Trans-Tasman cooperation
Home Affairs' Seamless Traveller project had – for a while at least – breathed life into the idea of a trial of passport-less travel between New Zealand and Australia, which had been raised by the then Australian Minister for Foreign Affairs Julie Bishop back in October 2015.
Conceived out of a hackathon held at the Department of Foreign Affairs in Canberra, the concept involved the prospect of using cloud-based storage for travellers' identity and biometric data. However, with 'face on the move' seemingly off the agenda, passport-less trans-Tasman travel is now up in the air.
Such ambitious initiatives are always up against the particularly tricky challenges of international border cooperation and the notoriously expansive range of government and private sector stakeholders at the border who are all impacted upon by potential change – and who are driven by disparate agendas.
With a trans-Tasman bubble the most likely tentative first step towards a return to international travel for New Zealanders, the formation on 5 May of the Trans-Tasman Safe Border Group comprising 40 business and government representatives from both sides of the Tasman is a strong statement of cooperative intent.
In early June, the group sent its recommendations for a safe air corridor to the New Zealand and Australian governments. Although there are no published details, recommendations are reported to include "several layers of protections across the traveller journey" that will allow for the sustainable restart of scheduled passenger services without a 14-day quarantine.
The New Zealand Government is yet to release detailed information to the public about what trans-Tasman travel arrangements might look like in the immediate, medium or long-term future.
Accordingly, there is as yet no indication that contactless biometric tech might be deployed to address ongoing concerns over Covid-19 and future pandemic transmission at our borders. Nevertheless, there exists a compelling case for contactless biometric tech to be part of the solution – and for trans-Tasman cooperation in the trialling and assessment of technologies.
International efforts needed
Australia's stalled contactless trial is by no means the only border authority foray into 'on the move' passenger recognition. 2019 saw trials of 'biometrics on the move' technology by European border and coast guard agency Frontex at Lisbon Airport, and Dubai International Airport ran a similar trial involving pre-screened departure passengers.
The international marketplace of biometric tech vendors is scrambling to offer solutions, and border authorities are now spoilt for choice. But for solutions to integrate and for priorities to align internationally, governments will need to exercise their choices in concert, which means a slow burn.
As noted by the WEF, in this time of unprecedented change, "governments and industry have a unique opportunity to redefine travel and build a more sustainable, agile, and resilient industry. This will not be possible without collaboration.
"In the near term, stakeholders will need to cooperate to accelerate the use of digital technologies. Next, they will need to develop a cohesive policy and legal regime around the deployment of digital technologies that balance the protection of civil liberties and public health. The third challenge is to ensure that different digital identity solutions can operate together."