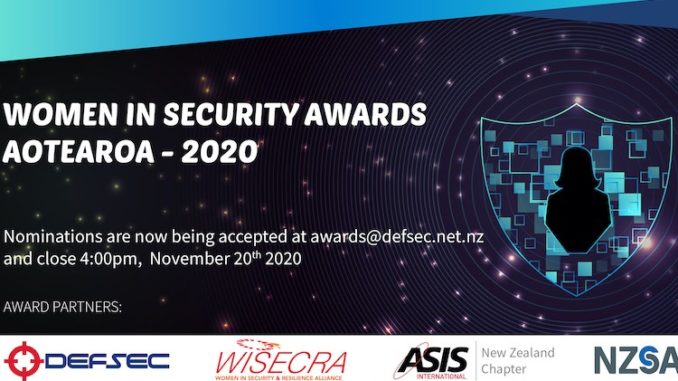 The Women in Security & Resilience Alliance (WISECRA), Defsec Media, ASIS New Zealand and New Zealand Security Association (NZSA) are pleased to announce that nominations for the inaugural Women in Security Awards Aotearoa recognition program are now being accepted.
The Women in Security Awards Aotearoa initiative was established to recognise women who have advanced the New Zealand security industry.
"By offering recognition to women working in the field,  other women may be inspired to consider cyber security as a career, which in turn helps address the imbalance," said Bonnie Butlin, the founder and international coordinator of WISECRA, a global network of female security and resilience professionals.
Nominees must be women with more than three years of experience in New Zealand physical security, personnel security and information security disciplines. Self-nominations are welcomed.
Categories include:
Woman Security Thought Leader
Woman Security Executive
Woman Security Consultant
Woman Security Rising Star
Woman Security Educator
Women in Security Indigenous Awareness Supporter
The deadline for nominations is 4:00pm, Friday 20 November 2020, and nominations of no more than 800 words are to be emailed to awards@defsec.net.nz
Winners will be announced in the New Zealand Security Magazine and the Defsec website.
The judging panel is set to be announced later this week. Examples of information the panel will be looking for in the nominations include:
Describe the person you are nominating and what they've done to inspire you to nominate them.
Who benefits from the work, contribution, or influence of this person – and how?
How does this person set a positive example for other fellow Women in Security and showing them the potential for change?
Describe the commitment of time, risks, and challenges overcome to create an impact to this point (this may still be ongoing). What have they done that has gone above and beyond to show leadership, create change, and give back?
How thoughtful, creative, and unique is this person's approach to their challenge, opportunity, or situation?
How has this person clearly demonstrated a positive impact in their area of influence? How is / has this been measured?
If known, how does this person plan to grow and/or adapt their work, contribution, or influence in the future? How would winning this award impact this person and the work that they are doing?
About WISECRA
The Women in Security & Resilience Alliance is a global network that brings women in security and resilience roles together to share ideas and best practices. WISECRA is a sub-network of the Security Partners' Forum.
About ASIS New Zealand
ASIS New Zealand is part of ASIS Region 39 which also includes the South Pacific and Papua New Guinea. There are over 100 members of ASIS International based in New Zealand. ASIS International, with more than 34,000 members in 145 countries worldwide, is the pre-eminent international organisation for professionals responsible for security, including managers and directors of security.
About New Zealand Security Association
The New Zealand Security Association (NZSA) is the largest industry representative body for the security industry in New Zealand and represents over 85% of the industry by revenue. Its voluntary members include security providers ranging from large multi-nationals to sole traders and also includes individuals and companies who are not direct providers of security services but have an interest in the industry.
Comment below to have your say on this article.
If you have a news story or would like to pitch an article, get in touch at editor@defsec.net.nz.
Sign up to DEFSEC e-Newsletters.