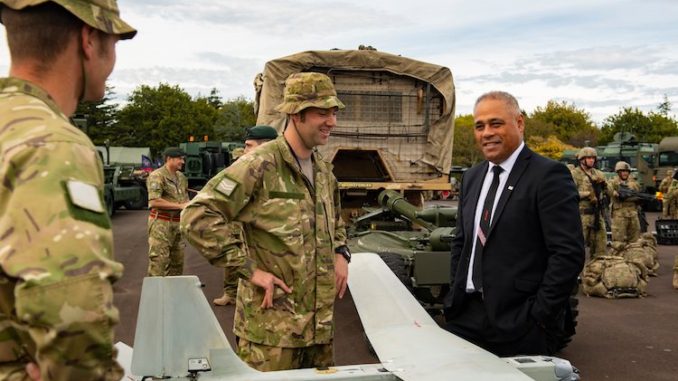 In this exclusive interview, Defence Minister Peeni Henare talks with Line of Defence Editor-at-Large Dr Peter Greener about future peacekeeping, prioritising spending, the Pacific, and a Labour focus on Defence.
PG: Minister, acknowledging the confluence of your roles as Minister of Defence and Associate Minister of Health, how important has the contribution of the NZDF been to the battle against COVID-19 in New Zealand, and do you see further opportunities for the NZDF to expand co-operation with Ministry of Health activities and the NGO sector?
Minister Henare: I was Minister of Civil Defence when the nationwide State of Emergency was declared on 25 March 2020. There was a real concern in Cabinet over ensuring processes that would ensure the best protection for the New Zealand population. It was clear from the outset that the New Zealand Defence Force would have an important role to play in that.
The NZDF began their contribution to the Covid-19 response from February 2020; particularly in the areas of planning and logistics. From April 2020, NZDF commenced supporting the country's managed isolation and quarantine system, and in June 2020 Air Commodore Darryn Webb was appointed as Head of Managed Isolation.
However, it's not only in isolation and quarantine facilities where the Defence Force has played an additional crucial role but also with border protection, with the Auckland lockdowns, and with maritime security. Their uniformed presence has helped engender public confidence.
With the Ministry of Health, I see NZDF's continued role in providing support in logistics and information management with the vaccine rollout. Meanwhile, the NZDF still has all of its other duties. NZDF has a commitment of up to 1,200 NZDF personnel and as we move through the pandemic we must review where the Defence Force continues to add value in support of the COVID-19 government response.
PG: With regards to COVID-19, what roles can the NZDF play in assisting with the vaccine rollout to our Pacific neighbours, and what other opportunities are there for the NZDF to contribute to the advancement of relationships within our Pacific region?
Minister Henare: We value strongly our relationships in the Pacific, but whatever support we provide must be on our neighbours' terms. They will develop their own COVID-19 response plans and we'll support them. On New Zealand's side, the Ministry of Health is leading this effort, supported by the Ministry of Foreign Affairs and Trade, along with the NZDF.
In the first instance, New Zealand's priority is assisting the Realm countries – Tokelau, the Cook Islands and Niue – and we are also offering support to Samoa, Tonga, and Tuvalu. The NZDF is assisting with the detailed planning and is prepared to provide logistical support and additional vaccinators, if requested.
Over the last year, New Zealand has continued to support our Pacific neighbours as they have been affected by the global COVID-19 pandemic as well as natural disasters such as tropical cyclones. Since the pandemic began, the NZDF has provided assistance to Vanuatu, the Solomon Islands, Timor-Leste, Tuvalu, Papua New Guinea, and Fiji, including delivering disaster relief supplies, delivering COVID-PPE, and repatriating Pacific peoples back to their home countries.
The COVID pandemic has provided time to take stock and review how we support NZDF personnel when they interact with our Pacific neighbours. We have NZDF personnel stationed throughout the Pacific in Defence Advisor and Training Advisory roles, and have managed some limited training opportunities, such as the training team that deployed to Fiji late last year.
Likewise, we have had defence personnel from Fiji, Tonga, Timor-Leste, and Papua New Guinea here in New Zealand throughout the last year. We anticipate more arriving over the coming weeks to attend NZDF training courses, and we would welcome the possibility for further training opportunities in the Pacific and here in New Zealand when they can safely be undertaken.
As Defence Minister I've enjoyed the opportunity to meet with my counterparts across large parts of the Pacific. We've had meaningful discussions about plans for their economic recovery, and for many Pacific Islands that means protecting the fisheries. Assisting with fisheries patrols is an important way the Royal New Zealand Navy and the Royal New Zealand Air Force can help.
PG: How important is it that the NZDF remains prepared for the disruptive impact of climate change and natural disasters close to home?
Minister Henare: Hugely important. The NZDF has played, and will continue to play, an important role locally. Once again I was Minister of Civil Defence when White Island erupted, the West Coast floods occurred, and the NZDF played an invaluable role in responding during these, and other, domestic and regional crises.
PG: Given the financial burden of COVID-19, it would be understandable if the aspirational nature of the Defence Capability Plan 2019 needed to be tempered. Nevertheless, there are some capabilities that were signaled to be purchased or replaced in the foreseeable future. Could you, for instance, comment on the importance of the role of maritime helicopters? Are there other intended future capabilities that you would like to comment on?
Minister Henare: Capability is an ongoing challenge. Is there a particular priority? They all are. I've seen Navy's priorities, and Army and Air. We all know the Seasprite helicopters now have a limited supportable life expectancy. But we are in a COVID environment, and I've asked the teams at the Ministry of Defence and NZDF to take a further look at the 2019 Defence Capability Plan.
Nevertheless, we do currently have some significant capability acquisitions underway, with both the purchase of the Boeing P-8A Poseidon maritime patrol aircraft and the Lockheed Martin C-130J-30 Hercules.
PG: The development of the Ross Sea region Marine Protected Area, the world's largest marine protected area, was an important achievement for New Zealand. Along with Southern Ocean responsibilities, what is the significance of this area for NZDF future planning and capability purchases? 
Minister Henare: These areas along with Antarctica have been important to us for a long time. New Zealanders took part in Antarctic exploration from the mid-19th century, and in 1959 we were one of twelve original countries to sign the Antarctic Treaty. We have international responsibilities in the region but need to determine how we most efficiently meet them in the future.
The P3-K Orion surveillance aircraft provide a major capability, which will be significantly enhanced with the purchase of their replacements, the Poseidon P-8s. HMNZS Aotearoa, our new Polar-class sustainment vessel, is ice strengthened for Antarctic operations, including the resupply of McMurdo Station and Scott Base.
Whilst maintaining our presence in the Southern Ocean and Antarctica, we do though have to balance our responsibilities here with the competing demands of the Pacific Islands.
PG: Following the operational draw-downs in Iraq and Afghanistan and the small number of personnel deployed on peace-keeping missions, where do you see opportunities for exercises and the development of the NZDF's combat capability across all three Services? And is there an opportunity for New Zealand to increase its contribution to peace-keeping missions?
Minister Henare: New Zealand continues to support a number of peacekeeping missions around the world, for example in Africa and the Middle East. As the world opens up after Covid we can look at how we might expand our presence in U.N. peacekeeping operations.
We have been continuing to participate in a limited number of exercises – in line with COVID-19 restrictions. Of course, with the Trans-Tasman travel bubble in place there will be greater opportunities to resume our range of exercises with the Australian Defence Force, before we explore how we might expand what else we can do together.
I've also made it quite clear that we will look for opportunities provided by the maiden voyage of HMS Queen Elizabeth and its carrier strike group to deploy and train with them as they travel through South East Asia.
PG: How important is it that we develop and maintain capability that is interoperable with our partners and our ally Australia? What are the costs and benefits of doing so?
Minister Henare: With the Anzac Frigate Systems Upgrade nearing completion – Te Kaha is home and Te Mana will soon return – despite a difference in systems with the Australian Anzacs, we now have a capability brought up-to-date. The Prime Minister is going to Australia soon and we should explore complementary defence industry opportunities.
PG: The Five Eyes relationship has been much in the news recently, yet it is a relationship that has survived even through testing periods such as during the introduction of New Zealand's nuclear-free legislation. How would you characterise the importance of the relationship at the present time?
Minister Henare: With my Defence Minister's hat firmly on, the information-sharing aspect of the relationship is of crucial importance. Whilst we are all in broad agreement about the important role of information sharing, New Zealand will as ever uphold its right to maintain an independent viewpoint.
PG: Whilst it is appreciated that a new Defence Assessment is underway, how reflective is the 2018 Strategic Defence Policy Statement with regards to current thinking in relation to China? 
Minister Henare: You will have seen what the Prime Minister has said recently. The Prime Minister's words in recent weeks have been clear with regards to what we think.
PG: Minister, after you were offered the portfolio you said that you wanted to bring a Labour focus to defence. You've given some indication with your answers so far of what that might be, but is there anything you wish to add?
Minister Henare: It's been twelve years since Labour held the Defence portfolio. I made it quite clear that we would lean into this portfolio, not just to suit the post-COVID world but also to address this Government's strategic outlook. I don't take my responsibilities as Minister lightly.
In this portfolio we should be passionate about our people – they are the greatest asset of the New Zealand Defence Force and we should be looking at all opportunities for them to grow their skills.
We are committed to improving our infrastructure and we have a real opportunity to develop it. You can expect an announcement around infrastructure projects in the near future.